JaVale McGee's Career Has Been Resurrected with the Denver Nuggets
May 9, 2012

Jeff Gross/Getty Images
The potential was always there for JaVale McGee.
After all, how many seven-footers possess a 7'6" wingspan, remarkable athleticism and agility? To say it simply, McGee is one intriguing prospect.
This, in turn, was one of the reasons the Denver Nuggets decided to take a chance on the lanky, unguided prospect. But why did the Nuggets have to take a "chance"? In other words, why was this physically-gifted center not already a top-tier big man?
For whatever reason, the 7'1" center failed to make serious contributions or improvements for the Washington Wizards in his first years in the Association. After being drafted with the 18th overall pick in the 2008 draft, McGee's career definitely hit some turmoil.
His first two seasons with the dismal Wizards were marred with inconsistencies and a raw offensive game, something he still struggles with. McGee was obviously not ready to make the jump to the professional level, as the polarizing center couldn't find a role in a depth-ridden Washington Wizards roster.
Besides Caron "Tuff Juice" Butler, the infamous Gilbert Arenas and the elder statesman Antawn Jamison, the Washington Wizards had little talent to log major minutes in their goal to capture an elusive NBA title. But with the Eastern Conference at the time becoming stronger, and the Wizards essentially going the exact opposite way, the franchise decided to enter a full-blown rebuilding process in 2010.
Starting with relieving themselves of their headache-triggering veteran core, the franchise shipped Butler, Arenas and Jamison away in a span of just one year.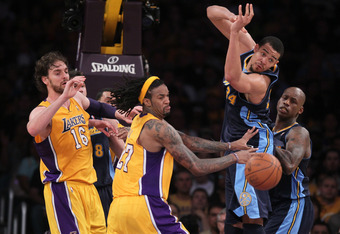 Jeff Gross/Getty Images
Then, after "earning" the first overall pick in 2010, the Wizards selected the Kentucky star, the number one prospect, their franchise savior—John Wall.
Wall, coupled with power forward Andray Blatche, Nick Young and the aforementioned McGee, was supposed to lead this young roster back to relevancy.
The combination of McGee and Wall was expected to become the next Tyson Chandler and Chris Paul, two stars who had great chemistry on the court during their tenures with the New Orleans Hornets.
Man, did that work out. (Sarcasm.)
The Wizards would become the laughingstock of the NBA, often being the butt of jokes and memes. No player, however, was more picked on from aspiring comedians than JaVale McGee. Once considered the next great center talent, McGee would find himself as a regular on SportsCenter's Not Top 10 Plays and on numerous YouTube low-light reels.
But McGee wasn't unjustly targeted. From miserable dunk attempts to hilarious defensive goofs, the 24-year-old's gaffes were placing an unfortunate name upon him: bonehead.    
The roster struggled to stay competitive in the the weaker Eastern Conference this season, as the potential on the team didn't translate to victories. In turn, GM Ernie Grunfeld decided to send Nick Young to the Los Angeles Clippers and JaVale McGee to the Denver Nuggets.
In the end, this would be quite the steal for Denver. All the Nuggets would have to give up was an overpaid Nene Hilario, owner of a mammoth five-year, $67 million contract.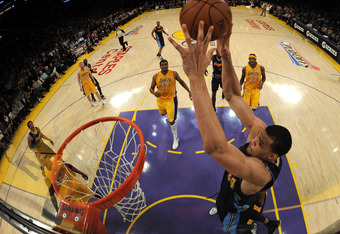 Harry How/Getty Images
The Nuggets would finally obtain a center able to battle against West centers like Andrew Bynum, Marc Gasol and DeAndre Jordan. Coach George Karl was thrilled about the newest acquisition at this year's deadline.
"His length is very impressive. He's long," Karl said. "I think he plays a little bit like Kareem [Abdul-Jabbar], but he's a defensive Kareem more than an offensive Kareem. He's not going to be a power player, but he's going to be an athletic-length-long player."
While others mocked the tantalizing prospect, Karl took note of his attributes and how good this kid could be. However, he did recognize McGee's past problems.
"In the same sense, you need brains, you need fundamentals and you need execution," said Karl.
Automatically, McGee cut down on the embarrassing mistakes and became a valuable defensive presence in the middle. Despite his stats decreasing, as his averages per contest went from 11.9 to 10.3 points and 8.8 to 5.8 boards, McGee began to develop into a legitimate role player for a contender.
This became truly apparent to the public just the past five games, as McGee has been a force against the Los Angeles Lakers this postseason.
McGee is recording nearly a double-double per night against arguably the best center in the Association, Andrew Bynum. Sure, Bynum's statistics are superior, but the former Wizard has outplayed the first-time All-Star starter on numerous occasions this postseason, including Game 5 on Wednesday night.
McGee finished with 21 points and 14 rebounds in what was undoubtedly a career game. In addition, he was extremely efficient, as he only took 12 shots—most of them dunks. It was a clutch performance to propel his team to a victory and avoid an early elimination.
Karl has transformed McGee from a joke to a nice fit in the rotation. His play has proven vital in Denver's two playoff wins. 
Bravo, Karl. Bravo.