Tennessee Titans: Predicting Every Week 1 Starter Against New England Patriots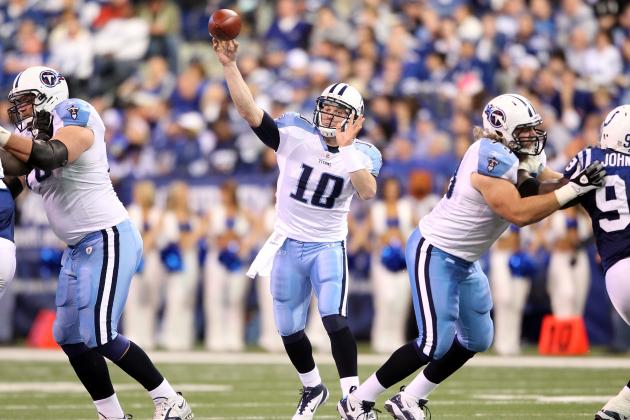 Andy Lyons/Getty Images

When training camp for the Tennessee Titans begins sometime during the dog days of summer, expect plenty of position battles to go around.
This team was just a few pieces away from being a playoff team last season, and it will be important to make sure the best team is fielded when the Titans face the defending AFC champion New England Patriots in Week 1.
There's still obviously a lot to be decided during training camp, but here's who you should expect to be the Week 1 starters as the Titans stand right now.
Begin Slideshow

»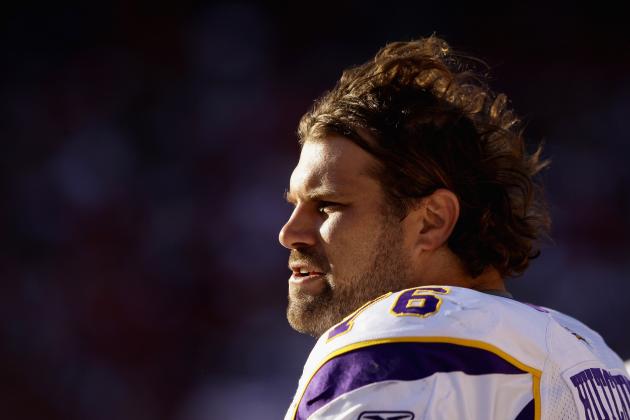 Ezra Shaw/Getty Images

Highlighting the offensive line is the acquisition of Steve Hutchinson from the Minnesota Vikings. Hutchinson should help the running game bounce back from a dismal 2011 showing.
With Hutchinson taking over at left guard, Leroy Harris will probably shift over to right guard.
The two tackle positions should go unchanged with two viable options in Michael Roos and David Stewart.
This leaves Eugene Amano as the only decent option at center, even though Amano has received his fair share of criticism for not playing well since Kevin Mawae departed in 2009.
The Titans didn't address this need in the draft or free agency, so it looks like it's Amano's job until further notice.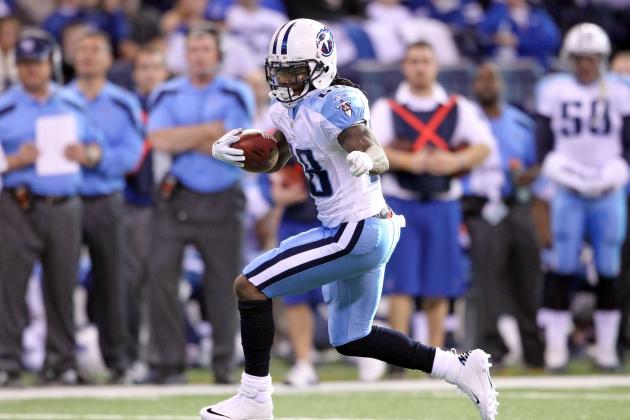 Andy Lyons/Getty Images

It was definitely a season to forget for Chris Johnson in 2011, but he's still the starter for years to come baring some sort of epic meltdown.
Johnson had to scratch and claw to reach 1,000 yards last season, and now he should try to prove that his 2,000-yard season was no fluke. Expect a bounce-back year for Johnson, which should help the improving Titans' passing game flourish even more.
Ahmard Hall is still the unquestioned starter at fullback, with Quinn Johnson being the backup.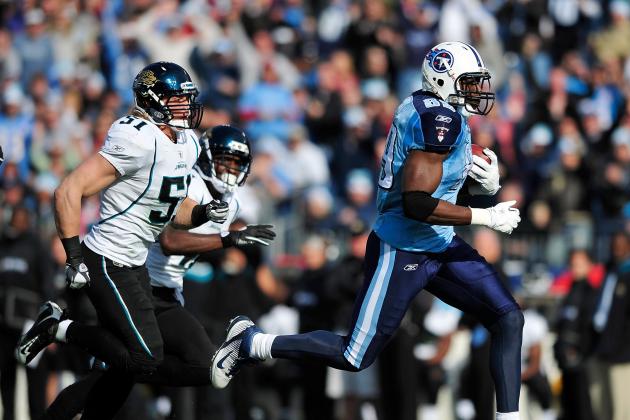 Grant Halverson/Getty Images

We finally saw what we've been all waiting for from Jared Cook last season.
Cook quietly had a solid season with 759 yards and four touchdowns in his second consecutive season of playing the full 16-game slate. The Titans would like to see the touchdown total go up, and it will as he continues to improve.
Craig Stevens is a good second option at tight end for the Titans, but there is no way he's overtaking Cook's athleticism on the depth chart.
Rounding out the tight end position is veteran Daniel Graham and fifth-round draft pick Taylor Thompson. They won't see the field much, but Thompson could help his cause during training camp.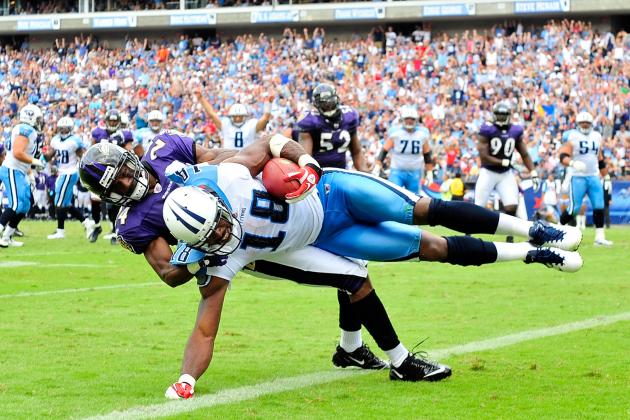 Grant Halverson/Getty Images

The Titans desperately need Kenny Britt to make it through a full season if they want to survive this gauntlet of a schedule.
It may take a few games for Britt to get into the swing of things, but don't be surprised if Britt turns in Pro Bowl numbers this season.
Starting on the other side of Britt will be Nate Washington, and he more than deserves it coming off his best season as a pro.
These two guys will be a solid one-two punch for the Titans.
Then you have first-round draft pick Kendall Wright, who has a very good shot at being a starter in the slot. His speed alone will help him to a couple impressive performances in his rookie season.
Guys like Marc Mariani, Lavelle Hawkins and Damian Williams are on the outside looking in. They'll still see the field but probably not as much as last season.
Mariani didn't work out much as a wide receiver last season, and Hawkins is very inconsistent. However, Williams is a guy who should still get plenty of opportunities to make a major impact on the offense.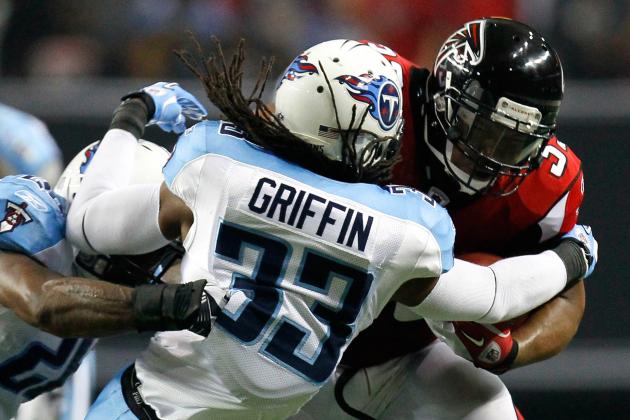 Kevin C. Cox/Getty Images

Re-signing Michael Griffin was absolutely huge for the Titans heading into next season. It allowed them to focus more heavily on other weak areas in the draft.
Griffin has been a hot and cold type of player during his career, but when he's hot, it's hard to find a better free safety in the NFL. He'll make his fair share of big plays in 2012.
The strong safety position is a little more up in the air with the void left behind by Chris Hope needing to be filled.
The Titans used their sixth-round draft pick to get Markelle Martin out of Oklahoma State. Martin is a heavy hitter with a ton of promise at the next level. Getting him in the sixth round was a steal.
Tennessee still has veteran Jordan Babineaux locked in as a starter for now, but if he slips up then Martin could sneak in as a rookie starter.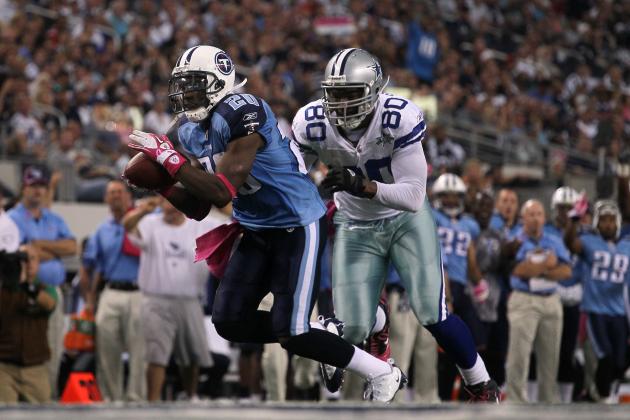 Stephen Dunn/Getty Images

The truth is it's going to be challenging to replace Cortland Finnegan's gritty style of play that he always brought to the table.
However, his production wasn't as eye-popping as sometimes perceived. He only had three interceptions over the last two seasons, and during that time he was outplayed by the better receivers—most notably Andre Johnson.
Now it's time for Alterraun Verner and Jason McCourty to step in as the starters, and they're very capable of being a dynamic duo. These two guys have eight interceptions combined in just five seasons of combined NFL experience.
Youngsters Chris Hawkins and Tommie Campbell will serve as backups, and fourth-round draft Coty Sensabaugh is also in the mix.
Sensabaugh will see some playing time this season, but starting will be a reach unless a few injuries occur.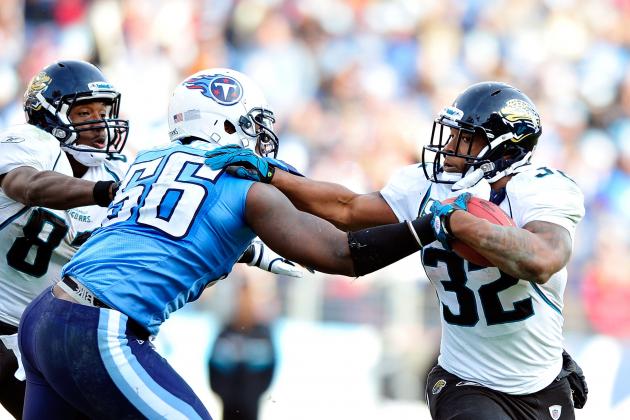 Grant Halverson/Getty Images

Fans can't help but be excited about where this group of linebackers could end up going in a few seasons.
Akeem Ayers and Colin McCarthy completely exceeded expectations as rookies last season, with an emphasis on McCarthy. They should be the hands-down starters heading into Week 1, but the weakside linebacker position is a three-man race.
Will Witherspoon has held this spot for a while now, but his age is starting to be a factor. He has 11 NFL seasons under his belt, and his production dropped significantly last season.
Then there is Gerald McRath, who is a solid young player who has never been able to break into the lineup as a full-time starter. This might be his season to do that.
Zach Brown, the Titans' second-round draft pick, will see the field on plenty of occasions. However, I can't see Mike Munchak trotting out three linebackers with less than two years of experience in Week 1 against the Patriots.
Expect McRath to be the Week 1 starter but on a short leash.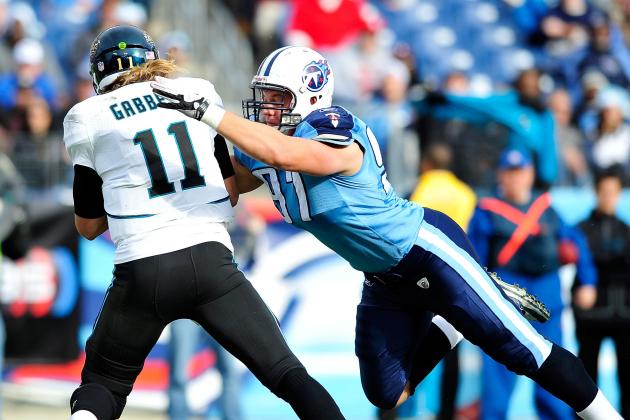 Grant Halverson/Getty Images

There is a serious problem when a team only manages 28 team sacks, and that's what the Titans did in 2011. It had a lot do with why the Titans lost to the Colts, Bengals and Falcons.
In those three losses, the Titans only managed one sack and five hits on the quarterback. Those were winnable games that would have put the Titans back into the playoffs.
Kamerion Wimbley should end up being one of the starters at defensive end along with Derrick Morgan.
It is slim pickings after those two guys, but Dave Ball and seventh-round draft pick Scott Solomon will also see the field on several occasions.
Karl Klug should be one of the starting defensive tackles, as he had an excellent rookie campaign, leading the team in sacks.
The other defensive tackle is between third-round draft pick Mike Martin and second-year player Jurrell Casey. There is a ton of praise surrounding Martin, and I expect him to take over as the other rookie starter from this draft class along with Kendall Wright.
Casey's conditioning keeps me from believing that he'll be a full-time starter.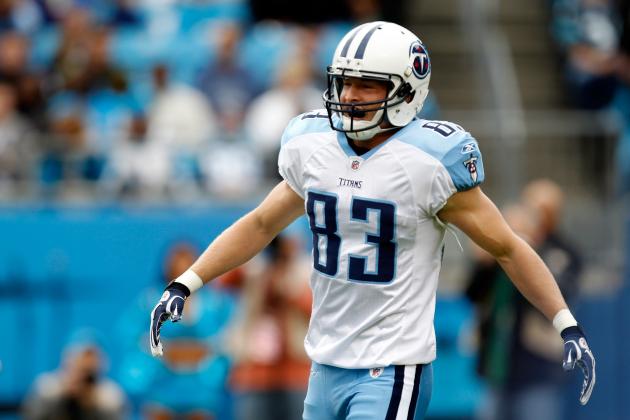 Streeter Lecka/Getty Images

Marc Mariani didn't do anything wrong in 2011 to keep him from holding onto his starting role as a kick returner.
Unfortunately, the new NFL rules regarding kick returns have made it hard for guys to flourish in this area.
Don't be surprised if Kendall Wright steals some of the spotlight from Mariani in the return game. Wright did a good job at Baylor in returning kicks, and Mike Munchak didn't refute the possibility of Wright becoming the return man.
Mariani should be safe for now in that role, but it's not a foregone conclusion that he keeps that role the entire season.
Rob Bironas is still one of the Titans' top weapons as he shortens the field with his kicking range.
Brett Kern had a good year punting the ball last season, so he will continue to do his job of playing the field position game for the Titans.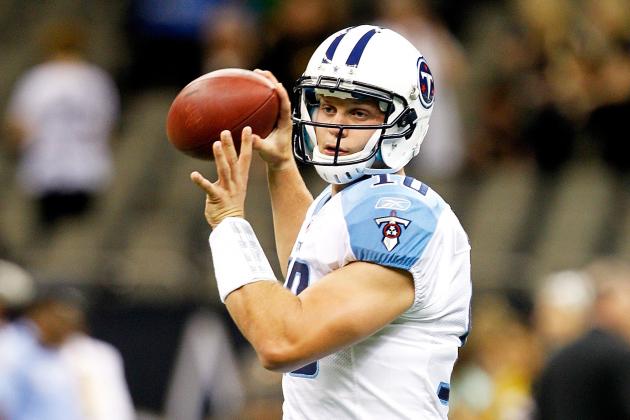 Sean Gardner/Getty Images

This will probably be the toughest decision to make for Mike Munchak when it comes time to make that decision.
On one hand, the Titans have Matt Hasselbeck, who was a major reason why they were even competitive last season. He was the glue that held the team together with his veteran presence.
On the other hand, they have dynamic second-year player Jake Locker, who is the future of the franchise. He played great in the games when he did see the field, most notably in his comeback attempt against Atlanta.
Hasselbeck's experience will most likely be enough to trump Locker's extraordinary talent, and that's mainly due to the tough schedule right out of the gate.
After getting New England at home, the Titans will travel across the country to San Diego, come back home for Detroit and then travel over to Houston.
It would not be entirely crazy to think that the Titans could be 1-3 or even 0-4 after that onslaught of games.
I can't see Munchak throwing Locker out there until the Titans begin to slump. Locker may be as ready as he'll ever be to become the full-time starter for the Titans, but Munchak will play the waiting game.
Hasselbeck showed that he still has enough gas in the tank to make this team competitive with pretty much anyone, and we'll find out real quick if Hasselbeck still has it when he gets New England at LP Field.