David Carr Among 8 Most Overrated Houston Texans in Franchise History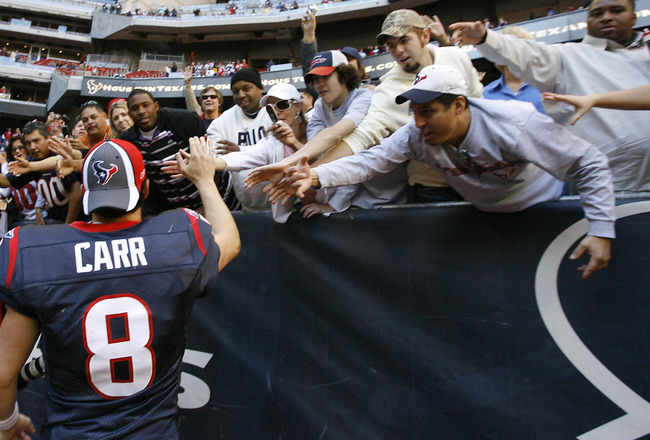 Bob Levey/Getty Images
Overrated players in the NFL—and in all other professional sports leagues—come in many different shapes and sizes.
They can be first-round draft choices who are expected to be the future of the franchise but eventually never pan out. They can be highly touted free agents who are expected to bring a high level of production to a team but never do. Or, they can be players who are believed to be superstars, but they are actually more average than good.
Although relatively young, the Houston Texans have had their fair share of overrated players in their franchise's history.
Let's take a look at where those players rank compared to each other.
Note: Many players were left off this list, so if you feel someone should be included, feel free to comment and argue your case!
No. 8: Ahman Green, RB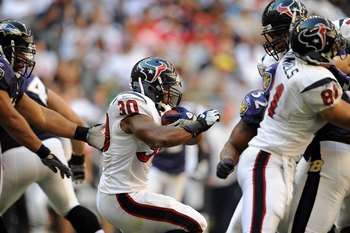 Ronald Martinez/Getty Images
After the 2006 season, the Houston Texans were in dire need of acquiring a running back who could heal their rushing woes.
Their top two leading rushers, Ron Dayne and Wali Lundy, combined for only 1,088 yards in that season. Comparatively, Arian Foster and Ben Tate totaled 2,186 combined yards last season, more than double the amount Dayne and Lundy put together.
Ahman Green was signed to a four-year, $23 million contract in free agency following the 2006 season, a very large contract for an aging running back, and he was expected to be the lead back in a running back-by-committee approach.
Green, however, did not live up to the expectations that were placed on him. He had two injury-ridden seasons with the Texans before being released after the 2008 season, and even when healthy, he failed to produce.
No. 7: Travis Johnson, DE/DT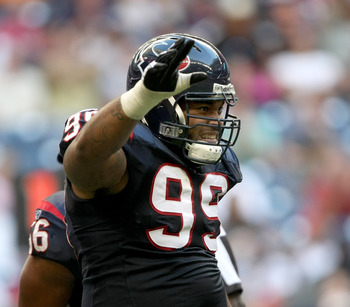 Stephen Dunn/Getty Images
It might be a bit of a stretch to call Travis Johnson overrated. Bust might be a more appropriate word. I'll go with the fact, however, that he was a very overrated prospect coming into the NFL and that he was drafted much too high with the 16th overall pick.
He had a poor work ethic in college, which definitely translated into the NFL. He never showed a desire to improve, and he clearly did not improve the Texans' lowly pass-rush as he was drafted to do so. He totaled just two sacks in 38 starts over a span of four years.
Charley Casserly, the Texans GM at that time, greatly overestimated Johnson's value, and he was wrong to nab Johnson in the first round.
No. 6: Jacoby Jones, WR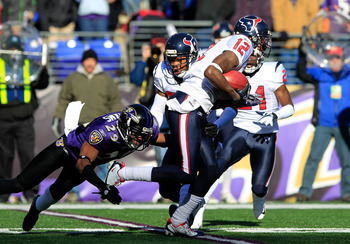 Chris Trotman/Getty Images
Jacoby Jones: the star that never was.
It seems that ever since Jones was drafted in the third round back in 2007, he has been one of the most over-hyped players on the Texans' roster. The receiver's size, speed and potential play-making ability quickly earned him a starting job, and many believed that he could be a star next to Andre Johnson.
Jones was always projected to have a breakout season. However, year after year, he failed to live up to his expectations.
Jones had two major problems: He was extremely inconsistent, and he had a tendency to drop easy balls. Jones would flash stardom some weeks, but then in others he seemed to disappear from the field.
Last season Jones finally got his opportunity to prove he was not overrated. When Andre Johnson went down to a hamstring injury, Jones got a shot to take over as the team's No. 1 wide receiver. During that span as the primary receiver, however, he failed to prove his critics wrong, and he displayed the same problems that he struggled with his whole career.
The season culminated with his muffed punt against the Baltimore Ravens in the AFC divisional round of the playoffs, which eventually led to a Raven touchdown that was key in a 20-13 final.
For many Texans fans, this was the last straw; Jones had to be cut. For the coaches, however, the last straw was the fact that Jones was never going to become the star they intended him to be.
No. 5: Jabar Gaffney, WR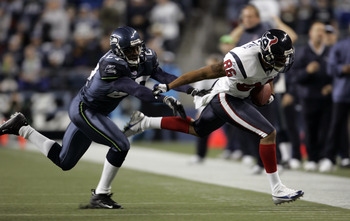 Kevin Casey/Getty Images
Jabar Gaffney was a very exciting player coming out of the University of Florida. The former Gator was a consensus All-American his sophomore year, and he was named the team's MVP. In two seasons in college, Gaffney recorded an incredible 27 touchdowns.
When selected with the first pick in the second round, Gaffney was expected to be a weapon for newly drafted quarterback David Carr. Gaffney was inconsistent, however, and only recorded one touchdown in his rookie season.
Even when the future superstar Andre Johnson was drafted, Gaffney struggled to play alongside the guy who was drawing the opposing team's best coverage.
Gaffney showed no improvement over his four-year career with the Texans, never totaling more than two touchdowns per season.
Gaffney was thought to be a great addition when drafted by the Texans, and many thought he would be a dangerous threat in the NFL, but he ended up being more of a dud with the Texans than a true receiving option.
No. 4: Jason Babin, DE
Bob Levey/Getty Images
Like Travis Johnson, Jason Babin was drafted to become a pass-rushing threat for the Texans. The Texans thought he was a player who could be a sack machine on their defensive line, and the Texans traded up to the first round to pick him.
In his rookie season, Babin showed potential that he could become a force in the NFL someday. Although he only recorded four sacks in his first season as a pro, he did record a total of 63 tackles, a career high for him to this very day.
However, with high expectations set for him in his second season, Babin disappointed. He suffered an injury, missing four games and did not improve his sack total, and the amount of tackles he recorded decreased by 28.
Babin was never able to recover his stride with the Texans, which eventually ended up in him getting cut three years into his six-year contract.
No. 3: Steve Slaton, RB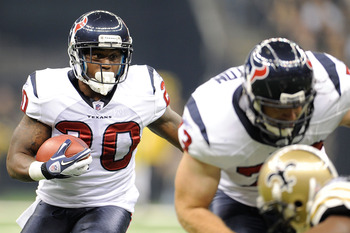 Stacy Revere/Getty Images
Steve Slaton was drafted in the third round in 2008 to become part of a running back-by-committee strategy utilized by the Texans that also featured Ahman Green.
Slaton, however, had a come-out-of-nowhere season, and he shocked his teammates, coaches, fans and the NFL as a whole. As a rookie, Slaton rushed for 1,282 yards and nine touchdowns, the sixth most amount of yards garnered by a running back in the NFL that season.
Slaton appeared to be the player that could finally send the Texans over the edge, a player that could help the Texans finally reach the playoffs for the first time. Slaton was the answer to the the Texans' rushing problems, and the future looked bright for his career.
Then, the 2009 season came along and spoiled everything. Slaton rushed for 437 yards and coughed up five fumbles in 11 games before he was benched for the rest of the season. In the two seasons following 2009, Slaton has rushed for a total of 177 yards.
Slaton went from being one of the most highly appraised players by Texans fans in 2008 to one of the most highly criticized players in 2009.
No. 2: David Carr, QB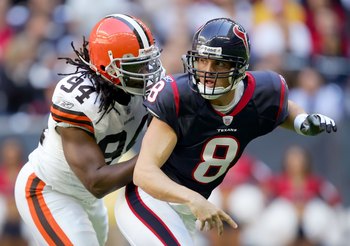 Lisa Blumenfeld/Getty Images
David Carr was the first overall pick of the 2002 NFL draft. He was also the first pick in the history of the franchise, excluding the expansion draft.
Carr was expected to be the franchise quarterback, the guy who would lead the Texans offense for many years.
However, due to an extremely ineffective offensive line and Carr's own shortcomings as QB in the NFL, he was never successful. He never lead the Texans to a winning record, although this cannot be solely blamed on him, and he threw more interceptions (65) than touchdowns (59) as a starting quarterback for the Texans.
Carr was supposed to be the guy who would lead the expansion Texans to a bright future, but instead, he was the guy that gave them a dark, dark past.
No. 1: Dunta Robinson, CB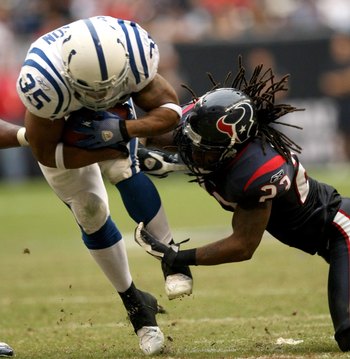 Stephen Dunn/Getty Images
Dunta Robinson is the definition of an overrated football player. He was believed to be a superstar by many, but in reality he was much more of an average NFL cornerback.
Robinson had an outstanding rookie season, the best in his whole career, and it earned him the reputation as a star. Playing next to Aaron Glenn, a Pro-Bowl cornerback, Robinson had an incredible six interceptions. Even today, people believe that Robinson is a ball hawk because of his rookie year.
Robinson, however, struggled after being moved to the No. 1 cornerback slot in his sophomore season. He only brought in one interception, and he was occasionally burned by opposing receivers.
Although Robinson flashed shutdown corner ability in his second and third seasons, it was never truly permanent, and he never became the ball hawk he was in his rookie season.
In 2008, his fourth season in the NFL, Robinson suffered a torn ACL that changed his NFL career. He went from having potential to becoming a great cornerback in the NFL to struggling to be a decent starter.
After his injury, Robinson did not have the mobility to keep up with NFL receivers, causing him to give up a lot of big plays. In order to compensate for his lost abilities, Robinson would attempt to illegally play opposing wide receivers, resulting in a large number of pass- interference penalties against him.
While it is true that Robinson had a successful career with the Texans, he was nowhere near the level of stardom that he was made out to be.
Keep Reading

Houston Texans: Like this team?