Jeremy Lin Must Play Through Pain to Help Depleted Knicks in Game 5
May 8, 2012
Chris Chambers/Getty Images
For the New York Knicks, the mountain to climb to come back from a 3-0 series deficit to the Miami Heat is still a large one, even if star point guard Jeremy Lin can return to the lineup for Game 5 of the series.
Even after winning Game 4 in New York on Sunday, the finish line is nowhere in sight yet for the Knicks, who put an end to their 13-game playoff losing streak with Sunday's win. 
However, if they plan to start any kind of playoff winning streak this season, Lin is going to have to play a role in that and play through the pain.
If the Knicks weren't so depleted in the backcourt, Lin playing really wouldn't be an issue, but it's turned into a huge problem—one that Lin needs to lend a hand to.
As soon as Baron Davis went down, the pressure for Lin to come in and save the Knicks for a second time began to mount. You've heard all types of theories on why Lin shouldn't, including that it would hurt him in negotiating with teams as a free agent in the offseason, but it's foolish to believe that one game will affect his earning potential.
We're approaching the original six weeks that Lin was supposed to be out for after his knee surgery, and Lin didn't do himself any favors by setting Game 4 as a hopeful return date earlier on in the series. But now his team needs him, so if Lin is able to, he must step up to the plate and suit up for Game 5.
I'm not suggesting by any means that Lin play if he can't go or isn't medically cleared, but if he's able to run, jump, cut and absorb contact, then he has to give it a go.
Now, you can subscribe to the theory of "the Knicks won't beat the Heat anyway." While that may be true, they would be foolish to go down with bullets left in their gun.
The concerning part for me is the rust that will be on Lin after not playing a game since March 24 against the Detroit Pistons.
Knicks interim head coach Mike Woodson also sees Lin's return as doubtful due to not being in basketball shape, telling ESPNNewYork.com's Ian Begley:
I've watched him shoot and run up and down, he's not in great shape. You know as well as I know, playoff basketball, you've got to be (in peak condition). And he hasn't played in a while, so I don't know if that's going to be a determining factor with the doctors.
Then there's the fact that Lin wouldn't be coming back to play in just any game—it would be against LeBron James and the Miami Heat. That's the same suffocating Heat defense that forced Lin into his worst game as a starter, harassing him into eight turnovers and 1-of-11 shooting in a February 23 Miami win.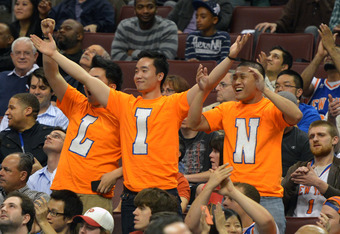 Drew Hallowell/Getty Images
I'm not suggesting that Lin playing would save the Knicks. It would be a lot to ask the guy to save the season twice in one year. But if we learned anything from Lin already, it's to expect the unexpected from this guy.
His own Willis Reed-type moment would be huge for the Knicks.
Even if Lin can only play 15-20 minutes, and that would likely be the limit, you wouldn't be able to calculate the emotional lift it would give to his teammates and the Knicks fanbase.
That's all the more reason that if he can go, he must attempt to play through the pain.
A Mike Bibby and Toney Douglas point guard duo isn't going to get the job done, but who knows? Maybe Lin has a little magic left and a few more tricks up his sleeve in what will definitely go down as the Year of Linsanity.