Miami Heat: How Not Winning a Title This Year Will Break Up the Big 3
May 8, 2012

Jeff Zelevansky/Getty Images
For the Miami Heat, this year might be about more than proving people wrong and silencing critics.
Sure, a championship this season quietes those who constantly criticize how the Heat came together to combine their talents and win rings.
But there's a bigger danger this season than just negative press from another failed playoff campaign.
The end of the Big Three.
Just two seasons since The Decision, and we're already staring the end of this experiment in the face.
Falling to the Dallas Mavericks in the NBA Finals last season was acceptable, though the media gave LeBron James a ridiculous amount of criticism when other players also failed to step up.
A second straight failure to capture an NBA championship, with no changes to the roster save the addition of Shane Battier, would mean changes must be made.
The way Miami threw out big contracts to its big-name players left them with little money to fill in the edges, costing them depth and bench talent. The Heat can't even afford a starting-level center, playing a combination of Udonis Haslem (a power forward), Chris Bosh (a power forward) and Joel Anthony (an undersized offensive nightmare).
So to fill in the spaces around their elite players? Trade one of them.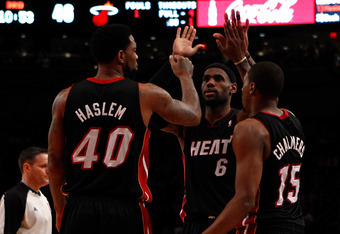 Jeff Zelevansky/Getty Images
It's an unfortunate compromise, but the Heat will need help. Winning it this year would be a close-run thing, probably meeting either the San Antonio Spurs or the equally star-heavy Oklahoma City Thunder.
Losing gives them the perfect reason to jettison one piece of the Big Three and bring in some serious reinforcement at other positions.
And sorry Chris Bosh fans, but he's the piece who's going to be shopped around this summer should the Heat fail to win it all.
Dwyane Wade has been with the team for his entire career. He has been the leader of the team through its championship year in 2006. He's probably going to retire a lifelong Heat player.
LeBron James? He's LeBron James. You don't trade LeBron James.
So that leaves Bosh.
What can you get for Bosh?
Provided the criticism of him has not permanently damaged his reputation among the league's various front offices, the Heat should be able to get back the pieces they so desperately desire.
A starting-level center and point guard are the two positions the Heat need to fill, and there are plenty of centers out there the Heat could land for Bosh. The problem lies with who wants to take a star player with a big contract at the expense of depth.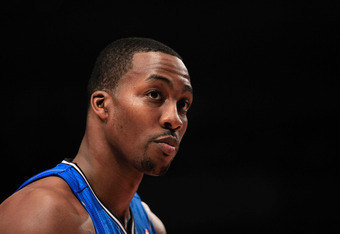 Chris Trotman/Getty Images
I wrote last week on how the Heat could potentially land Dwight Howard if they were willing to part with Bosh, that remains an option that is unlikely, but scarily plausible.
The Brooklyn Nets are stuck in limbo, waiting either for Howard to arrive to join Deron Williams and create a winning franchise in Brooklyn, or for Howard to go elsewhere and begin a rebuilding job again.
If Howard stays away, the Nets could be open to trading Brook Lopez, a player with a big impact and a small contract. The Heat could prize another player from New Jersey to create some more bench depth.
The Houston Rockets missed the target with their offseason pursuits either failing or being vetoed by the league. Trading Bosh to the Rockets would give Houston the star it has been seeking for a few years now, and would send Luis Scola and probably Kyle Lowry in return, instantly creating a fearsome rotation on South Beach.
If the Heat announce Bosh is available for the right price, expect all 29 other teams to at least place a call with Pat Riley as Bosh is an elite-level player who you have to at least inquire about.
It may feel like admitting failure on Riley's part, but to win, he knows that he has to have a more balanced squad. His bench is performing above expectations in the playoffs, but can it last once they come up against teams like Oklahoma City Thunder, who have a legitimate superstar coming off their bench in James Harden?
If the Heat do fall before winning a title this year, this summer is going to be rampant with speculation.