Seattle Seahawks: Foolish Picks Will Lead to Another Poor Season
May 9, 2012

Kevork Djansezian/Getty Images
Despite the Seattle Seahawks improving their roster at linebacker and quarterback, Bruce Irvin and Russell Wilson are not the players to get them back to the playoffs.
It's easy to say that Irvin has off-the-field troubles and that Wilson is too short to have success in the NFL, but that's not the full story 
Although the Seahawks filled a need for a pass-rusher and quarterback, both players were not the best choices for the team. 
Considering they have not had a winning record since 2007, the pressure is on to have success. 
Pete Carroll and the Seahawks' management secured some key pieces during the offseason. They re-signed Marshawn Lynch and Red Bryant while adding Green Bay Packers wunderkind backup Matt Flynn.
Despite the moves, it's still unclear what success they will have this season. 
So why is Wilson a bad fit for the team? They needed a third quarterback right? 
Yet with a quarterback controversy between Flynn and Tarvaris Jackson already brewing, Wilson will be battling Josh Portis for the third spot.
That's reason number one.
They used their third-round pick on a player who may not see playing time for the first few years of his career.
Recent history would point to Aaron Rodgers as the success story who came off the bench after learning for as a backup for a while.
Even though both quarterbacks had great college careers, all while breaking school records, Rodgers could have gone first in the draft, where Wilson was ranked as a third- or fourth-round pick.
Wilson also is not the heir-apparent to a Hall of Fame quarterback who he can learn from.
Although he is a great talent with good arm strength and speed, he is not NFL ready.
Their third-round draft pick may have been better served on another needed position and they could have grabbed a quarterback later on, maybe even undrafted fee-agent. Northwest native Kellen Moore anyone?
The verdict is still out on whether Wilson will be a good pro quarterback, but it may be a few years before he gets the playing time to see.
For right now, he is just a third-string, third-round draft pick.
Irvin has question marks surrounding him as well. His path to the NFL wasn't exactly smooth.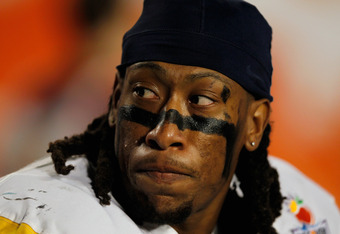 Streeter Lecka/Getty Images
He dropped out of high school and then got his GED before heading to junior college. Although he stayed out of trouble during college, until he was arrested for breaking a sign in Morgantown this march.  
On the field, Irvin was a beast for the West Virginia taking down the quarterback 22.5 times in his two years. He wasn't as productive during his final season with the Mountaineers, accumulating only 8.5 sacks and one forced fumble.
Irvin should fit into the Seahawks' defense considering they have needs at pass-rusher, but was Irvin the best pick for their team?
Although Irvin can bring pressure, he is not the physical presence of a Melvin Ingram (6'2", 276) or a Quinton Coples (6'6", 284.)
Irvin will rush from the linebacker spot or the defensive end position. At 6'3", 245, he will need to rely on his speed and his freakish ability.
Based on the success of Aldon Smith, Irvin could make an impact for the Seahawks, but don't except 14 sacks for him.
Smith is on a 49ers defense with Navarro Bowman, Patrick Willis, and Justin Smith.
Time will tell what success the Seahawks' draft class will have, but right now they may have not been the best choices to get them back to the playoffs.