Joakim Noah Injury: Updates on Bulls Star's Ankle Injury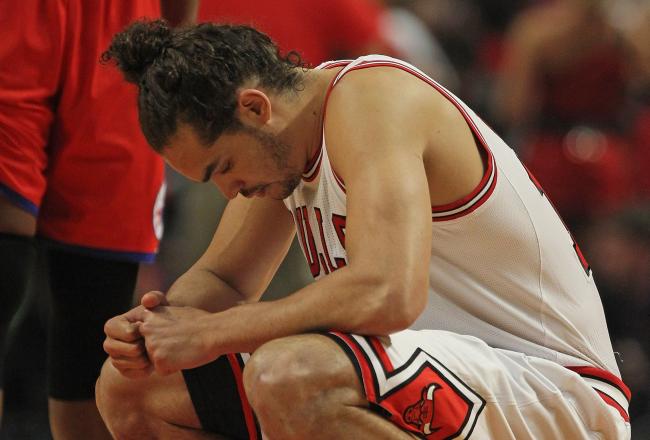 Jonathan Daniel/Getty Images
As if the Chicago Bulls' postseason couldn't get any worse, the Eastern Conference's No. 1 seed fears it may now be without Joakim Noah.
Update: Thursday, May 10 at 6:56 p.m. ET by Tim Keeney
The Chicago Tribune's K.C Johnson is saying that Joakim Noah will be available for Game 6 against the Philadelphia 76ers.
Bulls PR said Noah is available to play. Whether he will remains to be seen.

— K.C Johnson (@KCJHoop) May 10, 2012
Omer Asik is starting for Noah, and even though Noah is available to play, Johnson goes on to say that he isn't moving well at all.
Don't expect much out of Noah tonight as Chicago tries to stave off elimination.
Update: Thursday, May 10 at 10:05 a.m. ET by Eric Bowman
K.C. Johnson covers the Bulls for the Chicago Tribune, and he tweeted the latest news on Noah's chances of playing in Game 6.
Thibodeau said Taj will do shootaround and is expected to play. Noah gametime decision but still limping and won't do full shootaround.

— K.C Johnson (@KCJHoop) May 10, 2012
Despite the fact Chicago won in Game 5 without Noah on the court, the Bulls need their big man to help force a Game 7. Surely the 76ers won't be shooting that poorly again, so Noah's services in the paint will be needed.
As for Gibson, Johnson quoted him saying, "I'm playing," which is of course good news. The Bulls have been hit hard with injuries this postseason, so fighting through the pain is a must for those Chicago players that can stomach it.
Update: Tuesday, May 8, 8:20 p.m. ET by Tim Keeney
The Bulls will be without star center Joakim Noah tonight in Game 5.
The news comes from the Chicago Tribune's K.C Johnson, who does offer hope for Noah's future should the Bulls win tonight:
Noah now walking down UC hallway. Out tonight but no walking boot. #Bulls

— K.C Johnson (@KCJHoop) May 9, 2012
Update: Tuesday, May 8, 1 p.m. ET by Wes O'Donnell
The Bulls haven't given up on their slim chance of postseason success, mostly because they haven't given up on getting one of their stars back.
According to Aggrey Sam, a Bulls insider for CSN Chicago, Noah is a game-time decision for tonight with the Bulls' season on the line:
Jo on the court, shooting FTs. Thibs says he's a game-time decision, but O is still starting.

— Aggrey Sam (@CSNBullsInsider) May 8, 2012
Omer Asik is no Noah. It would make a huge difference to Chicago if their star big man can play at all.
Update: Monday, May 7, 3:30 a.m. ET by Wes O'Donnell
As things continue to go south, coach Tom Thibodeau didn't offer up any good news.
Nick Friedell of ESPN Chicago tweets on Noah's status for Game 5:
Thibs says Jo is 'most likely out'. He also said Derrick came by the Berto to talk to his teammates.

— Nick Friedell (@ESPNChiBulls) May 7, 2012
Down 3-1 to the 76ers, the Bulls' season is heading for an early ending. They'll look to stave off elimination at home on Tuesday night.
Update: Monday, May 7 at 8:05 a.m. ET by Tim Daniels
Noah's ankle still hasn't shown enough signs of improvement to play in Game 5, according to Fox Sports. The Bulls were hoping to get him back after falling behind 3-1 in their series against the Philadelphia 76ers on Sunday:
"Chicago Bulls center Joakim Noah upgraded from crutches to a walking boot Sunday but will not be available to play in Tuesday's must-win Game 5 against Philadelphia."
As if losing Derrick Rose wasn't enough, now the Bulls must continue to seek ways to win without Noah as well. He's developed into a key piece for Chicago thanks to his unmatched intensity and Omer Asik isn't able to replace him.
Things aren't looking good for the Bulls, to say the least.
UPDATE: Sunday, May 6, 11:50 a.m. ET by Donald Wood
While there were still some questions about Chicago's Joakim Noah's status for Sunday's Game 4 against the Philadelphia 76ers, the doubt that the center will play has come to fruition.
Bulls' beat writer for the Chicago Tribune K.C Johnson is reporting on Twitter:
No surprise: Joakim Noah officially out vs. Sixers. Omer Asik to start. #Bulls

— K.C Johnson (@KCJHoop) May 6, 2012
There is no counting out a team as deep as the Chicago Bulls, but the loss of Derrick Rose for the series and Noah for at least Game 4 may be the window of opportunity the Sixers need to take a commanding 3-1 series advantage.
----------End of Update----------
During Chicago's Game 3 fourth-quarter meltdown against the Philadelphia 76ers, Noah injured his left ankle.
K.C. Johnson of the Chicago Tribune reports:
Noah is in bad shape. Initial X-rays were negative, however the team hasn't ruled out a fracture, two sources said. ...

Noah gruesomely turned his left ankle as he led a fast break and stepped on Andre Iguodala's foot with 7 minutes, 57 seconds left in the third. Hobbling badly, he purposely fouled Evan Turner at the 6:46 mark so he could exit straight to the locker room.

But Noah inexplicably returned early in the fourth, even though he barely could run.
The Bulls lost Game 3 and now trail the 76ers 2-1. They're already without star point guard Derrick Rose, and Noah's loss would be catastrophic.
UPDATE: Saturday, May 5, 3 p.m. ET
Things are not as bad as it could be for Noah, Coach Thibodeau confirms there is no fracture in the forward's ankle (via K.C. Johnson):
Thibodeau confirms no fracture for Noah. Bad ankle sprain. Doubtful for series. #Bulls

— K.C Johnson (@KCJHoop) May 5, 2012
However, it does appear that the Bulls will be without their hustling star for the rest of this opening round series.
Chicago will be lucky to advance through to the second round without him.
While the team does have some very talented players, the loss of its two best players will be far too much to overcome.
The series resumes play on Sunday in Philadelphia at 1 p.m. ET.
Whether Noah will be available remains to be seen.
He left the arena on crutches with a black aircast on his left ankle and declined to speak with reporters.
We'll update you further on Noah when more information is known.
This article is
What is the duplicate article?
Why is this article offensive?
Where is this article plagiarized from?
Why is this article poorly edited?

Chicago Bulls: Like this team?