Terrell Suggs Injury: A Golden Opportunity for Courtney Upshaw, Sergio Kindle
May 4, 2012

Patrick McDermott/Getty Images
The Baltimore Ravens suffered a huge loss for the 2012 season this week. Outside linebacker Terrell Suggs, a tremendous hybrid pass-rusher and all-around star at his position, suffered a tear to his Achilles tendon.
While Suggs, the 2011 Defensive Player of the Year, has vowed that he will return midseason, recovery from an Achilles tear is usually close to a full year, which means that Suggs could be more likely to miss the entire season.
The impact of this loss upon the Ravens should not be understated. Even on a defense that includes two other former Defensive Players of the Year in linebacker Ray Lewis and safety Ed Reed, along with star defensive lineman Haloti Ngata, Suggs may be the best player of any of them.
Suggs is a complete outside linebacker who fits the Ravens scheme perfectly, and can do it all. He is a tremendous pass-rusher who can bring pressure and sack the quarterback, and is a constant difference-maker who led the NFL with seven forced fumbles last season.
That said, hope should not be lost in Baltimore. The Ravens still should have one of the NFL's top defenses, and a major reason why is that they have a number of talented, young outside linebackers who could be capable of filling in effectively at outside linebacker.
For each of the past eight years, Suggs and Jarret Johnson have teamed up as outside linebackers for the Ravens. Johnson joined the San Diego Chargers this offseason as a free agent, and now Suggs is injured. The window to a golden opportunity is now open for the Ravens' other outside linebackers to make an impact.
The Ravens have used three second-round picks in the past four years on outside linebackers, and all of them now have their chance to become major contributors.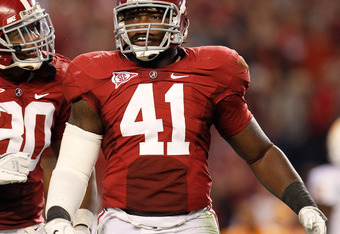 Kevin C. Cox/Getty Images
2009 selection Paul Kruger is expected to take on the open starting spots, but the player most likely to become the standout among the group is rookie Courtney Upshaw. The Ravens got the biggest steal in the 2012 draft when Upshaw, a top-5 overall prospect in the class, fell to the No. 35 overall pick.
Upshaw was fortunate to be drafted in a defensive scheme that is absolutely perfect for him, as he will continue to play the 3-4 outside linebacker position that he played at Alabama. With Suggs' injury, Upshaw will now be expected to take on immediate playing time, but he should be ready to take on the challenge.
Upshaw is one of the most pro-ready players in the rookie class, and he is known for coming up with big plays in big situations. With Suggs out of the lineup for at least the early part of the 2012 season, Upshaw will have to be ready to take on big situations right away.
While the 2012 season will certainly be a big opportunity for Upshaw and Kruger, the other player who really gets a golden opportunity for Suggs' injury is 2010 selection Sergio Kindle.
Kindle is a very talented outside linebacker who is also a perfect scheme fit for the Ravens, and the most athletic pass-rusher of the entire group. However, after suffering a skull fracture prior to his rookie season, Kindle has yet to make any sort of contribution to the Ravens in two seasons.
Before Suggs' injury, whether Kindle would even be on the Ravens roster this season was in question. The draft selection of Upshaw meant that Kindle would have to beat out Michael McAdoo, another athletic hybrid pass-rusher, for a roster spot, and that was no given.
Suggs should almost certainly start out the season on the physically unable to perform list, which will require the Ravens to add him to the active roster between the sixth and 10th weeks of the season if he is to play in 2012. That said, Suggs' questionable status to play at all next season should secure Kindle's roster spot, barring another injury setback.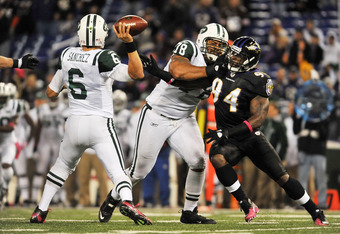 Larry French/Getty Images
Not only should Kindle make the Ravens' 53-man roster, he also has a great opportunity to earn himself playing time. Of any of the Ravens' outside linebackers, Kindle has the most pure pass-rushing ability and most upside. If Kindle is going to overcome his struggles and establish himself as a quality NFL playmaker, he must seize this window of opportunity.
While it would be inaccurate for me to speculate on whether Suggs will return to play in the 2012 season, I do believe the Ravens' arsenal of outside linebackers will do an effective job filling in for the temporary loss of Suggs and the permanent loss of Johnson. Upshaw, Kruger, Kindle and even McAdoo have a great opportunity to step up and prove themselves, and they are more than capable of doing so.
Thanks for reading!
Follow me on Twitter @Dan_Hope.