B/R Debate: Should Devin McCourty Line Up at CB or S for Patriots in 2012?
May 4, 2012

Leon Halip/Getty Images
Patriots cornerback Devin McCourty was giving up yards at a record rate in 2011.
And then, head coach Bill Belichick moved him to safety. Suddenly, he looked like a changed man. He got his confidence back and helped the team in that role.
All this has begged the question of McCourty's future in the secondary: Will he play cornerback or safety in 2012 and moving forward?
To debate the topic, we bring in Steve Palazzolo of Pro Football Focus, who can also be found on Twitter.
You're the guest, so you get the ball first.
Steve: Thanks for having me again Erik.
I think McCourty needs to be given every opportunity to succeed at cornerback. He was among the best in the league during his rookie season in 2010 so he's proved capable.
When you have a guy on the roster who can be a top-notch CB, you have to give him a chance to prove it because it's such a premium position.
As I've said before, the 2011 season started off slowly after the Patriots started playing press man coverage and McCourty got torched by a couple of top-notch wide receivers. In 2010, McCourty excelled in the off man/zone coverage that Bill Belichick usually employs.
New England did abandon the press coverage after three games, but it appeared too late for McCourty. He struggled regardless of the coverage, and he always seemed to be a step away from making a play.
In 2010, McCourty's closing speed and ball skills were exceptional, particularly on the deep ball. Last year, he was not closing as quickly and he seemed to get lost in coverage at times.
Was it confidence? Was it injury? I'm not sure, but I think the Patriots should find out if he can regain the form that made him Pro Football Focus Rookie of the Year.
Erik: That's a fair assessment, Steve, and I think there's something to be said for his success at cornerback as a rookie.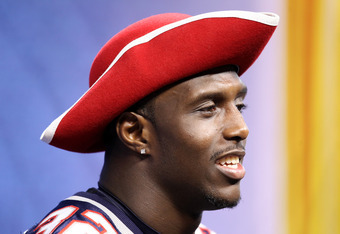 Andy Lyons/Getty Images
It really all started with McCourty getting burned time and time again by Brandon Marshall and Vincent Jackson in Weeks 1 and 2. Of course, those are two of the best receivers in the game, so getting beat by them is nothing to be ashamed of. Of course, it affected him over the course of the season as it continued.
With that said, it's hard not to notice how much more comfortable and confident he looked at safety.
As you pointed out, McCourty is much better in off coverage than he is in press. My theory is that the Patriots will utilize him as a fulltime defensive back. Their defense is built on versatility, and the fact that McCourty is such a strong zone corner lends to him playing either corner or safety in nickel packages as coverage dictates.
He is at his best when his eyes are in the backfield, and he has the skill set as a tackler and in his break on the ball to make him a movable piece in what's becoming a movable piece defense in New England.
Steve: I'll agree that McCourty looked like a natural at safety, and I like the versatility he can bring to the table. The emergnce of Sterling Moore was the key to the Super Bowl run in my opinion as it allowed the Patriots to move McCourty from cornerback in nickel situations.
When looking at the Patriots' depth chart, there are intriguing options. Assuming Moore is back at CB, he'll be joined by Kyle Arrington and hopefully a healthy Ras-I Dowling. That's a potentially solid trio at cornerback, but my ideal scenario still keeps McCourty in that mix.
If he can regain his form at LCB, and Dowling lives up to his potential at RCB, I'd feel comfortable with Arrington and Moore battling it out for nickel and dime duties.
It may be too much to ask of McCourty to regain his 2010 form, but like I said earlier, he deserves a shot. Another interesting option would be using him in a Woodson-type role playing the slot. In the NFL these days, the slot cornerback has more responsibilities than ever.
They have to cover some of the best receivers in the league, in addition to having added run stopping responsibility as teams continue to spread the field to run the ball.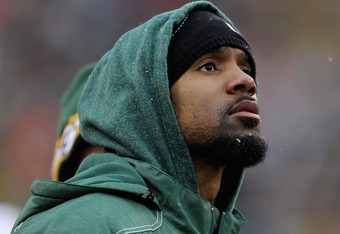 Jonathan Daniel/Getty Images
McCourty has proved more than capable as a run stopper, and it would be interesting to see him line up closer to the action in a LB/CB hybrid role similar to Woodson. My concern would be putting him up against wide receivers who have a "two-way go," though I think this experiment could work against teams who use the slot receiver as more of a downfield threat like the New York Giants and New Orleans Saints.
Erik: McCourty definitely deserves a shot, and a best-case scenario certainly involves him remaining at cornerback, but he should be eased back into it rather than thrown back to the wolves.
Putting him in that Woodson role makes a lot of sense, but on the contrary, I think it's because it would allow him to play with his hips square to the line of scrimmage as opposed to putting him in situations where he could get turned around, which happened so frequently in 2011.
He would probably be worse off against guys like Robert Meachem and Victor Cruz who are known for stretching the field from the slot.
But back to the point, McCourty's definitely stout enough against the run to make it work, and although he may not be the blitzer Woodson has been in his career, McCourty did log a sack on Matt Flynn in 2010.
I'll be interested to see what the team does with him in training camp, since part of the offseason will likely be spent trying to figure out the answer to the very topic we're currently debating.
Steve: Yes, training camp will answer a lot of these questions. Right now, I can see him staying at CB in base and shifting to FS in nickel and dime packages, just as he did at the end of last season.
Regardless of position, I think we can expect something in between McCourty's outstanding rookie season and disappointing sophomore campaign. If that's the case, the Patriots have a player who is competent in coverage and a strong player against the run.
Perhaps McCourty can develop from an average cover cornerback to an above-average coverage safety. As the league continues to pass the ball, the cornerback-to-safety move may occur sooner than it has in the past for certain players.
McCourty may be about to make the move. I'd like to see him get a chance to recover his 2010 form, but if he can't, I'm sure the Patriots will be happy to use his versatility and move him around the defensive backfield as they did on their run to the Super Bowl.
Erik: Our debate has reached an agreement, and with that, we'll draw things to a close.
Thanks again for joining me, Steve. Your insight, as always, is incredibly valuable to myself and readers alike.
Check back at the AFC East blog daily for more debates.