Projecting the Baltimore Ravens' Top Training Camp Battles
May 4, 2012

Kevin C. Cox/Getty Images
NFL training camps aren't set to start for some time, but with the draft all wrapped up and teams working with their crop of new rookies, it's easier to see who is going to have to fight for the chance to take the field this season.
Let's look at three of the bigger training camp battles that are likely to play out for the Baltimore Ravens this summer.
The Battle for Two Linebacker Spots
Heading out of last week's draft, only one starting spot in the Ravens' linebacker corps was up for grabs—the inside spot left vacant when Jarret Johnson left for free agency. Now that star outside backer and sometime-defensive end Terrell Suggs has torn his Achilles' tendon, there are two spots that need filled.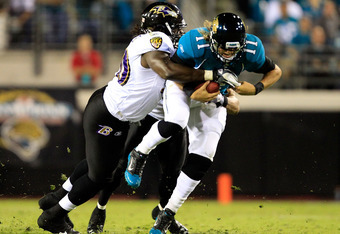 Sam Greenwood/Getty Images
There isn't a lack of talent on the Ravens' depth chart, so a number of players will be vying for these two spots throughout the summer. Paul Kruger now seems likely to win the inside spot, and Pernell McPhee could easily take over for Suggs.
But rookie Courtney Upshaw will provide some serious competition at both positions and could end up with one of them in his grasp. It will be interesting to see in what ways the Ravens will have to adjust without the versatile, explosive Suggs on the field and, as such, this competition is wide open.
Don't count out Sergio Kindle getting a chance to fill one of the spots either, or another veteran free agent coming in to compete as well.
Kelechi Osemele versus Gino Gradkowski
Kelechi Osemele was brought on by the Ravens in the second round of the draft as the ostensible replacement for Ben Grubbs.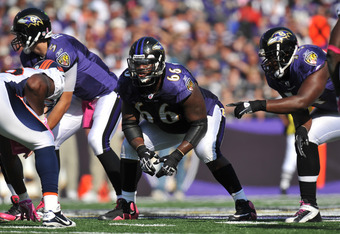 Larry French/Getty Images
The Ravens also drafted another offensive guard, Gino Gradkowski, in the fourth round, and the two may find themselves battling for Grubbs' spot, though at first it seemed to be Osemele's without contest.
Gradkowski will need to prove he's a better blocker and pass protector than Osemele to win the job, but he certainly is talented enough to do so. Otherwise, Gradkowski needs to hone his center skills—he may be the one to take over for Matt Birk upon his retirement.
Who Will Emerge as the Ravens' True No. 2 Receiver?
Aside from Torrey Smith and Anquan Boldin, the Ravens are wanting for receivers. They tried to insert Lee Evans as their No. 2 last season, but injuries kept that experiment from panning out and they didn't bring him back for a second year.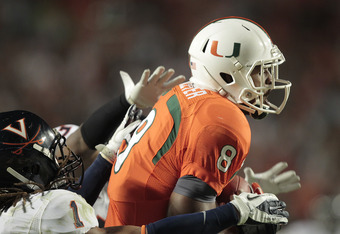 Joel Auerbach/Getty Images
Boldin has been performing as the team's de facto No. 2, but he's far better suited in a slot role. Tandon Doss doesn't seem to be progressing as planned and the rest of the team's receiving corps is generally forgettable.
That's why it's imperative that sixth-round draft pick Tommy Streeter impresses this year. Streeter is fast, athletic and, most importantly, tall, checking in at 6'5".
He'll need to develop quickly when it comes to route running if he wants to make an impact early, but if he's looking good enough in camp to be the just-run-out-there-and-get-open guy the Ravens and quarterback Joe Flacco need, he could clinch that spot. They'll probably have him compete with Doss and hope he's made some strides.