Terrell Suggs' Injury Creates Another Market for Dwight Freeney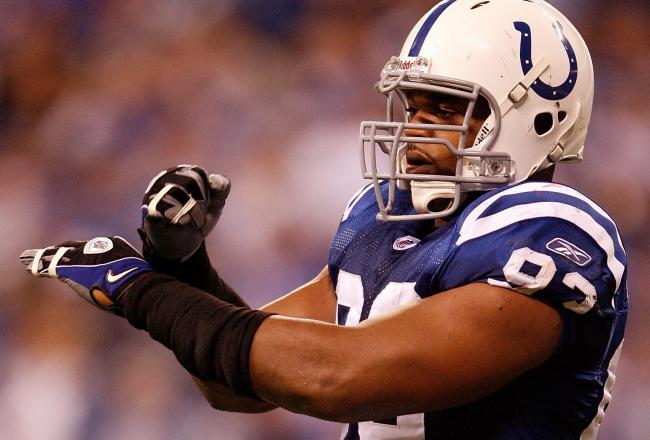 Don't cross off Dwight Freeney for the Ravens.
Andy Lyons/Getty Images
Baltimore Ravens pass-rushing linebacker Terrell Suggs suffered a potentially season-ending Achilles injury yesterday, and league observers immediately wondered how the Ravens will fill the void.
Suggs insists he'll return by midseason, but that is likely just wishful thinking. By most accounts, Suggs will miss all of the 2012 campaign.
Suggs is one of the most dominant pass-rushers in the NFL, racking up 25 sacks in the last two years. Baltimore is considered one of the favorites to go to the Super Bowl from the AFC, but without the presence of Suggs, its vaunted defense may take a step back.
Among the possible trade options open to the Ravens is Indianapolis Colts defensive end Dwight Freeney. Freeney has been repeatedly linked to trade rumors, and I believe he will be moved before the close of the preseason.
There are two reasons why Freeney to the Ravens makes sense:
Freeney will have time to work in Suggs' role in the preseason. This is brilliant luck for the Ravens. I have my doubts that Freeney can make the transition from end to outside linebacker in a 3-4. If the Ravens share those doubts, they can watch his progress in Indianapolis and make an informed decision.
Freeney's price tag makes more sense to a contender. If a team trades for Freeney, they would likely have to renegotiate his contract for the long term. However, for the Ravens, it could make sense to trade for Freeney, even just for one season. The Ravens don't have a lot of cap room, but could gain some freedom depending on how Suggs' injury is classified.
There are obstacles. Aside from the fact that Freeney may not be able to transition to Suggs' role (something I think is much more difficult than fans believe), the salary cap situation for the Ravens still appears too tight. It sounds good on paper, but I don't believe the situation is as neat a fit as some would think.
The Colts are trapped in a position where everyone knows they can't carry Freeney through the season and no one wants to overpay for him in a trade. Indy's best hope for moving Freeney is that two teams will have a need at the same time and get desperate to deal for him. In that case, the value for Freeney could rise from a sixth- or seventh-round pick to a third or fourth.
The Ravens are the first. Will there be a second? If not, the Ravens can just wait for the Colts to inevitably cut Freeney and scoop him up without paying him $14 million in 2012.
His age, salary and the state of the Colts makes it ridiculous to think he'll be in an Indianapolis uniform in September. The only question is whether or not he'll be wearing a Ravens uniform. I don't believe he's any better a fit there than he is in Indianapolis, but in the end, the Colts can only benefit from increased demand for pass-rushers.
This article is
What is the duplicate article?
Why is this article offensive?
Where is this article plagiarized from?
Why is this article poorly edited?

Indianapolis Colts: Like this team?