San Francisco 49ers' Running Back Situation: A Good Problem to Have
May 17, 2012

Ezra Shaw/Getty Images
Just think about this for a second. The San Francisco 49ers have four running backs on their roster that combined to for over 4,000 yards last season. One of those, LaMichael James, contributed over 2,000 yards at Oregon.
Frank Gore accumulated over 1,300 total yards in 2011, Kendall Hunter gained nearly 700, while Brandon Jacobs had nearly 700 as well in a down season with the New York Giants.
That is nearly 5,000 yards of total offense from four running backs that promise to get touches for the 49ers in 2012. This can't be a bad thing. Right?
After all, the more weapons you have on the offensive side of the ball the better. Especially if you are a 49ers' team that relied heavily on defense in a surprise run to the NFC Championship Game last season. Why not load up on as much talent as possible in order to make this the most balanced team possible
However, you have to take into account logistical concerns. These concerns are simple and clear-cut. How many balls are on the football field during one play? I think you can simplify the equation and answer that question for yourself.
Are the 49ers going to throw the ball a total of 10 times a game next season? No, that just isn't going to happen in a modern NFL offense. Unless you have Tim Tebow running the show and thank God the 49ers don't.
An Abundance of Running Backs

Well, I might have a less than mainstream stance on this subject. Hunter figures to be the 49ers starting running back of the future, at least in my opinion. He has the ability to carry the ball 20-plus times on a consistent basis and not wear done. This is a back that has shown himself more than able to do this. He didn't wear down as games progressed at Oklahoma State, consistently performing up to task in the fourth quarter.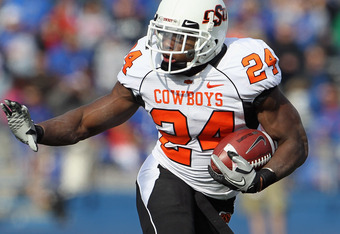 Jamie Squire/Getty Images
In fact, statistics prove this point. Hunter ran the ball 20-plus times in nines games as a senior at Oklahoma State in 2010. In all those games the young running back tallied over 100 yards. This despite the fact that they had Brandon Weeden and Justin Blackmon putting up record numbers that season.
Although Hunter's role might be less defined in 2012 as it was in 2011, he will still get the necessary carries to make an impact. However, his major role on the team will come once Frank Gore retires.
Then you have the aforementioned Gore. He is, without a doubt, the 49ers starting running back heading into 2012. What will change is the amount of carries Gore receives. He will not be tasked with running the ball 25-plus times anymore. That time clearly has passed. Instead, No. 21 will probably get about 13 touches a game, this in order to keep him fresh as the season progresses.
Just imagine Gore running the ball in the playoffs with just 220 carries under his belt. That will make a dramatic impact in regards to his ability to make a difference. This isn't a dramatic change from the last few seasons in terms of workload for Gore. He has only rushed the ball over 260 times three times in his career. However, it should also help his ability to stay healthy throughout the course of an entire season.
This would just keep Gore fresher for when it counts the most.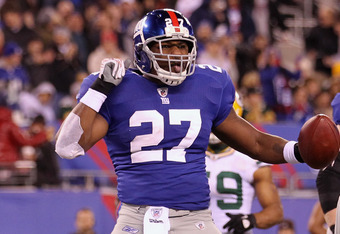 Nick Laham/Getty Images
Jacobs was brought in to be the new short yardage back. This addition seems to indicate that Anthony Dixon is on the verge of seeing his days in San Francisco end. The former Giants running back has 600 less carries under his belt than Gore and is just a few years removed from multiple 1,000 yard seasons.
Say what you want about Jacobs' toughness, he knows how to score when in the red zone. The veteran running back is among the league leaders in rushing touchdowns over the course of the last four seasons with a total of 46. For comparisons sake, that is three more rushing touchdowns than Gore has in his entire seven year career.
In my opinion, Jacobs is the perfect complement in this offense. San Francisco struggled tremendously running the ball in the red zone, which led to atrocious statistics in that category last season.
The 49ers went out and drafted one of the most electric collegiate backs in the modern history of the game, LaMichael James. He adds an entirely new dimension to the offense, something this team has been missing a great deal over the course of the last decade. He can come in as a third-down back, consistently making plays in both the running and passing game.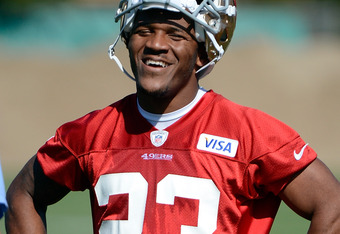 Thearon W. Henderson/Getty Images
In the future James promises to be a great complementary guy to the aforementioned Hunter. That should be one dynamic duo once Gore decides to walk away.
Where does this leave Dixon?
Probably on the outside looking in. The 2010 sixth-round pick has been a solid special teams performer over the course of his first two seasons, but doesn't seem to have a spot in the running back rotation.
As I stated before, Dixon or Jacobs are probably likely vying for the final roster spot at this position.
Could the 49ers keep five?
Common logic would seem to indicate no. Teams just don't keep that many running backs on the active roster and none of them are candidates for the practice squad because someone will pick them up on the waiver wire.
That being said, there is a scenario where all five could make the opening day roster. San Francisco signed Rock Cartwright to be their backup fullback and special teams ace. This role could easily be filled by Dixon, who does have the ability to play both roles. Bruce Miller has cemented his status as one of the best fullbacks in the entire league, so there might not be a major need for a backup at this position.
Is Having a Surplus of Running Backs a Bad Thing?
This may seem like a stupid question, of course it isn't. However, you have to look further at the logistics when drawing a conclusion. In order to get a gauge of where each player stands in the rotations the coaching staff needs to see them get reps.
With five running backs all vying for these spots it might be hard to fully understand what each brings to the table. Of course we already know the roles that Gore and Hunter are going to have. The major issue is trying to find roles for the other three.This is done through training camp reps as well as preseason games. Do they have enough time?
My answer to that question is yes!
What is Going to Happen?
I would hedge my bets on Dixon getting cut at some point during training camp. He just doesn't seem to have a role in the rotation with Jacobs in the mix.
Assuming that the other four stick, San Francisco is going to have one dynamic backfield. You are looking at three starter-caliber players in Gore, Hunter and Jacobs, as well as an ultra-talented young back in James.
Teams are going to have an incredibly hard time planning against the schemes that Harbaugh and Co. are going to run. You will see a tremendous amount of two back sets with a combination of these four players in the backfield at one time. Additionally, having Miller as a lead-blocker makes this foursome that much more dangerous.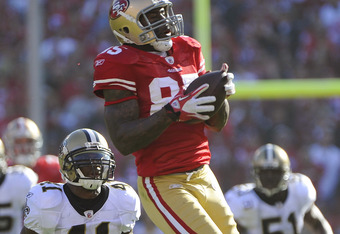 Thearon W. Henderson/Getty Images
Defenses might be forced to stack the box, which will create tremendous matchup concerns in the passing game with the likes of Vernon Davis, Michael Crabtree, Mario Manningham, Randy Moss and A.J. Jenkins.
This isn't a bad situation to have. After all, we have seen what the alternative has led to in the past.