Ma'ake Kemoeatu Signing Creates 3-Way Battle at NT for Baltimore Ravens
May 2, 2012

Larry French/Getty Images
The news that Ma'ake Kemoeatu has re-joined the Baltimore Ravens, confirmed by BaltimoreRavens.com, could create an intriguing three-way battle at the most important position on the Ravens' defense.
Kemoeatu can provide strong competition at nose tackle behind hulking youngster Terrence Cody.
The former Ravens tackle has not been the same since suffering an ACL injury, which forced him to miss the 2009 season.
He returned in 2010 and joined the Washington Redskins to anchor their new 3-4 front. However, Kemoeatu struggled to play with the same kind of power that had made him a Pro Bowl selection for the Carolina Panthers in 2008.
His time in D.C. was blighted by the lingering effects of his injury and additional issues with his shoulder. Kemoeatu was released and was out of football in 2011.
That being said, he knows the Ravens system well, having spent three seasons in Baltimore to begin his pro career. When healthy, he still has the strength and aggression to absorb blockers and collapse the pocket from the inside.
In fact, Kemoeatu has a good chance of achieving more success in the Ravens' scheme than he did in Washington. Baltimore runs a hybrid version of the 3-4, which is very reliant on 1-gap concepts along the front.
That means that the Ravens nose tackle can play in a shaded technique and doesn't have to play the 2-gap as much as nose tackles in a traditional 3-4 defense. In this sense, the man lined up across from the center for the Ravens plays in a similar manner to a 4-3 nose tackle.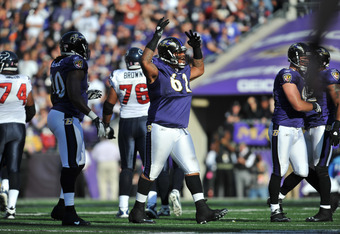 Larry French/Getty Images
That was the type of role Kemoeatu excelled in for the Panthers, and it could now prompt a late-career revival. He can be counted on to at least push Cody to deliver more consistency.
The 23-year-old was solid in his first season as a starter. However, Cody has had issues with weight fluctuation and also had to overcome knee surgery in his rookie season.
The nose tackle position group becomes even more crowded when the massive frame of undrafted free agent Nicholas Jean-Baptiste is added to the mix. Jean-Baptiste replaced Phil Taylor at Baylor last season and established himself as a force in the middle.
He has above average off-the-snap quickness for his size, but has struggled to consistently produce performances which match his talent level. However, the Ravens have had great success with undrafted interior defensive linemen, including Kemoeatu and former starter Kelly Gregg.
It is unlikely that Cody will lose his job, but the Ravens have been smart about adding competition at such a key position. After losing big bodies Cory Redding and Brandon McKinney to the Indianapolis Colts, Ozzie Newsome has brought in a blend of experience and youth, that can help right away.