New York Jets Should Commit to Tim Tebow Now or Risk Dividing Locker Room
May 2, 2012

Jeff Zelevansky/Getty Images
Tim's earned the right to be our quarterback going into training camp next year. He made some good strides this year. He obviously played very well against Pittsburgh and played very well in a lot of football games, so he made great strides.
Barely two months after John Elway made his lukewarm promise about Tim Tebow, the Denver Broncos traded the popular southpaw quarterback to a team with a lower elevation and fans with higher expectations. When veteran quarterback Peyton Manning became available, Elway pulled the promise ring from Tebow and bought Manning a diamond in the form of a $96 million, five-year contract.
However, if that weren't enough to give Broncos' fans pause, consider the fact that Manning will wear No. 18 for his new team, despite the fact that the number has been missing in Denver for the last 26 years. The Broncos had previously retired No. 18 of former quarterback Frank Tripucka (father of former NBA forward Kelly Tripucka) in 1986.
So Elway solved his "problem" by getting two draft choices from the New York Jets (a fourth-round pick with which the Broncos chose center Philip Blake, and a seventh-round pick, linebacker Danny Trevathan) in exchange for a former first-round quarterback—a quarterback who took his team to the playoffs and led it to a victory.
Now, just as in Denver when he sat behind then-starter Kyle Orton, his incredible popularity means Tebow's presence will loom in the Jets locker room with the risk of slowly eroding the somewhat shaky confidence of their current quarterback, Mark Sanchez. The team, which was reportedly already fractured prior to the trade, will no doubt further divide with the arrival of Tebow at training camp and the impact upon the shift in offensive philosophy under new offensive coordinator Tony Sparano.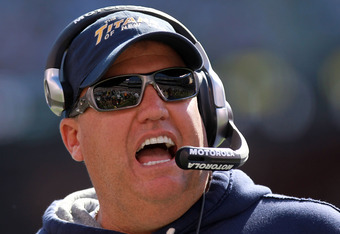 Nick Laham/Getty Images
"If it's not all of them, the majority of our football team has a great deal of confidence in Mark Sanchez," declared head coach Rex Ryan in an attempt to dispel the rumors of Jets players anonymously criticizing their starting quarterback last season in the local press. "Saying things and not putting your name on it? That's not being a Jet."
Those issues arose before the arrival of Tebow when Sanchez was clearly the most talented quarterback on the roster. For now, Tebow is listed as the second-string quarterback, but Ryan has said he could be used for as many as 20 plays per game.
"Its like we're going to be two separate teams," veteran guard Matt Slauson said, referring to the specialty plays for Tebow.
Comments like that do not bode well for the psychological health of a team.
If the NFL draft experts are to be believed, help for Sanchez is not on the horizon. Draft analyst Bucky Brooks recently gave the Jets draft a C+ rating, saying that "Rex Ryan is gambling on raw talent over production with the Jets' 2012 draft class" and that neither of their first two picks (defensive end Quinton Coples and wide receiver Stephen Hill) "played at an exceptional level during his final college season. Although it is very possible that both players turn it around as pros, it is more likely they continue to rank as underachievers, based on their history."
With the selection of a running back and two wide receivers in the 2012 NFL draft, the Jets may well be signaling that this is Sanchez's chance to turn his performance around or the job will be handed off to their new backup.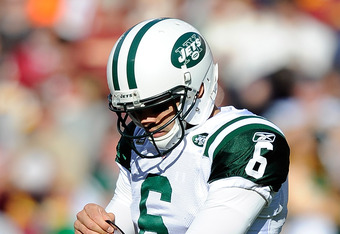 Patrick McDermott/Getty Images
"I have a great relationship with Mark," Tebow said of Sanchez in an interview after being named to the NFL Network's Top 100 players of 2012. "We're working great every single day together. I feel like we're pushing each other to get better."
Sanchez did not make the Top 100 list.
"That's really saying something about the young man," Coach Ryan said of Tebow's inclusion in the Top 100 list. At a recent off-season workout this week, Ryan said that Tebow looked "outstanding. He's got size, he's got strength, he's got speed and he can throw the football."
"Everybody recognizes the competitiveness," Ryan added. "The guy's a winner, no question."
After the early regular-season and playoff success in his first two years, Sanchez faltered last year, and the Jets missed the postseason amid rumors that the front office now had doubts about him being the quarterback of the foreseeable future. Despite the fact that there is not a lot of use of the word "Sanchise" anymore, the Jets attempted to reinforce their commitment to Sanchez after the Tebow trade.
"Mark Sanchez is, has been and will be our starting quarterback," said general manager Mike Tannenbaum. "We're adding Tim to be our backup quarterback and to play in other roles and packages as Coach Ryan and Coach Sparano see fit."
And with those words, another front office executive gave a lukewarm promise to a starting quarterback.
At least Tannenbaum didn't announce that Tebow would be wearing No. 12.