How Each Draft Pick Fits into New York Jets' Plan in 2012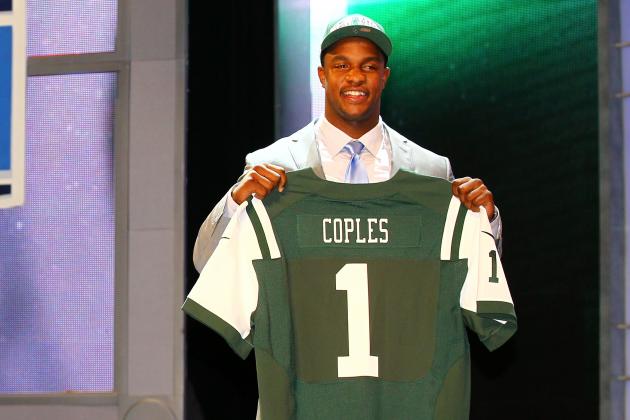 Al Bello/Getty Images

Going into this year's draft, the New York Jets had a few positions of need to address. They needed to find a legitimate pass-rusher, upgrade at safety and get younger at linebacker.
On the offensive side of the ball, they had to find a No. 1 or 2 prototypical, tall receiver to play opposite Santonio Holmes. The Jets also had to sure up the running game by drafting an offensive lineman/men and another running back.
New York did a good job of addressing all of their needs. After trading up in the second round, New York came out of the draft with a total of eight picks.
The Jets got their pass-rusher with their first pick in North Carolina's Quinton Coples before selecting two wide receivers, two safeties, an offensive lineman, an outside linebacker and a running back.
Here's a review of each draft pick and how each will fit into the Jets' plan for next season.
Begin Slideshow

»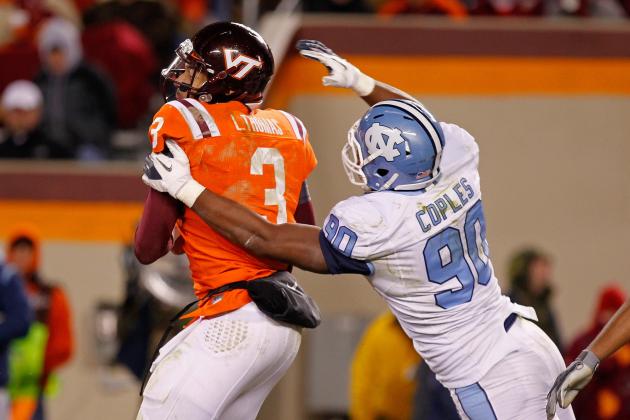 Geoff Burke/Getty Images

This year's draft almost fell perfectly for the New York Jets. One of the Jets' most pressing needs was a pass-rusher, and by the time the 16th pick came, every pass-rusher was still there for the taking.
Well, except for the dark horse New York really wanted. According to Len Pasquarelli of The Sports Xchange:
Less than five minutes after the Seahawks plucked Irvin, with a pick that surprised many pundits, the telephone rang in the Seattle "war room." On the other end was a Jets' official, good-naturedly cursing a Seahawks' counterpart for having chosen the prospect New York planned to grab one pick later.
Irregardless, the Jets had their choice of Quinton Coples, Melvin Ingram, Whitney Mercilus, Chandler Jones, Nick Perry and others. While Coples was rated as the best defensive end in the draft by ESPN.com, the selection was a bit odd since he looks more comfortable in a 4-3 defensive scheme rather than the Jets 3-4.
Even if Coples does not turn out to be the double-digit sack guy they have been missing since John Abraham's departure in 2006, he's a versatile defensive lineman who can play on the inside or out.
With incumbent solid starting defensive lineman Mike DeVito returning, Coples will get his playing time not as the starter but in certain packages that fit him best.
If he impresses, he will be the starter by the end of the season forming quite a dangerous pair with last year's first-round pick Muhammad Wilkerson.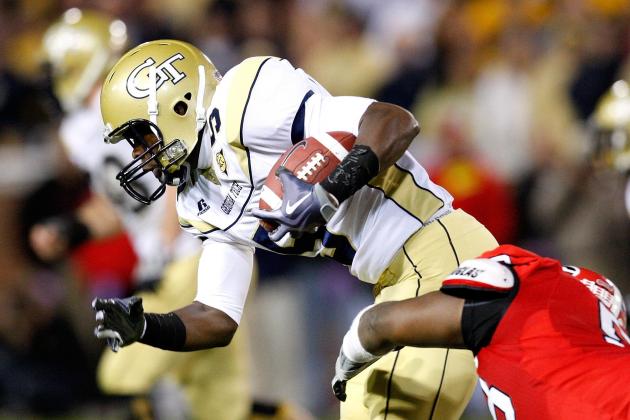 Kevin C. Cox/Getty Images

Unless the New York Jets bring back Braylon Edwards, second-round pick Stephen Hill should start opposite Santonio Holmes from day one.
At 6'4'', 215 lbs and a 4.3 40-time at the combine, Hill has the size and speed to be the Jets' vertical threat and red-zone target they desperately need.
He's also not a liability when it comes to blocking since he comes from Georgia Tech's triple-option scheme that focuses more on running the ball than passing it.
With just 28 catches last year at Georgia Tech, Hill's numbers are not eye-popping. That is until you see that each reception averaged 29.3 yards.
Hill is still very raw and will need time to develop, but because he's such a vertical threat due to his speed, opposing defenses are going to have to account for him even if he's not always Mark Sanchez's target.
With his height, he can immediately replace what Plaxico Burress brought to the Jets' red-zone offense last season.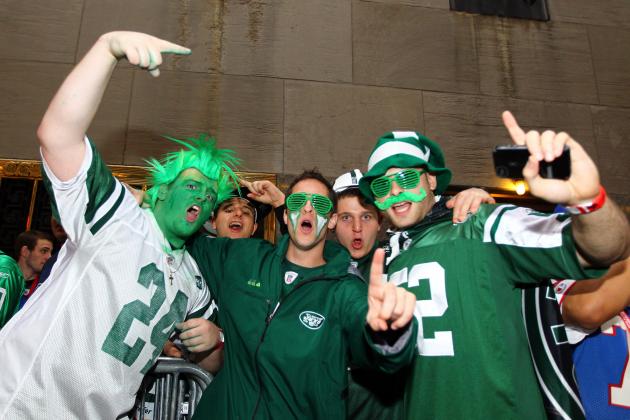 Al Bello/Getty Images

And here's Bart Scott's replacement...
The New York Jets' third-round pick out of Arkansas State Demario Davis, who played both inside and outside last year, will gradually take over Scott's starting spot next season.
Davis has sideline-to-sideline range, is a good hitter and can be useful as a pass-rusher.
At 6'2'', 235 lbs, he's practically the same size of Scott. Where they differ is in speed. At the combine, Davis impressed with his speed, running a 4.5 40.
Head coach Rex Ryan even said that Davis reminds him of a ''young Bart Scott.''
While his speed is his best asset, it can also be a problem as he can overrun opposing players at times causing him to miss tackles.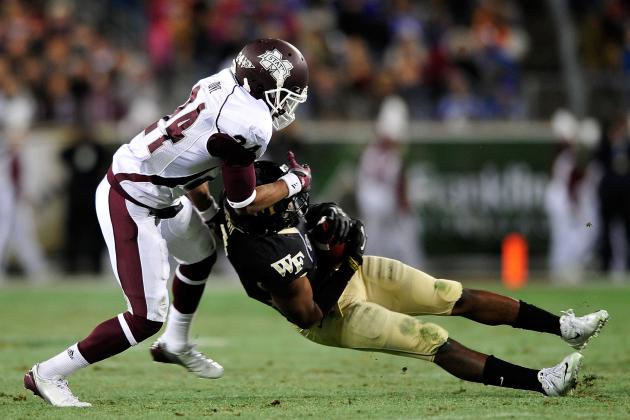 Grant Halverson/Getty Images

Sixth-round pick Josh Bush is a coverage safety more comfortable with man-to-man coverage. Seventh-round pick Antonio Allen is a more ''near the line'' kind of safety more comfortable in zone coverages who can shoot through gaps disrupting plays in the backfield.
Since the New York Jets safety depth chart includes the oft-injured LaRon Landry and the disappointing Eric Smith, it would not surprise if either Bush or Allen work their way into the starting lineup before season's end.
Last year at Wake Forest, Bush recorded 59 tackles and six interceptions as a senior. He only started his senior year and eight games his junior year, so he lacks some experience.
At 5'11 and 205 lbs, Bush comes to the Jets with ideal size.
Antonio Allen, 6'1'', 201 lbs, was ranked the fifth-best safety in the draft by ESPN.com. Last year at South Carolina, he had 88 tackles, three interceptions and four forced fumbles.
While both safeties give the Jets' immediate special teams help, they also provide the defense with much more depth, which is especially needed when your starters are named Landry and Smith.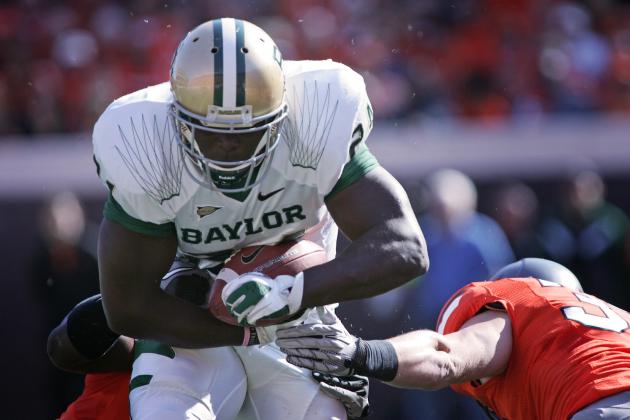 Brett Deering/Getty Images

In the sixth round, the New York Jets looked to improve their running game when they took running back Terrance Ganaway and offensive lineman Robert Griffin, both out of Baylor, with back-to-back picks.
At 5'11'' and 240 lbs, Ganaway is now the biggest back on the Jets' depth chart, unless you want to count that Tim Tebow guy. While he's not the battering ram that his size suggests, he has the speed to take it to the house once he gets past the first wave of defenders.
What's most important is his experience with the option offense he had last year with Robert Griffin III.
Because of this, Ganaway should not only be used to current starter Shonn Greene next season, but also being in the backfield whenever Tebow comes in to run the option.
Take away the three Roman numerals and add four inches and 140 lbs and you get the other Robert Griffin out of Baylor—this one plays offensive guard.
Griffin will see playing time next season only if something catastrophic happens. He was picked for depth and for the future.
But the future may come as soon as after the 2012 season when starter Brandon Moore and Matt Slauson's contracts expire.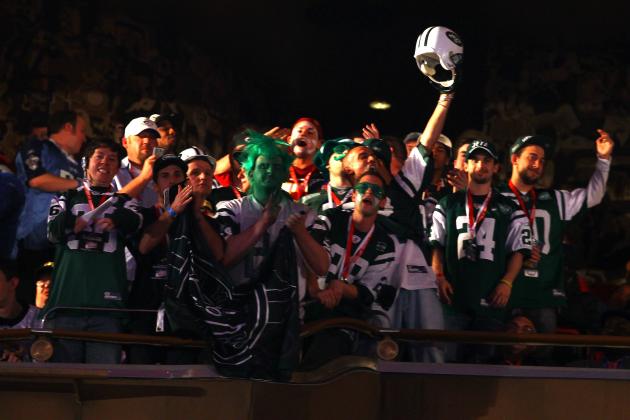 Al Bello/Getty Images

The New York Jets used their last pick to select receiver Jordan White out of Western Michigan.
In his last year at Western Michigan, White had an outstanding 140 receptions for 1,911 yards and 17 TDs.
He is/was an injury case though, missing two seasons due to knee injuries.
White is a dependable possession receiver who does not have outstanding height or speed but will find ways to get open—think former Jet Jerricho Cotchery.
White will really have to impress in training camp or in practices to see the field on Sundays.