Jabar Gaffney Cut: Redskins Foolish to Release Veteran WR
May 1, 2012

Scott Halleran/Getty Images
Prior to selecting Robert Griffin III in the 2012 NFL Draft, the Washington Redskins made quite a bit of noise in the offseason.
Once they moved up to the No. 2 position in the draft, the Redskins upgraded their receiving corps with Pierre Garcon and Josh Morgan. Then, obviously taking RG3 in the draft gave Washington one potentially explosive offense.
Well, the Redskins just made a mistake by releasing veteran receiver Jabar Gaffney. According to Jason Cole of Yahoo! Sports, Gaffney was released on Tuesday:
Redskins have released WR Jabar Gaffney

—Jason Cole (@JasonColeYahoo) May 1, 2012
This comes as a surprising move by Washington, especially since Gaffney was the Redskins' leading receiver in 2011 with Rex Grossman under center. Looking ahead to the upcoming season, here are some reasons as to why this was a foolish move.
Veteran Leadership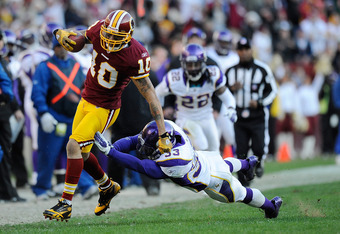 Patrick McDermott/Getty Images
Aside from Santana Moss, Jabar Gaffney was Washington's next best veteran leader at the receiver position. For one, he played in two AFC Championship games and one Super Bowl, so the postseason experience does exist.
And although Garcon and Morgan are two solid players, Gaffney has been in the league since 2002 and has always been a reliable No. 2 receiver.
Now without him, Washington loses the capability of presenting a threatening four-wide set. With him and Moss on the outside and Garcon and Morgan in the slots, RG3 has the luxury of targeting any receiver that can beat single coverage.
Not to mention, but Washington's ground game remains unproven and in the NFC East, four-wide receiver sets are imperative to contend for the division.
Production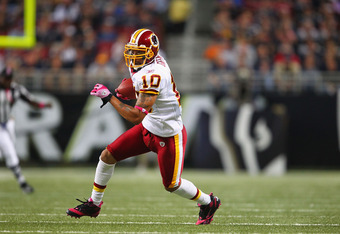 Dilip Vishwanat/Getty Images
In 2011, Gaffney was the Redskins' most productive receiver. Even with Grossman at the helm, Gaffney caught 68 passes for 947 yards and scored five touchdowns; all of which were career highs
The next most productive receiver on the team was actually a tight end in Fred Davis. Gaffney accounted for roughly 40 percent more yards and 33 percent more receptions than Moss: And, also averaged almost 14 yards per reception.
With the additions of Garcon, Morgan and RG3, Gaffney's production may not have gone up but his presence would easily have been more dangerous. Possessing the ability to go over the middle and be reliable on the outside, Gaffney gave Washington consistency more than anything.
Last season alone, Gaffney not only played the whole season but had multiple receptions in every single contest except one. 12 times he had four or more catches and seven times he had five-plus receptions.
Despite the Redskins not being overly dominant on the ground, Gaffney's absence will cost Washington weekly production that keeps defenses off balance, honest and vulnerable to play-action. 
Didn't Draft a WR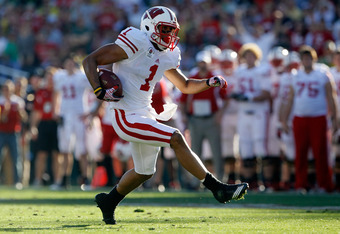 Jeff Gross/Getty Images
At the time, Washington didn't need to draft a receiver because Gaffney along with Garcon, Morgan and Moss created an impressive array of targets for RG3 to connect with. Defenses would be spread out and the ground game could get working from the pro-spread formation.
Without Gaffney though, Washington needs to fill a void at the position as it loses talent and depth. In Round 3 of the 2012 draft, the Redskins could have considered guys such as Mohamed Sanu, Nick Toon or Marvin McNutt.
All three are receivers that can stretch a defense, beat single coverage, run sound routes and help with run-blocking downfield. Not to mention, but even passing on Sanu in Round 3 didn't hurt as both Toon and McNutt were available in Round 4.
Had the Redskins selected a receiver at any point after RG3, releasing Gaffney would then make more sense. Now, Washington only made Griffin's development more difficult and defenses will be more aggressive at blitzing and playing press coverage.
Nothing For Him
Coming off the best season of his career, Jabar Gaffney's marketability was about as high as it could be. In addition, his contract was not a major burden to Washington and Gaffney had just one year left on it.
The Redskins should have at least tried to snag a draft pick out of someone; because you combine the recent production, consistency and experience with the contract and that's quite appealing to teams needing a No. 2 receiver.
Depending on which team Washington could have danced with, a third or fourth-round selection is the best-case scenario for Gaffney. When releasing a player that's coming off his kind of season, the Redskins only hurt themselves by not at least trying to deal him.
John Rozum on Twitter.