NFL Draft 2012: What to Expect from Andrew Luck's Rookie Year in Indianapolis
May 1, 2012

Al Bello/Getty Images
After months of media hype, the draft is over and fans finally have new members of their team to welcome to town. Expectations for draft picks are high, but are they too high?
Over the course of the next few weeks, "What to Expect" will examine every draft pick from the AFC South in its historical context. Using past performances from similarly drafted players and by examining the way in which each team develops certain positions, I will create a realistic baseline by which to judge the performance of each pick.
Readers should be aware that rookies historically perform much, much worse than fan expectations. Also keep in mind that I am not saying the player will perform to these expectations, but rather anything better than the results should be considered a successful rookie year and anything worse would be a disappointment.
There's no better player to begin with than the first overall pick of the draft, Andrew Luck. Obviously, the Indianapolis Colts haven't developed a rookie quarterback in many years, so this baseline will be constructed by comparing all rookie quarterbacks taken in the first round since 2004 who started at least half their games their rookie season. This standard eliminates Eli Manning, Carson Palmer, JaMarcus Russell and Alex Smith from the comparison. That's not ideal, as they were all top picks, but Andrew Luck will start Week 1 for the Colts, so it's only right to compare apples to apples. I've also included Peyton Manning in the comparison set, just for kicks.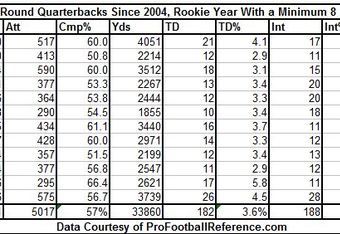 The average season for these quarterbacks was a 57 percent completion percentage, a roughly even touchdown-to-interception ratio and a passer rating of 74.4. These quarterbacks had a sack rate of around 6 percent. For a 500-attempt season, the numbers would be 285-of-500, 3,350 yards, 18 touchdowns, 19 interceptions.
Luck, however, is not an "average" first-round quarterback. He's allegedly the best, most pro-ready quarterback in decades. Because of his status as the top overall pick and his pedigree, it's fair to elevate the expectations slightly.
The five best seasons on this list belong to Ben Roethlisberger, Matt Ryan, Joe Flacco, Cam Newton and Sam Bradford. Should Luck post numbers that were an average of those men over 500 throws, his season would be: 305-of-500, 61 percent, 3,650 yards, 7.3 yards per attempt, 19 TD, 15 INT and a rating of 84.0. This should represent the upper range of his rookie year expectations.This would be an incredible first season, and should be treated as a major accomplishment.
Summary
Normally, I'll include a career profile for the player, but in the case of Luck, the profile is easy. He's the No. 1 pick in the draft. The expectation is that he'll be a multi-time Pro Bowl player, a championship-level quarterback and a potential Hall of Famer.
We can throw the breaks on that for while. For his rookie year, it's reasonable to expect Luck to post a completion percentage between 57-61 percent, to throw for roughly 3,500 yards, have a YPA around 7.0 and to throw more touchdowns than interceptions. Any passer rating above 75.0 should be considered to be above expectations for a first-round rookie quarterback.
The important stats to watch are his sack rate and his touchdown rate. Fans shouldn't worry if he throws interceptions his rookie year, but he should show the ability to get the ball downfield for scores. If he can't control his sack rate, it means he's not picking up the offense and is putting himself in danger.
Andrew Luck will have all eyes on him come this fall. Hopefully those eyes will use these standards to judge him fairly.