Andrew Luck to Colts: 10 Bold Predictions for No. 1 Overall Pick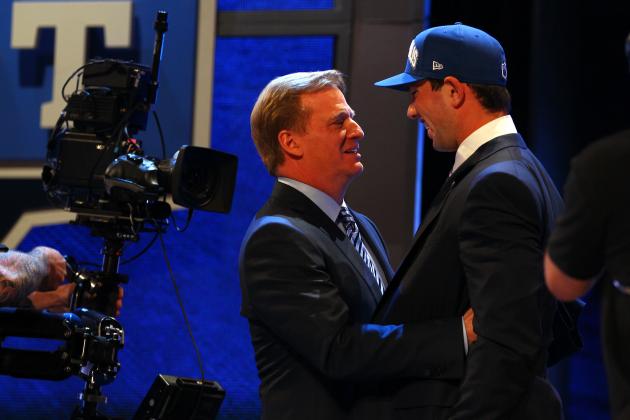 Al Bello/Getty Images

After months of speculation, it is now official. Stanford quarterback Andrew Luck is the quarterback of the Indianapolis Colts, and he will be succeeding the legendary Peyton Manning.
While the expectations are going to be elevated for the overall No. 1 draft pick, and we only have Cam Newton's performance from the 2011 season to serve as a reminder for what is possible to achieve, we also need to be reminded of what is the realistic talent level that will be on hand in Indianapolis.
From a new head coach, new general manager, new starting quarterback, new offensive coordinator, new defensive coordinator and a large number of new players, the 2012 NFL season for the Indianapolis Colts is one that should come with a lower set of expectations and results.
The 2012 NFL draft was a start, as the Colts succeeded in finding a few pieces of the puzzle to put in place as support around Luck. But to think that the team has most of the work done would be foolhardy.
Holding the 2012 version of the Colts team to what the local fans have historically been treated to is not only unlikely, but also extremely unfair under the circumstances.
Trying to look at the big picture, we will proceed to analyze what is going with the Indianapolis Colts team for the 2012 season. Once we have that analysis in place, we will then attempt to make some bold predictions of what to expect from Andrew Luck's rookie season and the years that follow.
Begin Slideshow

»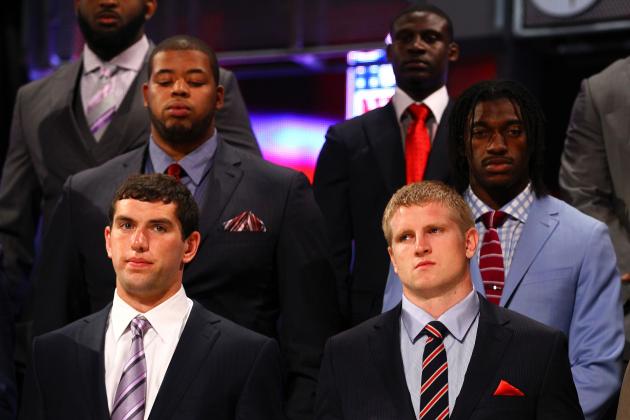 Al Bello/Getty Images

Let's begin with a quick review of Andrew Luck's college stats. Here are the numbers he put up during his career at Stanford: completed 713 passes out of 1,064 attempts, for a completion percentage of 67.0 percent; passed for 9,430 yards, and his average per pass attempt was 8.9 yards per pass.
Luck threw 82 touchdown passes compared to just 22 interceptions, and his passer rating at Stanford was at 162.8. Granted, the college passer ratings are different, but that is still very strong.
In addition, Luck added on 163 rush attempts for 957 yards, scoring seven touchdowns. He had an average gain of 5.9 rushing yards per attempt.
As you can see from the above numbers, Luck is a highly productive quarterback that makes things happen. He takes good care of the football and makes solid decisions on where he goes with the ball.
For another opinion on Luck, here is a story I liked from Wes Bunting at the National Football Post, where he looks at Luck versus Robert Griffin III.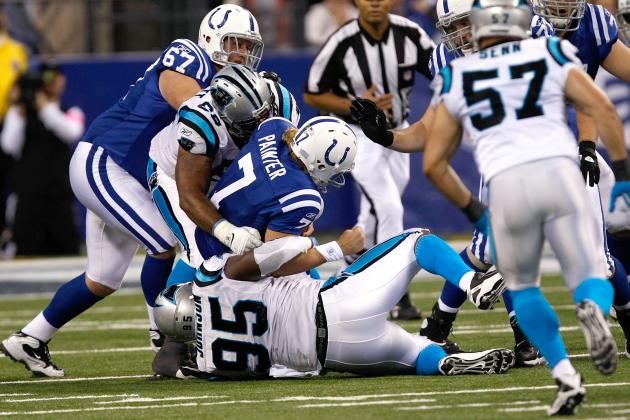 Scott Boehm/Getty Images

When an NFL team knows that they are going up against a rookie quarterback, everybody on the defense is keen on teaching him something new. Piling up sacks, making interceptions, using deception to make him think one thing, and then quickly changing into a different scheme or defensive alignment.
With all of that said, we know that despite all of the problems that the Indianapolis Colts had last year, and there were quite a few, one thing that they did very well was to limit the amount of pressure on the quarterback.
From the 2011 season, for teams that dropped back at least 550 times to pass, here are the final tallies for number of times the quarterback was sacked or under duress: Buffalo (91), Indianapolis (107), Cleveland (109) and Tampa Bay (112).
Funny that all four teams had such a miserable record, but that is beside the point. The Colts offensive line did a good job at keeping the heat off of their quarterback. How much has the Colts offensive line changed since the 2011 season ended?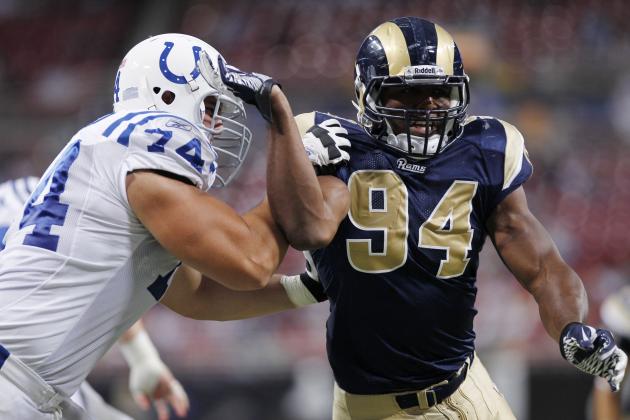 Joe Robbins/Getty Images

When the Colts entered the NFL Draft in 2011, little did they know that Peyton Manning would be gone one year later and that Andrew Luck would be coming in to take his place. If the Colts' main theme was to build better protection for Manning along the offensive line, then that upgrade can also be applied to Andrew Luck's rookie campaign and beyond.
The Colts only made two defensive draft picks in 2011 (DT Drake Nevis and CB Chris Rucker), and they followed that up again with only two defensive draft picks in 2012 (DT Josh Chapman and DE Tim Fugger).
The rest of the time it has been offensive side of the ball, all the time. A quick overview of the 2011 class: T Anthony Castonzo (pictured), T Ben Ijalana, RB Delone Carter. All three will conceivably be playing with Luck for many years to come.
From the 2012 draft: TE Coby Fleener, TE Dwayne Allen, WR T.Y. Hilton, RB Vick Ballard, T Justin Anderson, WR LaVon Brazil and Mr. Irrelevant QB Chandler Harnish.
With so much attention being placed on offense, it is clear that the Colts wanted to supply Luck with as many weapons as they could. The bookend tight ends in Fleener and Allen will give Luck solid intermediate targets that he will be able to turn to, and due to their size, (Fleener is 6'6" and weighs 245 pounds, while Allen is 6'4" and weighs 255 pounds), they will be difficult to defend against.
It is a good thing he has some tall tight ends to throw to, because the two rookie wide receivers are anything but tall. Hilton is only 5'10" and Brazil is 5'11".
Will Luck be afforded enough time to deliver the longer passes to Hilton, Brazil and veteran receivers Donnie Avery, Austin Collie and Reggie Wayne?
Stephen Dunn/Getty Images

If you click on this link, which is the current Indianapolis Colts roster over at ESPN, you can scroll down to the bottom portion of the offense where you will see the guards listed. If you look over to the right to see their NFL experience (or rather their lack of it), you will notice that none of the guards has been in the NFL for more than two years.
That to me is a red flag. The group might have some talent, but because it is so green, it is going to be exposing Andrew Luck to some potentially big hits from opposing defensive tackles or nose tackles that are able to teach the young guards a trick or two.
I expect that Luck will be required to put his mobility skills early and often in 2012, as the Colts learn what the 2012 version of the offensive line is good at doing from a blocking perspective. The Colts may need to have Luck roll out more, or get some kind of a moving pocket to afford him the time to let receivers run more complicated routes.
Have to admit, I am somewhat concerned about the guards coming in to 2012. Also, if any of them get hurt, I don't know what kind of depth the Colts can add, but it appears like the cupboard is pretty thin on the depth front.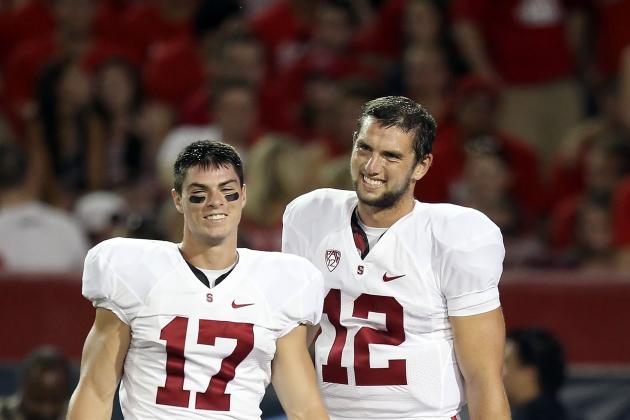 Christian Petersen/Getty Images

As it is no secret that the Colts are in the early stages of rebuilding their team, the team was probably high on the wish list of the crop of the scores of the 2012 undrafted rookie free agents, still hopeful of making an NFL team.
The Colts have signed 15 rookie free agents, and they are: DE James Aiono, DT Chigbo Anunoby, T Steven Baker, DB Cameron Chism, DE Kevin Eagan, DB Antonio Fenelus, G Jason Foster, LB Chris Galippo, G Hayworth Hicks, DB Buddy Jackson, S Matt Merletti, S Micah Pellerin, WR Jabin Sambrano, P Brian Stahovich and WR Griff Whalen.
While the sheer quantity of players being brought in might yield a gem or two, the quality of the players is yet to be determined. Granted there will always be success stories of players that emerge from small schools to become major NFL stars, but the Colts seemed to go out of their way to attract these rookie free agents from schools that aren't consider football factories, such as: Rhode Island, Endicott College, Hampton and Morehead College.
Other schools included in the above crop of rookie free agents was Montana, Pitt, Utah, San Diego St. and East Carolina.
It will be interesting to see how many of these players make the final team and wind up playing a role in the Colts 2012 season. How does all this tie in with Andrew Luck? It speaks to the caliber of players on the team, and the quality of the players on the roster helps to determine how good the overall offense and defense will be.
One player of note from that group is Stanford WR Griff Whalen (pictured with Luck), who caught passes from Luck for years at Stanford and will be one more player that Luck is comfortable being around.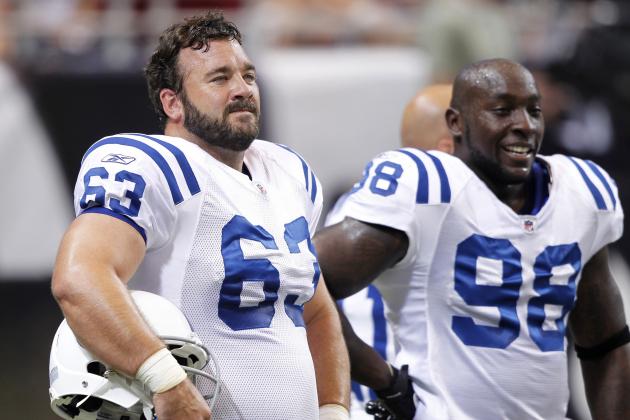 Joe Robbins/Getty Images

If I can borrow a line from the group Chicago: "Saturday, in the park. Every day's the 4th of July." That must have been what it was like for Peyton Manning to have Jeff Saturday there at center for so many years. Unfortunately, that will not be the case for Andrew Luck. Saturday has moved on to the Green Bay Packers, and the Colts signed ex-Oakland Raiders center Samson Satele to serve as the new center.
Not only will Luck be learning the new offense, but so will Satele. There will probably be some growing pains between the two in the 2012 season, and it shouldn't come as a surprise if there are at least a few fumbled snap exchanges between Luck and Satele, as they start to build their relationship of working together.
How adept will Satele be at calling out the offensive line blocking schemes, compared to the way that Saturday used to do it? To be honest, I don't know how good Satele was at that personally, but I do know that this was an area that Saturday excelled at, so you have to figure that the Colts will probably have to suffer from losing their offensive line anchor and quarterback.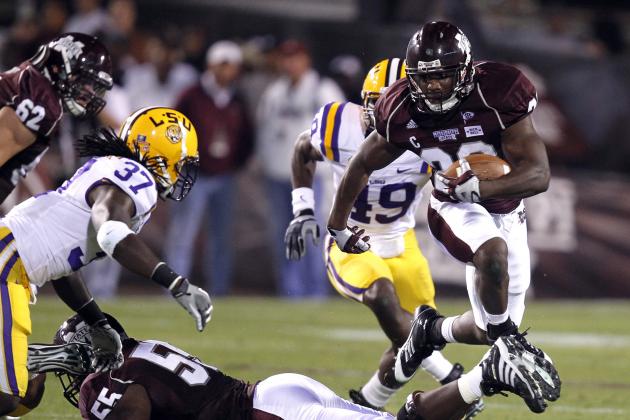 Butch Dill/Getty Images

The Colts running game has been missing in action for the last four years. The Colts haven't had a single 1,000-yard running back since the 2007 season. The team's leading rusher totals are somewhat embarrassing: Donald Brown (only 645 yards in 2011); Donald Brown again (2010, with only 497 yards and a 3.9 average yards per rush); Joseph Addai (2009 led the Colts with 828 yards and a 3.8 average yards per rush); and Joseph Addai again in 2008 (led the Colts with just 544 yards and 3.5 yards per rush.
In the 2012 NFL draft, the Colts did draft Vick Ballard in the fifth round with the No. 170 overall pick. While teams were able to scoop up some of the quality running backs that were still left on the big board after the late run at the end of the first round, the Colts instead opted to go with their two tight ends for Luck.
Will Ballard emerge in 2012 to overtake Donald Brown and Delone Carter to become the featured back in Indianapolis?
At Stanford, Luck was used to the Cardinal having a strong running game, and then he could use play fakes to fool the defense and find open receivers, which allowed to complete such a high percentage of passes in college (67 percent).
Stanford ran plenty of two-tight end formations, and that is another reason why the Colts went out of their way to draft Fleener and Allen right off the bat, to give Luck the best tight ends that were available to them. Fleener's blocking skills are suspect, so teams will probably place a strong pass-rusher over Fleener, and then force the running back to clean up the potential problems.
So, the pass blocking skills of Brown, Carter and Ballard will also help to dictate who is in the game on passing downs.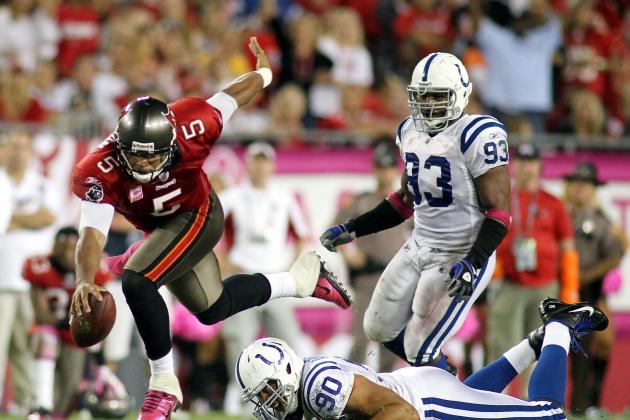 Marc Serota/Getty Images

With the Colts transition to the 3-4 defense under new head coach Chuck Pagano, you have to expect that there will be some growing pains there as well.
Not only will there be growing pains, but the vast majority of draft picks and free agency moves have been made in anticipation of building a better support base for Andrew Luck on offense, without much assets going towards the defensive side of the ball.
As a result, the defense should continue to struggle overall in 2012. True enough, the Colts do have some talented pieces in place such as Robert Mathis, Dwight Freeney, Corey Redding and Pat Angerer. The Colts drafted Josh Chapman from Alabama, and Drake Nevis from LSU in 2011. But, that simply isn't enough pieces.
Last year, the Colts finished No. 25 overall in defense and No. 28 in points allowed, giving up almost 27 points per game (26.9).
The Colts will keep adding pieces, but this defense might be shaky again in 2012. NFL teams will be able to attack the weaker areas, and as a result the defense will realize where they need to make more adjustments. But, that is to be expected for a team in transition, which is what the Colts are doing.
As a result of all of the above, the Colts defense will once again be a unit in the bottom third in the league. By them giving up more points and being out on the field longer, it means that Andrew Luck is spending less time on the field with the offense, and his production will suffer to a degree because of that.
In addition, it also means that the Colts will often be trying to play catch-up football, trying to come from behind. That means teams will know that Luck will have to pass his way down the field in the fourth quarter and defenses can pin their ears back and rush him constantly. Expect his fair share of interceptions to go up in the fourth quarter as well.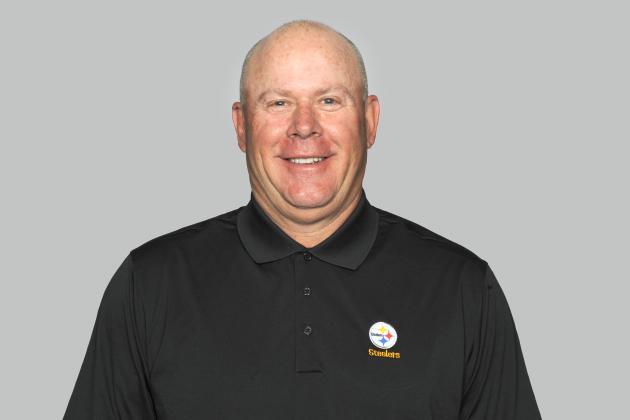 Handout/Getty Images

Andrew Luck operated the West Coast offense while at Stanford. Colts offensive coordinator Bruce Arians (pictured) hasn't officially announced what offense the Colts will be running in 2012.
If Arians agrees to implement the West Coast offense, then that would clearly help out the advancement of Luck in his rookie season. If Arians opts to go with something different, then that will slow down Luck's development. This could be a big factor in how Luck's rookie season shakes out.
Most recently, Arians was operating as the offensive coordinator for the Pittsburgh Steelers. Does the Colts have the personnel to run anything close to what the Steelers ran? What offense will Arians ultimately decide to go with? I am sure that will come down to an assessment on the personnel that they have on board, and what they will need to do to be competitive, recognizing that the defense has a long way to go to be a dominating unit.
This factor will be of the utmost import to what happens to Luck's rookie season, his growth curve and his level of development into becoming a really good NFL starting quarterback.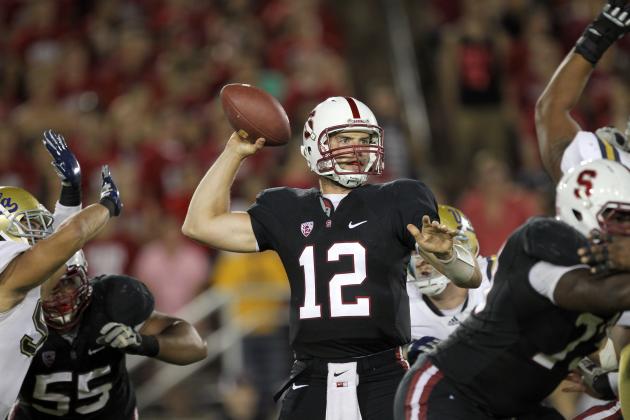 Ezra Shaw/Getty Images

Here are my Andrew Luck predictions Nos. 1-5, which will all deal with his NFL rookie season.
1) Andrew Luck will not win the NFL AP Offensive Rookie of the Year award. That will either go to Robert Griffin III or to Trent Richardson.
2) The Colts will wind up with either a 4-12 or 5-11 record in 2012, ensuring that they are drafting again in the bottom 10 of the 2013 NFL draft.
3) Due to the stronger pressure, lack of a better running game and learning about the pro game, the TD to interception ratio that Luck enjoyed in college will take a clear dip. I anticipate numbers comparable to what Cam Newton did. Prediction is 20 touchdown passes to 14 interceptions.
4) Due to having veteran WR Reggie Wayne to go along with the bookend rookie tight ends, Luck will have enough open targets to keep his completion percentage at 62 percent for his rookie year, which is obviously a good mark.
5) I project that Luck will wind up passing for 3,600 yards in his rookie season. The Colts don't have the greatest wide receiving corps, but they will be behind often and that will require Luck to be chucking the ball all over the place as he attempts to bring the Colts back in the second half of a number of games.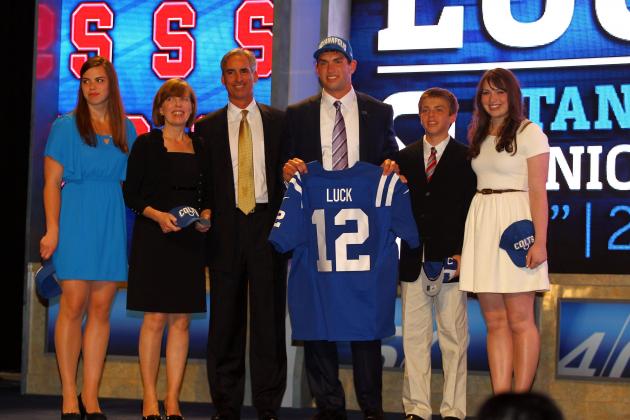 Al Bello/Getty Images

Here are my Andrew Luck predictions Nos. 6-10, which will all deal with his NFL overall career.
6) Andrew Luck won't be voted to the Pro Bowl team until his third year in the league.
7) Luck will win at least one NFL MVP award during his career.
8) Luck will lead the Indianapolis Colts to at least one Super Bowl appearance during his career.
9) He will be voted on to the NFL First-Team All-Pro team at least three times in his career.
10) After his third year, the Colts will have a winning record every year that Luck is the active starting quarterback of the team, until he decides it is time to retire.
Thanks for checking out the presentation.