NBA Free Agency 2012: 10 Reasons Phoenix Suns Must Move on from Steve Nash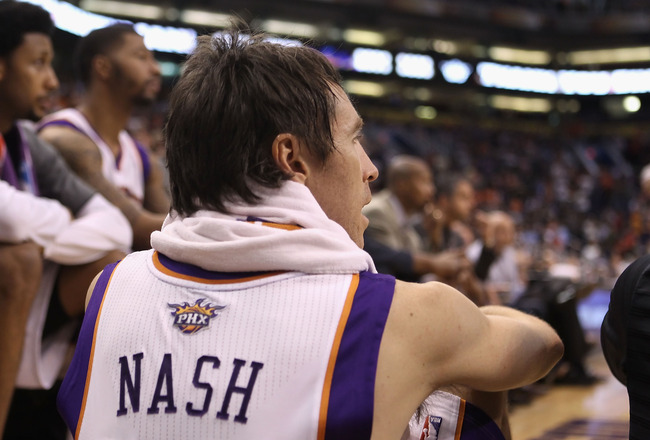 Christian Petersen/Getty Images
It's no secret that Steve Nash is going to be one of the most sought-after free agents this offseason.
The chances that he stays in Phoenix with the Suns are remote at best. The Suns would have to make vast improvements to their roster to convince Nash he and the team could contend next season. If the Suns don't have a good chance at winning a championship a year from now, it's not hard to believe that Nash will be gone.
Whether it's the decision of the Suns organization or the decision of Nash, here are 10 reasons why the Suns need to move on from the superstar point guard.
1. Nash Deserves a Ring
Brandon Wade/Getty Images
One of the biggest X-factors that Nash will consider in the offseason is whether or not he has a chance at a championship with the team he chooses to sign with.
The Suns could have traded Nash to a contender before the deadline last season in an effort to get some value in return. Instead, they hung on to Nash to try and make a playoff push. A loss to the Utah Jazz in the second-to-last game of the season dashed those playoff hopes.
Now the organization will likely lose Nash for nothing like what happened with Amar'e Stoudemire when he left for New York.
Nash has already won two MVP awards in his career, but a championship has eluded him. It's unlikely that the Suns will be seen as the best opportunity for Nash in terms of winning a ring.
A ring that a class act like Nash certainly deserves.
2. Nash Wants to Win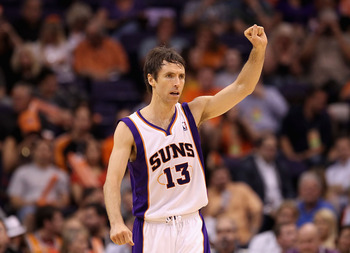 Christian Petersen/Getty Images
At 38 years old, Nash had another fantastic year statistically. If he wasn't around to lead this season's Suns squad, they likely would have been in the NBA cellar with the Charlotte Bobcats and New Orleans Hornets.
Despite his great stats, Nash isn't getting any younger. While he has said that the health of his back is not an issue, carrying these Suns teams year in and year out had to be exhausting.
If he wants to play for three more seasons, as he says, he'll need a load off his shoulders.
Nash wants to win, and, specifically, win a championship. He had a masterful season with the Suns and the team still only finished with a 33-33 record, missing the playoffs.
Which leads me to my next point...
3. Nash Needs Better Supporting Cast
Christian Petersen/Getty Images
No disrespect to Marcin Gortat, Jared Dudley and company, but Nash will need a better supporting cast next season.
Not only will he need better players around him if he wants to win a ring, but he will also need teammates who can take the pressure off so Nash can stay healthy.
Nash has literally had to carry Phoenix for the past two seasons with little help from his supporting cast, hence, the Suns' inability to make the playoffs. It couldn't have been easy on his body having to will his team to victory every night.
If Nash were in a situation next season where he had capable scorers around him who can create their own shot, his job as a floor general would be much easier.
4. Suns Would Need a Miracle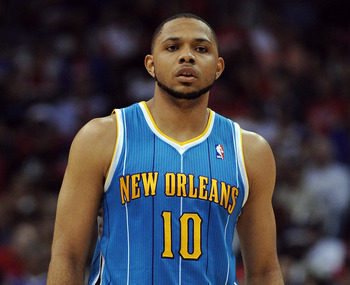 Harry How/Getty Images
If the Phoenix Suns manage to keep Steve Nash this offseason, it will either be through an incredible act of loyalty (or foolishness) by Nash, or by signing marquee free agents.
Admittedly, if the Suns were to have any hope at a championship next season, they'd likely have to bring in some pipe dream scenario like Eric Gordon, Nic Batum and Kevin Garnett in free agency.
Would a starting five of Nash, Gordon, Batum, Garnett and Gortat be able to win it all? Maybe.
Would the Suns be able to bring in all of those players while retaining Nash? It's highly unlikely.
The bottom line is that the Suns are better off moving on and allowing Nash the freedom to sign with a contender. Any other scenario just doesn't seem feasible at this juncture.
5. Nash Would Eat Up Cap Space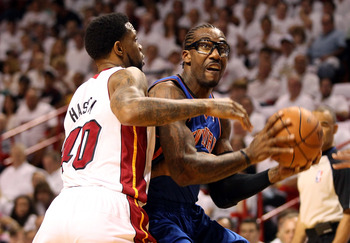 Marc Serota/Getty Images
Amar'e Stoudemire was another Phoenix Sun to hit free agency in recent years. He received an incredibly lucrative five-year, $99.7 million contract from the New York Knicks that the Suns decided wasn't worth matching.
While Nash won't receive anywhere near that sum of money, he would take away some of the Suns' options in the future.
According to Phoenix Suns beat writer Paul Coro, the Suns could reach a maximum $30 million in cap space this offseason (if they choose to use the amnesty clause on Josh Childress.)
Nash's salary for the 2011-2012 season was $11,689,062. If he made around that same amount in a contract next season for the Suns, it would be at least a third of the Suns' overall cap space spent on one player.
Does Phoenix really want to use more than 33 percent of their available cap space on a 38-year-old point guard?
If Nash wants to win a championship, it's more realistic that he'd have to take a pay cut for the Suns to add more pieces around him.
Phoenix may be better off freeing up more cap space to go after players in the future.
Meaning...
6. It's Time to Reverse the Mediocrity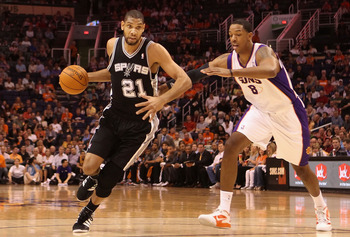 Christian Petersen/Getty Images
The Phoenix Suns have been stuck in a rut ever since Amar'e Stoudemire left town for the New York Knicks.
The Suns are a borderline playoff team. Check that—a borderline eight-seed.
For two straight seasons the Suns have failed to make the playoffs, and let's be honest, even if they made the postseason, they wouldn't be able to compete with higher-seeded teams.
Sticking in a stage of mediocrity is never the answer, especially when you're barely missing he playoffs.
The fans don't get the satisfaction of watching a playoff series and the organization doesn't get the pleasure of adding a potential franchise guy in the draft lottery.
In the NBA, you often have to be very bad to become very good. The Cleveland Cavaliers landed LeBron James, the Zombie Sonics drafted Kevin Durant and Russell Westbrook, etc.
Sometimes, bottoming out for a good draft pick is simply the right thing to do for your franchise.
If the Suns lose Nash, they need to be in the "Tankapalooza" competition like the Golden State Warriors were this season.
7. Start the Rebuilding Process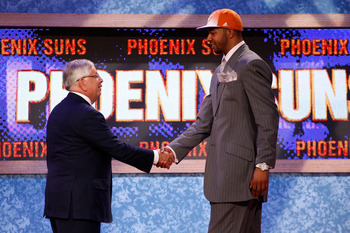 Mike Stobe/Getty Images
The Suns have done a poor job helping themselves in this regard. If they hadn't decided to trade away just about every draft pick since Amar'e Stoudemire, maybe they would have an easier transition into rebuilding mode.
Instead, the Suns are looking at moving toward the future with a core of Marcin Gortat, Markieff Morris, Jared Dudley, Channing Frye and whoever survives the amnesty clause (Hakim Warrick or Josh Childress.)
Phoenix needs to rebuild by making savvy decisions and maybe, hmm, I don't know, keeping the players they draft.
They traded Rajon Rondo on draft day and gave up on Goran Dragic before he blossomed into a star.
Needless to say, the Suns are looking at a long road ahead.
8. Enter a New Era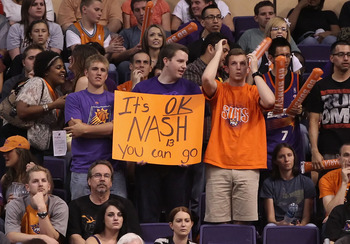 Christian Petersen/Getty Images
Moving on without Steve Nash leading the charge will be difficult, but it's also inevitable.
Entering a new era without Nash won't be pretty. There will almost certainly be some losing seasons in the Suns' future.
However, if the Suns are able to stumble upon the next NBA superstar in the draft at some point in the future, Suns basketball will be relevant once again.
The Suns have been incredibly unlucky in their pursuit of a championship. Maybe they'll have good karma moving forward and land the next NBA legend (crossing my fingers.)
9. Sarver Needs Adversity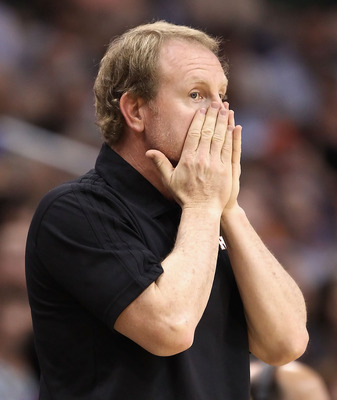 Christian Petersen/Getty Images
In 2004, Suns owner Robert Sarver bought the franchise for $401 million. In his time spent with the team, he hasn't been familiar with the concept of losing.
He was around for the famous run-and-gun Suns team that won a league-best 62 games during the 2004-2005 season, as well as the three playoff-bound seasons afterward.
In the 2008-2009 season, the Suns failed to make the playoffs for the first time since Sarver bought the team.
They bounced back valiantly the following year after dealing away Shaquille O'Neal. The Suns made a deep playoff run, but eventually lost to the Los Angeles Lakers in the Western Conference Finals, four games to two.
After the Western Conference finals appearance, Amar'e Stoudemire left for New York and the Suns haven't been back to the playoffs in two seasons since.
Sarver will be in for some hard times should Nash choose to leave, but part of being an NBA owner is weathering the storm.
There is a lot of animosity in Phoenix toward Sarver, who was booed by the crowd during former Suns head coach John MacLeod's Ring of Honor ceremony.
Sarver has said that he has a plan in place to make the team competitive again "quickly."
Unfortunately for Sarver, that's not usually how the NBA works. Rebuilding is just what it sounds like—a process. Usually it's impossible to go from being a non-playoff team to a contender in a short period of time. Suffering through the bad times is a part of rebuilding more often than not.
Sarver is a businessman first and foremost. Will he be able to handle the scrutiny and the inevitable lack of ticket sales with a lousy team on the floor? That remains to be seen.
Nevertheless, he needs to experience both ends of the ownership spectrum. He has a chance to win over Suns fans by the decisions he makes moving forward. Only time will tell if he's up to the challenge.
10. Nash Will Always Be a Sun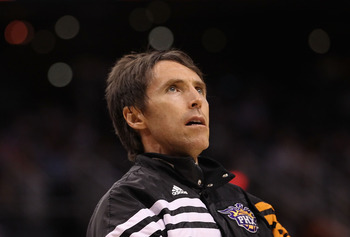 Christian Petersen/Getty Images
Moving on from the Nash era will be difficult on everyone associated with the Suns organization. Players, fans, owners, media—everyone—will suffer from his loss.
However, even if Nash leaves, Phoenix can take solace in the fact that he will always be a Phoenix Sun.
This season, John MacLeod was inducted into the Suns Ring of Honor. An honor that Charles Barkley, Kevin Johnson, Cotton Fitzsimmons, Connie Hawkins and other basketball greats have received.
It's only a matter of time before Nash joins those names.
Nash is the Phoenix Suns franchise leader in assists, three-point field goals made, three-point field goal percentage and free throw percentage.
He became the second player in Suns history to win the NBA's Most Valuable Player Award when he won it in 2005 (Charles Barkley won in 1993). The following season, Nash made it back-to-back MVPs by winning the award yet again.
Nash will undoubtedly make the Hall of Fame when his career comes to a close. Even if he leaves Phoenix in the offseason, he will go down as one of the greatest Phoenix Suns players of all time.
It would be a bittersweet ending, but Suns fans were lucky to cheer for a player like Steve Nash regardless of what his decision will be this offseason.
Keep Reading

Phoenix Suns: Like this team?