UFC on FOX 3: Josh Koscheck and the Biggest Heels in MMA History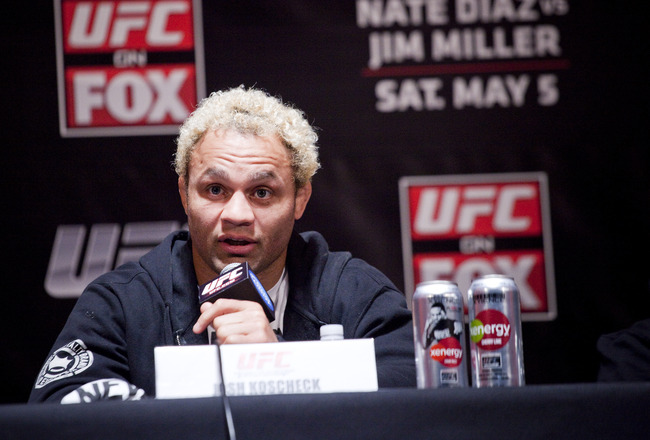 Michael Nagle/Getty Images
They're the fighters we love to hate.
They're the ones who don't give a crap about the fans or what the fans think.
They are, to borrow a term from professional wrestling, the heels of mixed martial arts. And more often than not, they're much bigger superstars than the guys who bow respectfully to their opponents and never speak out of turn.
Some of them, like Brock Lesnar, embrace the role. They play it to the hilt in an effort to gain more exposure, because more exposure means more money. Some, like Rashad Evans, don't really want to be disliked, but the fans choose to boo them anyway.
Josh Koscheck, who faces Johny Hendricks on Saturday night at UFC on FOX in New Jersey, is one of the fighters who have embraced the role, and it's turned him into one of the biggest and most enduring superstars in the UFC. And while Koscheck is, in fact, a great MMA heel, there are plenty of others.
Let's take a look at the biggest heels in MMA history.
Michael Bisping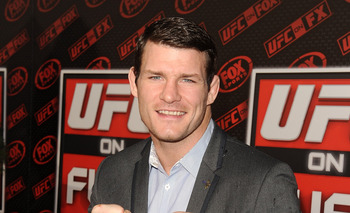 Jason Merritt/Getty Images
Good catch by reader @KingCillo24, who notified me that I hadn't included Bisping after I published this list.
How could I forget Michael Bisping, one of the biggest heels in the entire sport? I have no idea. But we'll rectify that right now.
Bisping has been one of the UFC's biggest heels since his arrival on The Ultimate Fighter. Much loved in his native Great Britain, Bisping is hated everywhere else in the world. His antics—like the incident with Jorge Rivera over a year ago, where Bisping spit on Rivera's corner—do little to endear him to MMA fans.
Josh Koscheck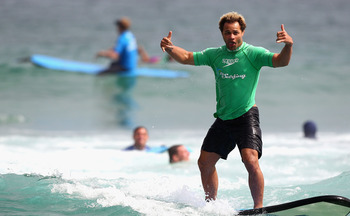 Ryan Pierse/Getty Images
Fans who say Josh Koscheck bullied Chris Leben on The Ultimate Fighter hated him, and he's never outgrown that reputation.
Koscheck embraces the role and plays it up. One of his most notable hated moments came moments after beating Paul Daley at UFC 113 in Montreal. The win earned Koscheck a shot at Montreal's own Georges St-Pierre, and Koscheck used the post-fight interview to, in a manner of speaking, tell the crowd to suck it. The interview added fire to Koscheck's eventual bout with St-Pierre, which also took place in Montreal.
Koscheck gets it. He's one of the smart ones, and it's made him filthy rich over the years.
Brock Lesnar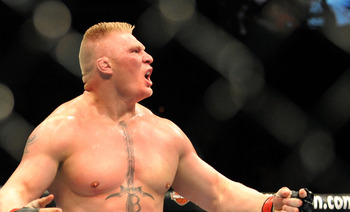 Jon Kopaloff/Getty Images
Brock Lesnar learned to play heel from one of the most brilliant minds in the history of professional wrestling: Paul Heyman.
The former owner of Extreme Championship Wrestling helped Lesnar craft his wrestling character, and that work continued as the two maintained their friendship when Lesnar launched his MMA career. Lesnar knew how to sell a fight, and it was evident from Lesnar's pre-fight interviews for his first fight with Frank Mir that he was going to be MMA's ultimate bad guy.
The majority of MMA fans around the world hated Lesnar and everything he represented, but they also bought his pay-per-view fights in record numbers.
Ben Askren
Askren's fighting style doesn't endear him to fans, but it's his post-fight interviews that seal the deal.
Askren doesn't care if you think he's boring, and he doesn't mind telling you that he thinks you're an idiot for booing him during his fights. Askren just wants to win, no matter what the fight looks like. That makes him a huge heel to fans who prefer to see guys standing and trading strikes.
He's a smart fighter. He's also a smart businessman, and that could take him far in this business.
Chael Sonnen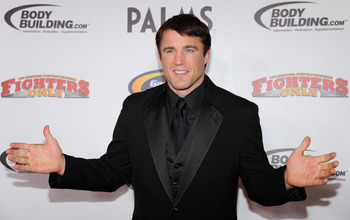 Ethan Miller/Getty Images
Sonnen's carefully-crafted screen character is based on years of watching old-time professional wrestling. The top middleweight contender even uses word-for-word interviews ripped directly from guys like Superstar Billy Graham.
Sonnen's outlandish behavior earns him plenty of fans, but he's still treated as the bad guy by the majority of the UFC's fanbase. Especially when he uses his screen time to fire word missiles at beloved fighters like Wanderlei Silva and Chris Leben.
That same outlandish behavior has turned Sonnen from a nobody into a legitimate superstar, and it's also earned him two shots at the UFC middleweight title. That's what I call smart business.
Nick Diaz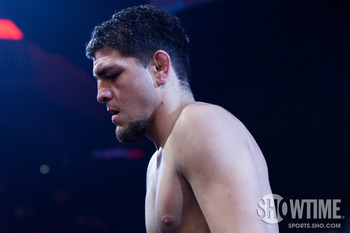 Nick Diaz isn't a heel to everyone. He has one of the most rapid fanbases in MMA, filled with fans who will follow and defend Diaz with their dying breath.
But not everyone likes Diaz or enjoys his "screw them all" act. He's a polarizing figure, with plenty of fans who don't take kindly to what they feel are constant shows of disrespect by Diaz and his camp.
But that very same act—which is not an act at all, but rather Diaz's actual personality—has placed Diaz squarely in plenty of high-profile situations. Being one of the most controversial fighters in the UFC isn't such a bad thing.
Tito Ortiz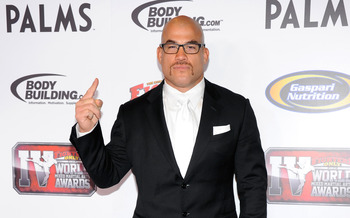 Ethan Miller/Getty Images
Tito Ortiz isn't a heel by design.
He wants to be loved by the fans. I've seen Ortiz spend more time interacting with fans at UFC events than any other fighter I can think of, with the possible exception of Pat Barry.
Ortiz even has the funny habit of conducting his fight week workouts in the fighter hotel lobby. I've seen Ortiz run stairs, do wind sprints and even hit pads—all in the lobby.
What reason could Ortiz have for doing this? He just wants to be seen, and loved, by the fans.
But that doesn't stop fans from booing Ortiz when he fights. Part of that is probably left over from his early days in the UFC, when he was one of the cockiest fighters in the company. MMA fans have long memories, and Ortiz hasn't been able to change their minds.
Yoshihiro Akiyama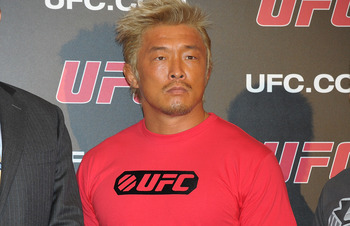 Koki Nagahama/Getty Images
Akiyama is beloved by UFC fans, but he's despised in Japan.
That hatred from Japanese fans stems from his 2006 win over Kazushi Sakuraba at K-1 Dynamite 2006. Akiyama won the fight, but it was overturned after it was discovered that Akiyama greased his legs to prevent Sakuraba from getting a good grip during takedown attempts.
The Japanese fans love good sportsmanship and hate cheating. Akiyama broke the unspoken code of honor, and he instantly became one of the most hated fighters in the country.
Tank Abbott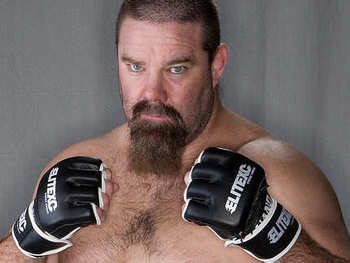 David "Tank" Abbott was the original bad boy of the UFC, beginning right when he debuted at UFC 6. After Abbott knocked out John Matua, he mocked the still-unconscious Matua's involuntary leg and arm movements.
Abbott maintained his bad boy persona throughout his MMA career. It led to many high-profile fights, despite his status as a below-average fighter.
Frank Mir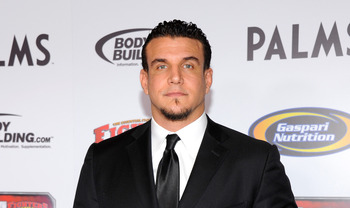 Ethan Miller/Getty Images
Frank Mir's gift of gab wasn't evident during the early portion of his career, but he's since turned himself into one of the best in the world at selling fights. He comes off as cocky and arrogant, which is a stark difference from the real Frank Mir, who is quiet and respectful in conversation.
The highlights of Mir's quotable career came during his two UFC fights with Brock Lesnar.
Ronda Rousey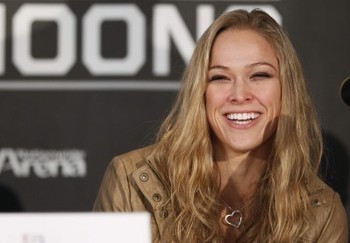 Rousey may be the fastest-rising star in the history of MMA, and it's all thanks to her verbal skills.
The former judoka went from the amateur scene to Strikeforce, where she began doing something completely out of the norm for female fighters: She talked trash. Those verbal barbs catapulted Rousey into the title picture, where she proved that she had the goods to back up her words by decisively beating Miesha Tate.
Rousey's a fantastic fighter, but she's an even more brilliant businesswoman.
Josh Barnett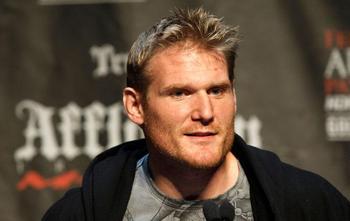 Like Brock Lesnar, Barnett's years in professional wrestling taught him how to play the villain.
His multiple steroid failures already make him a source of hatred for MMA fans, and his over-the-top wrestling promos seal the deal.
In reality, Barnett is a very smart fighter who understands that the sport of mixed martial arts, at the end of the day, isn't just a sport. It's also entertainment, and you have to leave a lasting impression on the fans in order to elevate yourself.
Rashad Evans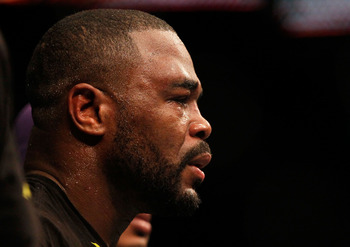 Kevin C. Cox/Getty Images
Much like Josh Koscheck, hatred for Evans stems from his time on The Ultimate Fighter. Fans of the show saw him as a cocky and arrogant fighter who had no respect for his opponents. That stigma stuck to Evans through the years, and he's still constantly booed when he fights.
That's actually a shame, though. Outside the cage, Evans is one of the nicest, most humble fighters you could ever talk to. He takes the booing to heart, and it upsets him more often than not.
But his status as a leading heel makes him a superstar in the sport, so it's not a total loss.
Keep Reading