Big Ten Breakdown 2012: Northwestern Wildcats, Part 2, Offense
May 16, 2012

Elsa/Getty Images
Last week, I got my feet wet with Northwestern, looking at the program, what it has done over the last five years and what that might tell us about what the Cats will do this season.
This week, I'll look at the 2012 Northwestern offense.
Offensive Overview
2011 scoring offense: 28.9 PPG (fifth in the conference), total offense: 420.8 YPG (second), rushing YPC: 3.75 (12th), passing efficiency: 155.88 (second)
Average scoring offense conference ranking over last five years: 7.6
Best scoring offense conference ranking over last five years: fifth (2011)
Worst scoring offense conference ranking over last five years: 10th (2007)
Returning starters: QB/WR Kain Colter, RB Mike Trumpy (Inj.), WR Christian Jones, WR Demetrius Fields, WR Rashad Lawrence, OL Brian Mulroe, C Brandon Vitabile, OT Patrick Ward
Open Positions: QB, RB, SB, OL
Offensive formation: Spread
Offensive philosophy: Possession
Passing scheme: West Coast
Rushing scheme: Zone read
Offensive Breakdown
Northwestern runs a spread scheme that depends on an active, deadly accurate quarterback. Between 2006-2011, Northwestern's cumulative average completion rate has been just shy of 65 percent.
In that time, the only signal caller that had a completion percentage of less than 60 percent was C.J. Bachér in 2006, his first year starting.
Starting quarterback Dan Persa completed 70.5 percent of his passes in each of the past two seasons, which was the best in the country in 2010 and second-best last season.
Ideally, the Wildcats are not looking to stretch the field. They want to nickel and dime their way under the defense, around the defense, between the defense and every which way they can find. They want to build and sustain long drives that keep the opposing defense on the field and their own defense off the field.
Precision is key with possession-passing offenses. This is not only true of the quarterback but also of the receivers. The pass catchers in question don't have to be terribly fast or physical or big. Rather, they need to catch every ball that comes near them.
Ideally, NU wants to establish its running game out of the spread option, which typically starts with a dual-threat quarterback. Nonetheless, the Cats can work with a pure pocket passer.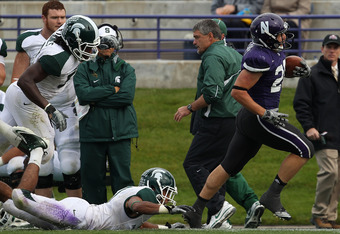 Jonathan Daniel/Getty Images
Quarterbacks
Despite losing Dan Persa, NU returns two experienced quarterbacks.
Junior-to-be Kain Colter gained three starts and subbed in as the signal caller throughout the 2011 season. Moreover, he was the Wildcats' third-top pass-catcher when he wasn't in the backfield.
In 81 passing attempts, Colter put together an impressive resume: 66.7 completion percentage, 669 YDS, 6 TD, 1 INT, 158.02 efficiency rating. He had 654 yards on the ground, en route to becoming the team's top rusher.
Sophomore Trevor Siemian also gained some snaps and was impressive in limited appearances, though he is more of a pure pocket passer than Colter.
Colter is unquestionably the favorite to win the starting job, but Siemian was the more impressive of the two in the spring game.
One of the problems I have with Colter is how much of the load he will have to shoulder.
This is nothing new for a Northwestern quarterback, but NU's rushing game has been lousy for a number of years (see running backs below). Playing a large part in that is the offensive line, which projects to be a work in progress (see offensive line below).
Colter is 6'0" and weighs 190 pounds. He is not 240-pound Tim Tebow or 250-pound Cam Newton. Consequently, it is a lot for him to be the focus of both the running and passing game.
Of course, the same could be said for a number of signal callers in the Big Ten, but I expect to say the same thing when I get to them.
Big Ten Position Group Ranking: 8
Running Backs
Northwestern has been in the bottom three of conference rushing offense (YPC) every season since 2007. It has not had a running back put up more than 600 yards in a season since Tyrell Sutton in 2008.
This has been despite an experienced offensive line in both 2010 and 2011 and a dangerous passing game every year.
Don't expect any of that to change this season.
Probable starter Mike Trumpy tore his ACL midway through the 2011 season. He will be cleared to play for 2012, but he won't be 100 percent at the beginning of the season.
True sophomore Treyvon Green offers a ray of hope, but with 3.73 YPC on 97 carries last year, he isn't much hope.
After Green, the depth chart consists of freshmen and walk-ons.
Expect the quarterback to be the Wildcats' top rusher for the second season in a row.
Big Ten Position Group Ranking: 12
Pass-Catchers
Northwestern has a way of finding receivers.
I'm not saying the graduation of Jeremy Ebert won't sting. Nonetheless, whether it's been Ebert, Zeke Markshausen or Eric Peterman, the Wildcats have found lightly regarded, usually junior or senior receivers that have come out of nowhere and done what has been expected of Northwestern receivers—run short routes, get open and catch the ball.
The top returning receiver in 2012 will be senior Demetrius Fields. He is a three-year starter that has caught at least 20 passes each year he's seen the field. Last season, he had 32 catches for 390 yards.
Rashad Lawrence will be a junior. In 2011, he had 19 receptions for 203 yards.
Finally, soon-to-be sophomore Christian Jones had 16 catches for 195 yards.
Colter also had 43 receptions for 458 yards, though, as previously mentioned, he will probably be the starting signal caller.
Four other players to look for are junior Mark Venric, sophomore Kyle Prater and redshirt freshmen Cameron Dickerson and Pierre Youngblood-Ary.
Venric has been impressive as the Wildcat return man for two years. He is small—5'8", 175 pounds—and has yet to do anything to shine as a receiver. Nonetheless, he has the talent to get on the field.
Prater is a former 5-star recruit who originally went to Southern Cal but transferred to Northwestern this winter. The NCAA has yet to rule on whether he'll be able to play this fall, but he will be a handful if he is healthy and cleared.
Dickerson brings size to the NU receiving corps—6'3", 200 pounds—and used that size in the spring game to deliver the most impressive play of the afternoon.
Youngblood-Ary also had a strong spring game, catching three passes for 51 yards.
While I expect multiple players to step up amongst the Wildcat receivers, I am pessimistic where it concerns the superback position, which is Northwestern's version of the H-back.
Over the past three years, recently drafted Drake Dunsmore registered 133 receptions. I can't remember, and I don't think there ever has been, a Northwestern tight end that has been anywhere near as productive.
There are a number of players in line for the superback job, including junior Tim Riley, junior and former quarterback Evan Watkins, redshirt freshman Mark Szott and true freshman Jack Schwaba.
None of them has recorded a collegiate catch, and I don't expect any of them to come close to duplicating Dunsmore's 2011 output—45 receptions for 522 yards and six touchdowns.
In effect, expect less of the superback and more receivers.
Big Ten Position Group Ranking: 4
Offensive Line
The Cats lost over 100 career offensive line starts with the graduation of Al Netter and Ben Burkett. That leaves huge holes for Northwestern to fill in an offensive line that was less than spectacular with that experience.
Last season, the Cats let up the second-most sacks in the conference—42—and were the worst rushing offense at 3.75 YPC.
The key returning starters are senior guard Brian Mulroe, sophomore center Brandon Vitabile and senior right tackle Patrick Ward.
Also, senior Neal Deiters started seven games at right tackle in 2009, before losing the job and never gaining it back.
Other players in the mix include senior Chuck Porcelli, junior Taylor Paxton, sophomores Paul Jorgensen and Jack Konopka and a slew of freshmen, both of the true and redshirt variety.
The offensive line was unquestionably the worst position group in the spring game, and Kain Colter was palpably frustrated.
In the end, the line gave up six sacks on the day and paved the way for a paltry 1.3 YPC on the ground.
Certainly, there will be improvement after summer practices, but I'm not expecting much out of NU's big uglies.
Big Ten Position Group Ranking: 12
Offensive Outlook
The Northwestern passing game should be fine as it always is; nonetheless, keeping Colter healthy will be a concern.
Moreover, the dearth of players at running back and superback means a great deal will be expected out of the receiver group. That group could be the best in the conference if Kyle Prater is cleared to suit up this year.
After all, think of what the Cats do with unheralded, slow, short and small receivers. Now, imagine what they could do with blue-chip talent.
The receiver crew will be good even if Prater isn't cleared, but will it be good enough?
I expect the offensive line to have a slew of issues, which means Colter will be running for his life. He, and the offense by extension, can still be successful if the receivers play up to form.
In spite of offensive-line issues, the 2012 Northwestern offense will be respectable. The problem is the NU dynamic puts the burden of the team on the offense's shoulders. In effect, unless the defense has done a complete 180 from last year, will "respectable" be good enough?
Coming next Wednesday, an overview and breakdown of Northwestern's defense.