Power Ranking 2012 Big Ten Pass Catchers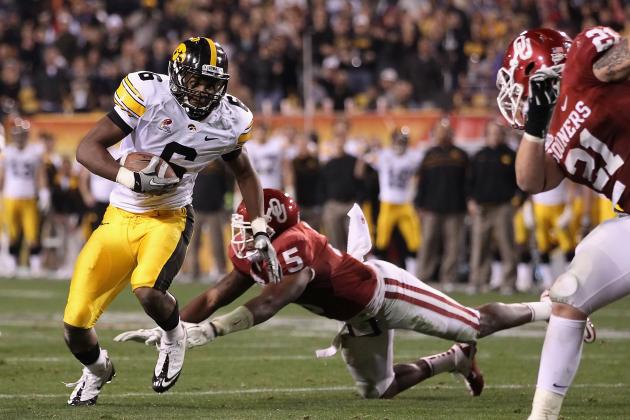 Christian Petersen/Getty Images

The 2012 Big Ten pass catcher groups are a tough bunch to read.
The conference's top-five pass catchers in both touchdowns and yards per game have all graduated. The top seven in receptions per game are gone.
The only teams returning their top pass catcher (receptions) are Ohio State, Indiana and Nebraska. Of those three, Ohio State and Indiana lost their would be top pass catcher—DeVier Posey and Demarlo Belcher, respectively—for most of 2011 due to suspension or injury. That is, if Posey and Belcher hadn't missed over half the season each, both would have led their teams in most receiving categories.
In short, it's tough to rank these groups. All are fairly high on promise. Some have experience, but unfulfilled potential. Some, such as Wisconsin, have proven playmakers, but big holes otherwise. Some, such as Purdue, return a good deal of experience, but no one player has shown himself to be a game changer.
Unlike 2012 Big Ten running backs, which is fairly cut-and-dried, the pass catcher groups leave a good deal of room for debate.
The number of asterisks next to a players' name indicates how many years he has started. A "starter," for my purposes, had at least four starts to his credit in any one season.
Players in italics are returning all-conference honorees.
The positions listed are based on typical schemes the team in question runs. That is, while Iowa's second tight end is virtually a starter, Northwestern almost never plays two tight ends, or superbacks, at once, but often plays four-wide.
Finally, a lot can change in the next few months.
This article is based on what the rosters of Big Ten teams look like right now, as well as what we know right now.
Check out previous articles in this series, beginning with the first, Breaking Down the Big Ten quarterbacks.
Begin Slideshow

»
Andy Lyons/Getty Images

MSU's DeAnthony Arnett and Northwestern's Kyle Prater are both waiting to find out if they will be allowed to play in 2012 instead of waiting the mandatory one-year transfer period.
It will mean a great deal to both the Spartans' and Wildcats' receiving groups if either or both is granted a hardship waiver.
Nevertheless, as of now, I am assuming both players will have to wait out the year. Obviously, at this point, there is little else one can do.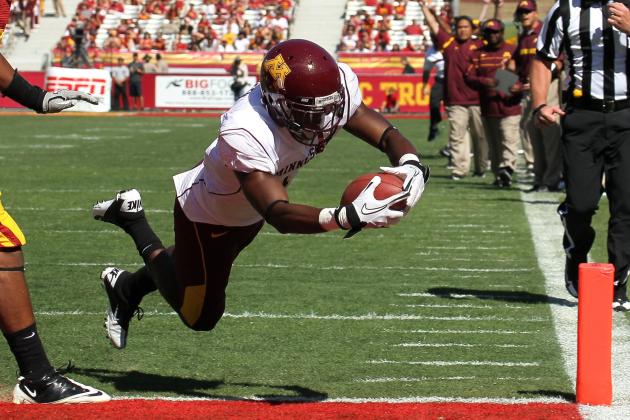 Stephen Dunn/Getty Images

WR1: Brandon Green (Sr)*
WR2: Malcolm Moulton (Jr)*

WR3: OPEN

TE: John Rabe (Jr)*
Other Wide Receivers: Marcus Jones (So), Devin Crawford-Tufts (So), A.J. Barker (Jr), Cameron Wilson (So), Logan Hutton (So), Victor Keise (Jr), Andre McDonald (TrFr), Jamel Harbison (TrFr), Isaac Fruechte (TrFr)
Other Tight Ends: Drew Goodger (So), Maxx Williams (TrFr)
The Lowdown: Returning Minnesota pass catchers had 53 receptions and 733 yards to their credit in 2011. That is exactly two receptions more and 27 yards less than departed top Gopher pass catcher Da'Jon McKnight had by himself last year.
As though Minnesota quarterback Marqueis Gray, who completed only 50.7 percent of his passes in 2011, didn't have enough to worry about.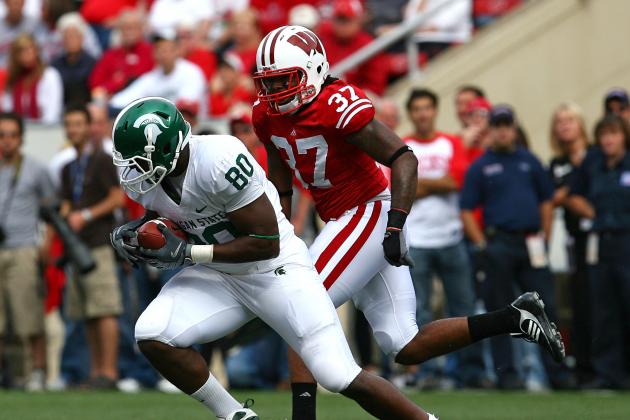 Jonathan Daniel/Getty Images

WR1: OPEN
WR2: OPEN

WR3: OPEN

TE1: Dion Sims (Jr)
TE2: OPEN
Other Wide Receivers: Tony Lippett (So), Bennie Fowler (So), Keith Mumphrey (So), Juwan Caesar (RFr), Andrew Sims Jr (RFr), Aaron Burbridge (TrFr), Kyle Kerrick (TrFr), Macgarrett Kings Jr. (TrFr), Monty Madaris (TrFr)
Other Tight Ends: Paul Lang (RFr), Derek Hoebing (Jr), Andrew Gleichert (So), Josiah Price (TrFr), Evan Jones (TrFr)
The Lowdown: MSU's top returning wide receiver is Tony Lippett, who split last year between offense and defense and finished 2011 with four receptions. Fowler and Mumphrey are the only other Spartan wide receivers who have registered a catch—two each.
Meanwhile, Dion Sims, who missed 2010 due to suspension, is high on potential, but has yet to bring it on the football field. In 2011, he had 12 catches for 99 yards and three touchdowns. He failed to register a catch in MSU's final seven games, much of which he missed with various injuries.
In closing, there is talent in East Lansing, but your guess is as good as mine as to what will show up in 2012.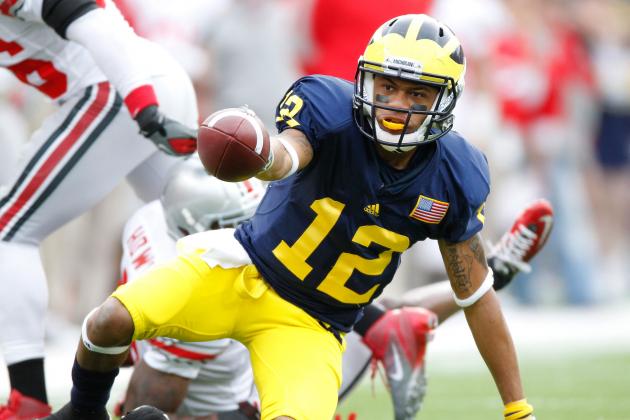 Gregory Shamus/Getty Images

WR1: Roy Roundtree (Sr)***
WR2: Jeremy Gallon (Jr)
WR3: OPEN
TE1: OPEN

TE2: OPEN

Other Wide Receivers: Drew Dileo (Jr), Jeremy Jackson (Jr), Jerald Robinson (So), Amara Darboh (TrFr), Jehu Chesson (TrFr)
Other Tight Ends: Brandon Moore (Sr), Ricardo Miller (So), Mike Kwiatkowski (Jr), A.J. Williams (TrFr), David Funchess (TrFr)
The Lowdown: Quarterback has been the most publicized transition between Rich Rodriguez's offense and Brady Hoke's/Al Borges' offense. However, receiver also requires a significant shift.
Rodriguez wanted six slot receivers—think Steve Breaston—on the field at all times. On the other hand, Hoke wants a passing quarterback, a big, durable running back, a versatile tight end and tall, NFL-type receivers that can make plays on the sidelines and downfield—think Braylon Edwards.
Unfortunately, he doesn't have any of that in his established personnel.
Roundtree, Gallon, Dileo and Robinson all measure between 5'8" and 6'1"—in other words, they're all the slot-receiver type that Rodriguez coveted.
In effect, the receivers that might have the most opportunity to make waves this season are 6'3" Jeremy Jackson or one of the two true freshmen, who are 6'2" and 6'3" respectively.
Tall or not, it is time for Roundtree to fulfill his promise as a Wolverine.
Meanwhile, Rich Rod had very little use for tight ends. Therefore, building the position back up will be a process. It was random luck that Lloyd Carr-holdover Kevin Koger was still with the team last season, but Koger is gone, and there doesn't look to be anybody that can easily step into his spot.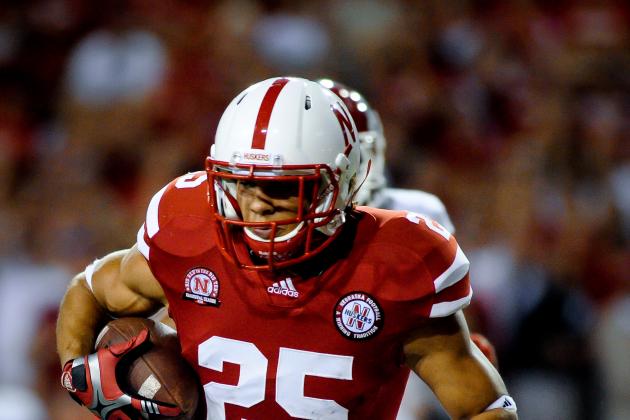 Eric Francis/Getty Images

WR1: Kenny Bell (So)*
WR2: Quincy Enunwa (Jr)*

WR3: OPEN
TE1: Kyler Reed (Sr)**
TE2: Ben Cotton (Sr)**
Other Wide Receivers: Jamal Turner (So), Tim Marlowe (Sr), Khiry Cooper (Sr), Tyler Evans (So), Taariq Allen (RFr), Jordan Westerkamp (TrFr)
Other Tight Ends: Jake Long (Jr), David Sutton (RFr), Sam Cotton (TrFr)
The Lowdown: For the last three seasons, no Nebraska receiver has caught more than 44 passes or had more than 796 yards receiving.
In 2008, two receivers topped 60 receptions, but those receivers are long gone.
Nebraska isn't going to pass much; nonetheless, the Huskers have to establish some playmakers—or at least one playmaker—at receiver in order to keep opposing defenses honest. Failing that, they will continue to get shut down by better defenses that render their offense one-dimensional.
This issue has been thrown at the feet of beleaguered signal caller Taylor Martinez—who, in some fairness, has been a pretty lousy passer—but it is unfair and unrealistic to solely blame him.
Nebraska has two quality players at tight end, where Reed is a solid receiving target and Cotton is a strong blocker. The problem is Reed's productivity took a sharp decline from his sophomore to junior year. In 2010, he had 22 catches for 395 yards and eight touchdowns. Last year, he had 15 catches for 257 yards and one touchdown.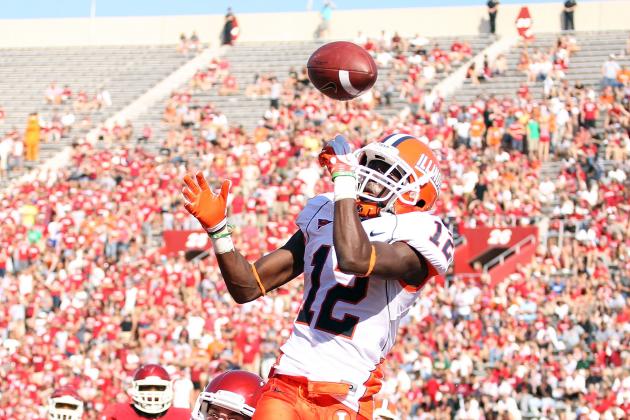 Andy Lyons/Getty Images

WR1: Spencer Harris (Jr)*
WR2: Darius Millines (Jr)*
WR3: Ryan Lankford (Jr)*
TE: Jon Davis (So)*
Other Wide Receivers: Jake Kumerow (So), Fritz Rock (So), Anthony Williams (So), Jordan Frysinger (RFr), Kenny Knight (RFr), Jeremy Whitlow (RFr), Jason Robertson (TrFr)
Other Tight Ends: Evan Wilson (Jr)*, Eddie Viliunas (Sr), Matt LaCosse (So), Justin Lattimore (Jr), Daniel Rhodes (TrFr)
The Lowdown: Returning Illinois receivers combined for 63 receptions, 577 yards and two touchdowns.
That is 27 receptions, 699 yards and six touchdowns fewer than departed-Illini receiver A.J. Jenkins posted by himself in 2011.
On the bright side, tight end Jon Davis had a strong true freshman year as an outlet pass catcher. He finished the season with 22 catches for 187 yards and a touchdown. He was especially strong during Illinois' six-game skid to close out the season, which is something the rest of the offense couldn't say. He posted 19 catches for 170 yards in the final six games.
New head coach Tim Beckman is not known for involving his tight ends too heavily in the passing game, but Davis might have too hot a hand to use strictly as a blocker.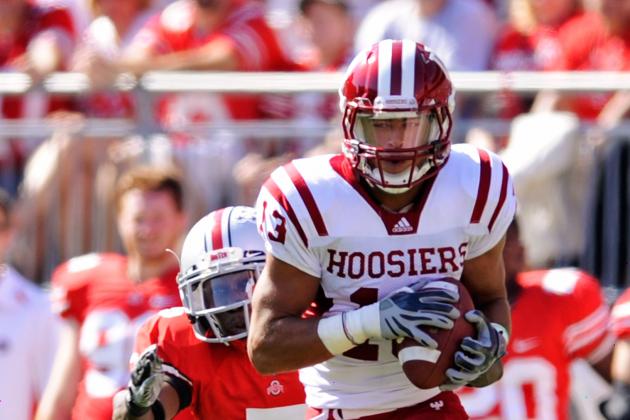 Jamie Sabau/Getty Images

WR1: Kofi Hughes (Jr)*
WR2: Jamonne Chester (Jr)*
WR3: Duwyce Wilson (Jr) OR Shane Wynn (So)
TE: Ted Bolser (Jr)*
Other Wide Receivers: Cody Latimer (So), Jay McCants (So), Logan Young (So), Nick Stoner (So), Ricky Jones (TrFr), Kevin Davis (TrFr), Caleb Cornett (TrFr)
Other Tight Ends: Jake Reed (So), Charles Love III (Sr), Jason Spriggs (TrFr), Tanner Kearns (TrFr)
The Lowdown: Somehow, Indiana regularly has sub-par defenses, offensive lines and running backs—and overall lousy football teams—but it manages to field quality receivers. It must be the basketball lineage. This season will be no exception if the returning receivers live up to their potential.
The Hoosiers return all but three players that caught a pass last season.
The best of the bunch is Kofi Hughes, who had 35 catches for 536 yards and three touchdowns. Also, tight end Ted Bolser had a strong season, posting 14 receptions, 165 yards and one touchdown.
Expect the receivers' productivity to go up in 2012, now that they have one year in head coach Kevin Wilson's offense, as well as a more experienced quarterback to get them the ball.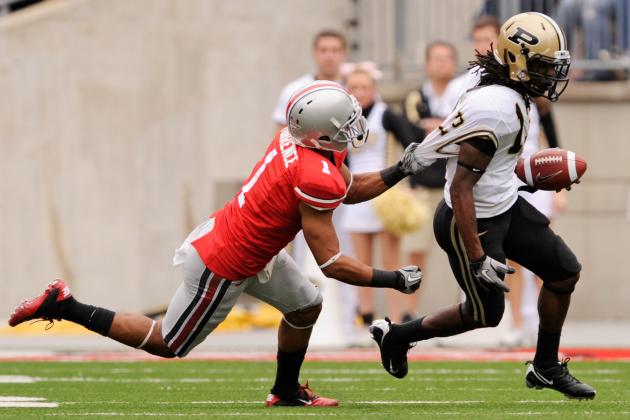 Jamie Sabau/Getty Images

WR1: Antavian Edison (Sr)**
WR2: O.J. Ross (Jr)**
WR3: Gary Bush (Jr)
WR4: OPEN
TE: Crosby Wright (Sr)* OR Gabe Holmes (Jr)*
Other Wide Receivers: Charles Torwudzo (So), Raheem Mosert (So), Shane Mikeski (RFr), Jordan Woods (TrFr), Cameron Posey (TrFr), B.J. Knauf (TrFr), Danny Anthrop (TrFr)
Other Tight Ends: Justin Sinz (So), Sterling Carter (Jr), Robert Kugler (RFr), Ryan Morris (TrFr), Jonathan Curry (TrFr)
The Lowdown: The Boilers have a nice stable of receivers, any one of whom could earn minutes in Danny Hope's spread, receiver-heavy offense.
The problem is Purdue hasn't had a go-to, game-changing receiver since Keith Smith in 2009. Part of the problem the passing game has had over the past two seasons has revolved around that issue.
Between Edison, Ross and Bush, as well as the underclassmen, one or more of them have to step up and be the guy that opposing defenses have to account for at all times.
It is much the same with the tight ends.
Without that, the Boilermaker offense can be potent, but decidedly limited.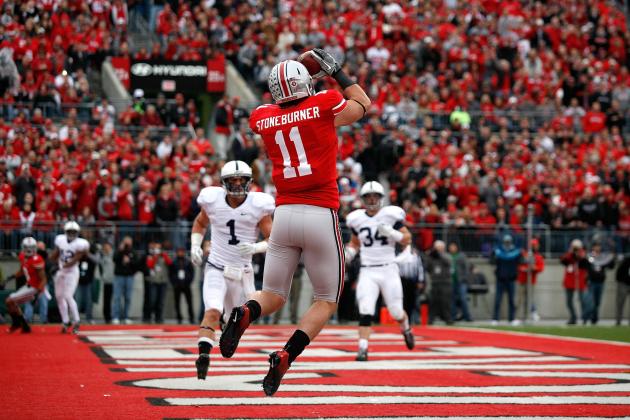 Kirk Irwin/Getty Images

WR1: Corey Brown (Jr)*
WR2: Devin Smith (So)
WR3: Verlon Reed (So)*

WR4: Chris Fields (Jr)*
TE: Jake Stoneburner (Sr)**
Other Wide Receivers: Evan Spencer (So), T.Y. Williams (So), Michael Thomas (TrFr), Ricquan Southward (TrFr), Frank Epitropoulos (TrFr)
Other Tight Ends: Jeff Heuerman (So), Nick Vannett (RFr), Blake Thomas (TrFr)

The Lowdown: We know three things as regards Ohio State's receivers.
Firstly, OSU is almost always the most inherently talented team in the Big Ten, and wide receiver is one of the most talent-intensive positions on the field.
Secondly, OSU has a great many talented, highly recruited receivers on its roster.
Thirdly, we barely know anything about OSU receivers because OSU rarely passed last year.
In effect, there is a good deal of projection as it concerns the Buckeye receivers. The top returning receiver is Devin Smith, who caught 14 passes for 294 yards and four touchdowns, yet he never officially started a game.
DeVier Posey is the only receiver that graduated, but he barely played last year. On the other hand, it says a great deal that Posey caught 12 passes in five games, thereby almost eclipsing the team lead of 14 receptions held by Smith and Stoneburner, each of whom played a full season.
In other words, the lack of production in the passing game wasn't just the play calls and inexperience at quarterback.
In short, if you're feeling good about the 2012 Buckeye receivers then you're not basing it on what they've done in the past, but on what you think they can do in the future.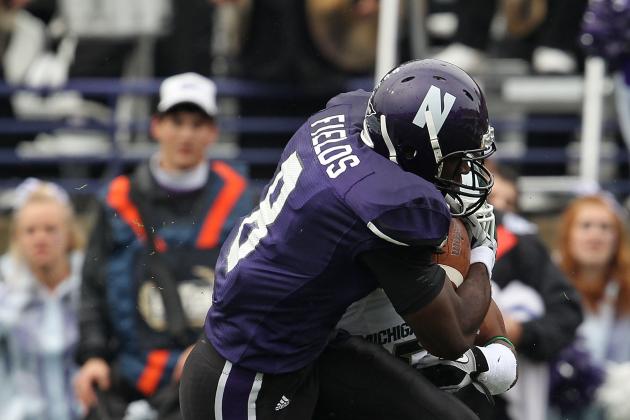 Jonathan Daniel/Getty Images

WR1: Demetrius Fields (Sr)***
WR2: Rashad Lawrence (Jr)*
WR3: Christian Jones (So)*

WR4: OPEN
SB: OPEN
Other Wide Receivers: Mark Venric (Jr), Drew Moulton (Jr), Mike Jensen (Jr), Tony Jones (So), Pierre Youngblood-Ary (RFr), Cameron Dickerson (RFr), Andrew Scanlan (TrFr), Mike McHugh (TrFr)
Other Superbacks: John Plasencia (Jr), Tim Riley (Jr), Mark Szott (RFr), Jack Schwaba (TrFr)
The Lowdown: Northwestern has a way of finding receivers.
I'm not saying the graduation of Jeremy Ebert won't sting. Nonetheless, whether it's been Ebert, Zeke Markshausen or Eric Peterman, the Wildcats have found lightly regarded, usually junior or senior receivers that have come out of nowhere and do what is expected of Northwestern receivers—run short routes, get open and catch the ball.
In effect, I expect the same from Fields, Lawrence, Jones, Venric or whoever steps up this season.
On the other hand, replacing superback and all-Big Ten honoree Drake Dunsmore won't be as simple.
Over the past three years, Dunsmore registered 133 receptions. I can't remember, and I don't think there ever has been, a Northwestern tight end that has been anywhere near as productive.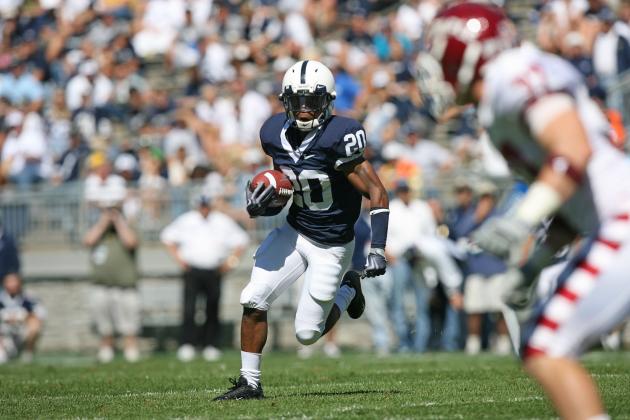 Hunter Martin/Getty Images

WR1: Justin Brown (Sr)**
WR2: Devon Smith (Sr)**
WR3: Shawney Kersey (Jr)

WR4: OPEN
TE1: Kevin Haplea (Jr)
TE2: OPEN
Other Wide Receivers: Brandon Moseby-Felder (Jr), Allen Robinson (So), Christian Kuntz (Jr), Bill Belton (So), Alex Kenney (So), Matt Zanellato (RFr), Eugene Lewis (TrFr), Trevor Williams (TrFr), Jonathan Warner (TrFr)
Other Tight Ends: Kyle Carter (RFr), Brent Wilkerson (TrFr), Jesse James (TrFr)
The Lowdown: It's hard to know how many of the issues in the Nits' passing game can be attributed strictly to sub-par quarterback play and how much lays at the feet of the pass catchers.
Either way, as with so many other Big Ten teams, PSU's returning pass catchers are high on potential, but so-so on results.
Last season, Brown and Smith combined for 60 catches, 919 yards and four touchdowns. That's not bad, but this year, with their experience, both will have to step up and be leaders and playmakers in new head coach Bill O'Brien's offense.
Tight end Kevin Haplea has fared well since getting thrown into action as a true freshman. Now, if O'Brien's Patriot offense is any indication, Haplea can expect to take on an increased role.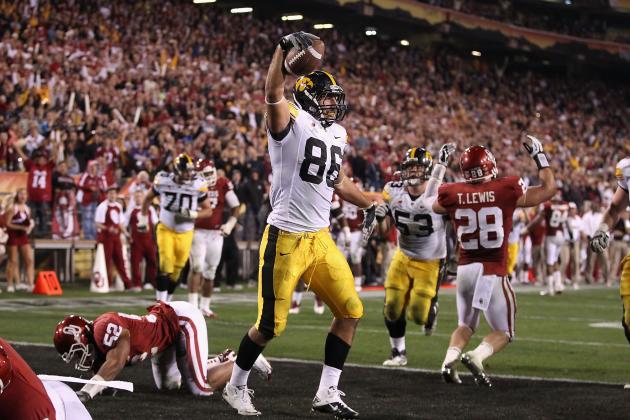 Christian Petersen/Getty Images

WR1: Keenan Davis (Sr)*
WR2: Kevonte Martin-Manley (So)
WR3: OPEN
TE1: C.J. Fiedorowicz (Jr)*
TE2: Zach Derby (Sr)*
Other Wide Receivers: Don Shumpert (Jr), Steven Staggs (Sr), Jordan Cotton (Jr), Jacob Hillyer (RFr), Cameron Wilson (TrFr), Tevaun Smith (TrFr), Greg Mabin (TrFr)

Other Tight Ends: Ray Hamilton (So), Jake Duzey (RFr), Henry Krieger-Coble (RFr), George Kittle (TrFr)
The Lowdown: Keenan Davis is the second-most productive returning receiver in the conference. In his first season as a starter, he had 50 receptions, 713 yards and four touchdowns. He also missed one game with an injury and was dinged up for the final four regular season games.
This season, the Hawkeyes will need him to be more consistent given the departure of record-setting Iowa receiver, Marvin McNutt. In 2012, all defenses will look to shut down Davis, and he will have to deliver.
He will get help from Kevonte Martin-Manley, who had a strong freshman season, posting 30 catches for 323 yards and three touchdowns in a reserve role.
Iowa is known for its tight-end play, but the 2011 tight ends had their worst showing statistically, since 2003.
The Hawks' top pass-catching tight end turned out to be C.J. Fiedorowicz, who finished the season with 16 receptions for 167 yards and three touchdowns. He grabbed 14 of those catches in the final six games, as he did not begin the year as one of the top two tight ends.
Expect Fiedorowicz to have a breakout season in 2012.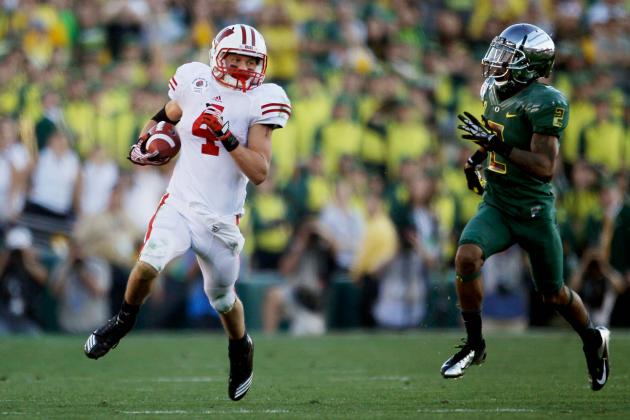 Jeff Gross/Getty Images

WR1: Jared Abbrederis (Jr)*
WR2: OPEN
TE1: Jacob Pedersen (Jr)*
TE2: OPEN

Other Wide Receivers: Jeff Duckworth (Jr), Manasseh Garner (Jr), Kenzel Doe (So), Fred Willis Jr. (So), Chase Hammond (So), Isaiah Williams (So), Marquis Mason (So), A.J. Jordan (RFr), Reggie Love (TrFr)
Other Tight Ends: Brian Wozniak (Jr), Brock DeCiccio (Jr), Sam Arneson (So), Sherard Cadogan (So), Austin Traylor (RFr), Austin Maly (RFr)
Lowdown: It might be surprising that Wisconsin is in the No. 1 spot; however, the Badgers are the only team with two—let alone one—proven playmakers returning at pass catcher.
Jared Abbrederis is another in a long line of Wisconsin walk-on success stories. Last season, he had a team-second-best 55 receptions to go with a team-best 933 yards.
Jacob Pedersen is the lone returning all-conference honoree amongst the pass catchers. In 2011, he continued UW's tradition of playmaking tight ends by catching 30 passes for 356 yards and eight touchdowns.
Speaking of strong production out of the tight end spot, every Badger starting tight end since 2007 has been recognized as a first or second team all-conference player. Two have been all-Americans. Since 2006, five Badger tight ends have been drafted.
Wisconsin has gotten to a point where it doesn't rebuild at tight end, it reloads. In effect, it is safe to assume that the Badgers will find somebody at least serviceable for the second tight end spot.
That does leave a glaring hole at second receiver—not to mention in the slot in UW's three-wide looks—but that is minimal in comparison to the rest of the conference.
Do I feel UW has the best, most talented pass catchers in the conference? No, but right now, relative to the rest of the conference, the Badgers' pass catchers are the safest bet.