College Football: 2012 Big Ten Offensive Line Power Rankings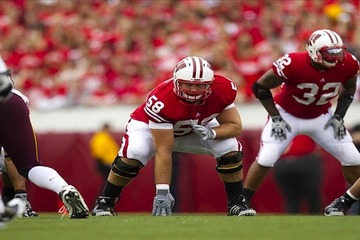 The Big Ten is known for its line play on both sides of the ball.
This is due to necessity as much as anything. No state in the conference can produce speedy skill players the way Texas, California, Florida or Georgia can. Nevertheless, the Big Ten states can produce big, powerful farm boys with the best of them.
Moreover, the Big Ten is the coldest conference in the country, and it's not especially close. That necessitates a lot of between-the-tackles running, and that is the domain of offensive linemen.
Last season, the conference said goodbye to a number of top-quality linemen, including three potential first-round centers, one potential first-round guard, one first-round left tackle, and one potential first-round tackle. However, their departures open up opportunities for young players.
The number of asterisks next to a players' name indicates how many years he has started. A "starter," for my purposes, had at least four starts to his credit in any one season.
Players in italics are returning all-conference honorees.
A pound sign (#) indicates a player that hasn't started consecutive years or that didn't start last year.
I based my rankings on returning experience, inherent talent (recruiting rankings), as well as what the teams and coaches have turned out in the past. For example, Iowa and Kirk Ferentz have proven they can regularly turn out quality defensive lines. Indiana and Kevin Wilson, on the other hand, have not.
Finally, a lot can change in the next few months.
This article is based on what the rosters of Big Ten teams look like, and what we know, right now.
Check out previous articles in this series, beginning with the most recent, Power Ranking the Big Ten Pass Catchers.
Begin Slideshow

»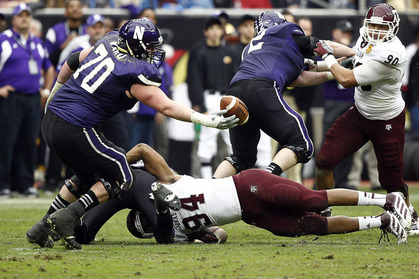 LT: OPEN
LG: Brian Mulroe (Sr)*
C: Brandon Vitabile (So)*

RG: OPEN
RT: Patrick Ward (Sr)**
Other Players in the Mix: Neal Deiters (Sr)*#, Chuck Porcelli (Sr), Taylor Paxton (Jr), Paul Jorgensen (So), Shane Mertz (RFr), Geoff Mogus (RFr), Matt Frazier (RFr), Adam DiPietro (TrFr), Chris Fitzpatrick (TrFr), Eric Olson (TrFr), Ian Park (TrFr), Kenton Playko (TrFr)

The Lowdown: The Cats lose over 100 career offensive line starts with the graduation of Al Netter and Ben Burkett. That leaves huge holes for Northwestern to fill in an offensive line that was less-than-spectacular with all that experience.
Last season, the Cats let up the second-most sacks in the conference—42—and were the worst rushing offense at 3.75 YPC.
Some stability at quarterback might help the NU line, but don't expect a major turnaround from this unit.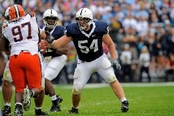 LT: OPEN
LG: OPEN
C: Matt Stankiewitch (Sr)*
RG: John Urschel (Jr)
RT: Mike Farrell (Sr)
Other Players in the Mix: Eric Shrive (Jr), Adam Gress (Jr), Mark Arcidiacono (Jr), Nate Cadogan (Jr), Frank Figueroa (Jr), Ty Howie (Jr), Miles Dieffenbach (So), Donovan Smith (So), Khamrone Kolb (So), Ryan Nowicki (RFr), Angelo Mangiro (RFr), Anthony Stanko (TrFr), Brian Gaia (TrFr)
The Lowdown: With 16 combined career starts among the returning linemen—Stankiewitch has 15 and Farrell has one—Penn State has the least experienced offensive line in the Big Ten, and one of the least experienced in the country.
It would help the young offensive line if PSU had an established passing game, but that is not the case.
Having to learn a new offensive system won't make it any easier.
The good news is that new offensive line coach Mac McWhorter has tons of experience. Hopefully for Penn State fans, that experience pays immediate dividends.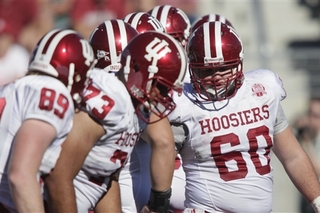 LT: OPEN
LG: Bernard Taylor (So)* OR Cody Evers (So)
C: Will Matte (Sr)***
RG: Collin Rahrig (So)* OR Cody Evers (So)
RT: Peyton Eckert (So)*
Other Players in the Mix: Charlie Chapman (Jr), Pete Bachman (So), Bill Ivan (So), David Kaminsky (RFr), Gregory Lewis (RFr), Dan Feeny (TrFr), Jacob Bailey (TrFr), Dimitric Camiel (TrFr)
The Lowdown: Veteran center Will Matte will anchor the offensive line, which paved the way—or failed to pave the way—for 2011's second-worst Big Ten rushing offense (YPC). It also allowed the fourth-most sacks in the conference.
Part of the issue was installing head coach Kevin Wilson's no-huddle offense, which is particularly hard on offensive linemen. Another issue was a quarterback carousel that finished with a true freshman starting the final five games of the season.
There should be some improvement this season, though how much remains to be seen, as, no matter the head coach, Indiana has never been known for its play in the trenches.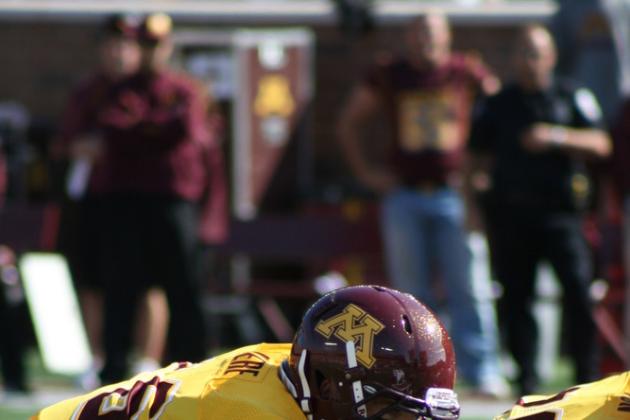 LT: Ed Olson (Jr)** OR Marek Lenkiewicz (So)

LG: Caleb Bak (So)* OR Tommy Olson (So)
C: OPEN
RG: Zac Epping (So)* OR Caleb Bak (So)*

RT: Jimmy Gjere (So)*
Other Players in the Mix: Michel Brooks (Jr), Kyle McAvoy (RFr), Luke McAvoy (RFr), Joe Bjorklund (RFr), Foster Bush (RFr), Josh Campion (RFr), Jonah Persig (TrFr), Ben Lauer (TrFr), Isaac Hayes (TrFr)
The Lowdown: All things considered, the Gopher line didn't play poorly last season. It allowed 21 sacks—tied for fourth in the conference—and paved the way for a respectable 4.09 YPC, which was No. 7.
On the other hand, it had the fewest rushing touchdowns in the conference and had trouble converting third-down short-yardage situations.
This season, the line will be without two major contributors—two-year starting center Ryan Wynn and three-year starting guard/tackle Chris Bunders—both of whom have exhausted their eligibility.
In effect, a number of younger, inexperienced players will have to step up.
2013 projects to be a good season for the Gopher line, as every single starter will in all probability return.
However, in 2012, there will be more growing pains.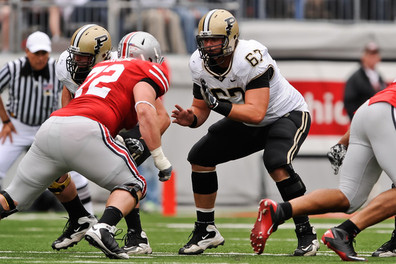 LT: Trevor Foy (Jr)*
LG: Peters Drey (Sr)** OR Rick Schmeig (Sr)*

C: Rick Schmeig (Sr)* OR Peters Drey (Sr)**
RG: OPEN
RT: Justin Kitchens (Jr)*
Other Players in the Mix: Cody Davis (Jr), Eric McDaniel (Jr), Jack DeBoef (So), Josh Davis (So), Robert Kugler (RFr), Matt Huene (RFr), Jason King (TrFr), James Prince (TrFr), Jordan Roos (TrFr), Devin Smith (TrFr), Joey Warburg (TrFr)
The Lowdown: For any of his other shortcomings, head coach Danny Hope—a former offensive line coach—has done a good job of coaching up his offensive line, and by extension, his rushing offense.
In 2010, despite the absence of any passing game, Purdue averaged 4.37 YPC, which was good for sixth in the conference. Last season, it averaged 4.41 YPC, which was fifth.
In 2012, the entire offense should have more balance than it has previously had, which will help out an offensive line that will be inexperienced in certain areas. Of the returning "starters," only Schmeig and Drey could be called returning full-time starters.
Furthermore, depth is an issue, as a number of freshmen are one injury away from meaningful game time.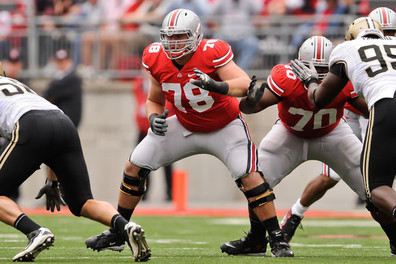 LT: Andrew Norwell (Jr)*
LG: Jack Mewhort (Jr)*
C: OPEN
RG: Marcus Hall (Jr)* OR Antonio Underwood (So)
RT: Antonio Underwood (So) OR Marcus Hall (Jr)* OR Reid Fragel (Sr)
Other Players in the Mix: Corey Linsley (Jr), Ivon Blackman (Jr), Brian Bobek (So), Tommy Brown (RFr), Chris Carter (RFr), Jacoby Boren (TrFr), Taylor Decker (TrFr), Tyler Dodson (TrFr), Pat Elflein (TrFr), Joey O'Connor (TrFr)
The Lowdown: The offensive line will undergo a personality shift under Urban Meyer.
Unlike Jim Tressel's O, which featured "big uglies" in the classic Big Ten mold, Urban Meyer wants faster, more athletic linemen. For this reason, Reid Fragel's move from tight end to tackle makes perfect sense, and it is why Fragel will have a legitimate shot at a starting job in his first year at the position.
That said, there is a good deal of work to do with this bunch. Norwell and Mewhort are the only returning full-time starters.
Underwood has one start to his credit, while Hall has a history with injuries.
It is true that OSU always has talented players, but offensive line is the area where all those stars and recruiting mumbo jumbo mean the least.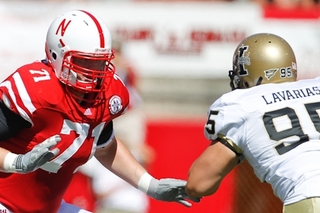 LT: Jeremiah Sirles (Jr)#*
LG: Andrew Rodriguez (Jr)* OR Seung Hoon Choi (Sr)*
C: OPEN
RG: Spencer Long (Jr)* OR Seung Hoon Choi (Sr)*
RT: Tyler Moore (So)* OR Andrew Rodriguez (Jr)*
Other Players in the Mix: Brandon Thompson (Sr), Justin Jackson (Sr), Nick Ash (Jr), Brent Qvale (Jr), Cole Pensick (Jr), Mike Moudy (So), Jake Cotton (So), Zach Sterup (RFr), Givens Price (RFr), Ryne Reeves (RFr), Ryan Klachko (RFr), Paul Thurston (TrFr), Corey Whitaker (TrFr)
The Lowdown: Four offensive linemen have been drafted in the Bo Pelini era, none of them taken higher than the fifth round. No Husker offensive lineman has been taken in the first round since Dave Rimington in 1983.
That could change if Jeremiah Sirles finishes his college career strong. He was the starting left tackle as a redshirt freshman in 2010. However, his playing time dropped precipitously in 2011.
Tyler Moore is in the same boat that Sirles was following his freshman year—tons of talent and a good year for a freshman, but now it's time to bring it to the next level.
Both will be the frontrunners for the open tackle positions.
Meanwhile, Spencer Long will likely reprise his role as a starting guard, while former walk-on Choi and former highly-recruited, blue-chip prospect Rodriguez battle it out for the other guard position.
With the graduation of Mike Caputo and his 27 career starts, center will be the biggest issue.
According to cornnation.com, the Husker line took some steps forward last season. Now, it will have to announce whether it is a force to be reckoned with or a mid-level group that gets by on prestige.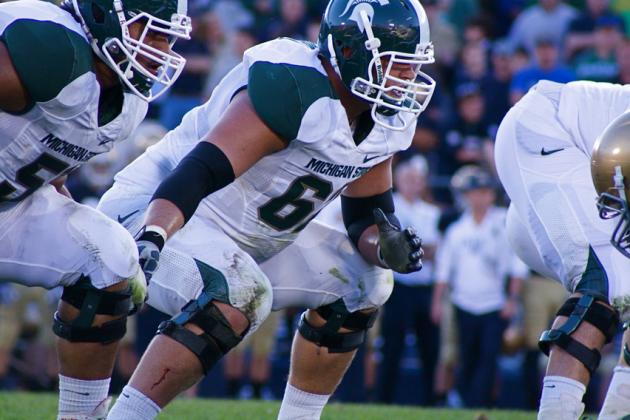 LT: Dan France (Jr)*
LG: Fou Fonoti (Sr)* OR Blake Treadwell (Sr)
C: Travis Jackson (So)* OR Blake Treadwell (Sr) OR Ethan Ruhland (Sr)
RG: Chris McDonald (Sr)**
RT: Fou Fonoti (Sr)* OR Skyler Burkland (So)

Other Players in the Mix: John Deyo (Sr), Micajah Reynolds (Jr), Nate Klatt (Jr), Henry Conway (Jr), Michael Dennis (So), Jack Allen (RFr), Donavon Clark (RFr), Benny McGowan (TFr), Zach Higgins (TFr), Kodi Kieler (TFr)
The Lowdown: Here is an interesting factoid: In eight years as a head coach at both Cincinnati and Michigan State, Mark Dantonio has never produced an offensive lineman that has been chosen in the NFL Draft.
Two other elements of this factoid to consider are that he has had the same offensive line coach—Dan Roushar—in seven of those years. Also, Dantonio runs a pro-style offense, which typically produces players at all positions that are highly valued by NFL scouts.
This non-NFL Draft streak will likely end this year when former MSU lineman Joel Foreman goes in the fourth-sixth round.
But one pro-style lineman in eight years?
This season, Dantonio will have plenty to work with, as both of his tackles, his three starting centers, and long-time starting guard, Chris McDonald, return.
However, he will have to replace Foreman, which, if draft value is any indication, is the best lineman Dantonio has ever coached.
Perhaps Foreman is a sign of things to come. After all, previous to last season, Dantonio had never coached up a top-30 defense.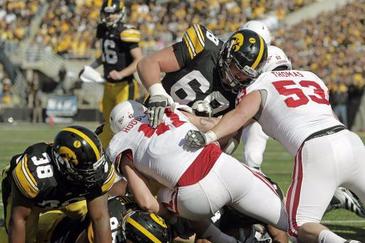 LT: Nolan MacMillan (Jr)*# OR Andrew Donnal (So)
LG: Matt Tobin (Sr)* OR Conor Boffeli (Jr)
C: James Ferentz (Sr)**
RG: Brandon Scherff (So) OR Conor Boffeli (Jr)
RT: Brett Van Sloten (Jr) OR Brandon Scherff (So)
Other Players in the Mix: Eric Simmons (So JUCO transfer), Drew Clark (Jr), Casey McMillan (Sr), Jordan Walsh (RFr), Austin Blythe (RFr), Ryan Ward (TrFr), Reid Sealby (TrFr), Mitch Keppy (TrFr)
The Lowdown: Kirk Ferentz and Iowa—and not Wisconsin or Ohio State—have arguably the most successful tradition of offensive line production in the Big Ten over the last decade.
However, the graduation of three full-time offensive linemen—one of who will get chosen in the first round of this year's draft—will make reloading something of an issue. Furthermore, Iowa will break in a new offensive line coach in Brian Ferentz, and a new offensive coordinator in Greg Davis.
The good news is that Iowa has a number of "part-time" starters ready to step in.
Tobin gained ten starts last season with mixed results. Scherff started three games, also with mixed results. Ferentz No. 3 (James) is a two-year starter that will vie for all-conference honors this year.
Much of the success of the 2012 offensive line is on the shoulders of Nolan MacMillan. MacMillan earned six starts in 2010 and played well. The problem is he has battled injuries since then, missing last season with a sports hernia.
If MacMillan can get healthy, he will be the next great Iowa O-lineman, and he will be the lynchpin to the 2012 line. If he can't get healthy, expect the Hawkeye offensive line to struggle.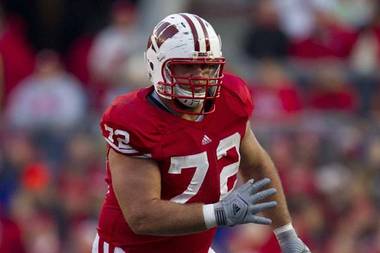 LT: Ricky Wagner (Sr)**
LG: Travis Frederick (Jr)** OR Ryan Groy (Jr)*
C: Travis Frederick (Jr)** OR Ryan Groy (Jr)*
RG: OPEN
RT: Rob Havenstein (So)
Other Players in the Mix: Zac Matthias (Jr), Robert Burge (Sr), Dallas Lewallen (So), Riki Kodanko (So), Tyler Marz (RFr), Ray Ball (RFr), Jonathan Coon (RFr), Dan Voltz (TrFr), Jake Meador (TrFr), Walker Williams (TrFr)

The Lowdown: Wisconsin has gotten to a point where it reloads on the line, but it has not only lost a ton over the last two years, it also lost its offensive line coach and offensive coordinator. Moreover, unlike last season, there are no semi-experienced players ready to step right into starting roles.
Travis Frederick and Ricky Wagner are the stars of this bunch, and they will make all-conference this season.
Part-time returning starters Groy and Havenstein will also find a place in the starting lineup.
After that, the other guard position as well as the the backup roles will be wide open.
Wisconsin will have a solid O-line in 2012, but it won't be as dominant as it's been the last three years. Furthermore, an injury to Frederick or Wagner could cripple the offense.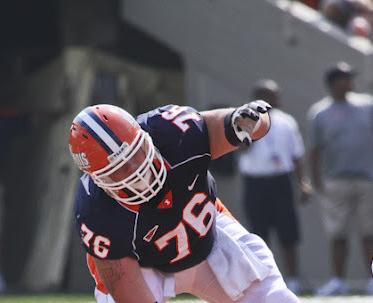 LT: Michael Heitz (So)* OR Corey Lewis (Sr)
LG: Alex Hill (So) OR Hugh Thornton (Sr)***
C: Graham Pocic (Sr)**
RG: Hugh Thornton (Sr)*** OR Simon Cvijanovic (So)*
RT: Simon Cvijanovic (So)* OR Corey Lewis (Sr) OR Hugh Thornton (Sr)***
Other Players in the Mix: Tyler Sands (Sr), Jake Feldmeyer (Jr), Shawn Afryl (So), Scott McDowell (RFr), Ted Karras (RFr), Tony Durkin (RFr), Chris Boles (RFr), Pat Flavin (RFr), Joseph Spencer (TrFr), Robbie Bain (TrFr)
The Lowdown: Illinois boasts the most experienced returning offensive line in the conference, despite losing two full-time starters. Of course, at 68 returning starts, it is not that much experience, but that speaks to how much the conference graduated in this area in 2011.
Thornton will lock down a guard or the right tackle position and will vie for all-conference honors. Pocic will do the same from center.
After that, there are a number of options for new head coach Tim Beckman to juggle. Any one of them should produce solid results at worst, and the top line in the conference at best.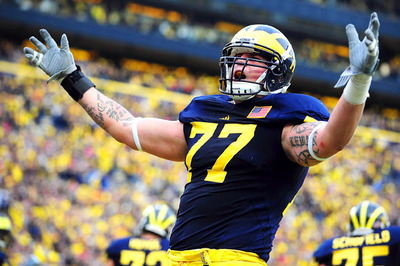 LT: Taylor Lewan (Jr)**
LG: Ricky Barnum (Sr)
C: Rocko Khoury (Sr) OR Jack Miller (RFr)
RG: Patrick Omameh (Sr)**
RT: Michael Schofield (Jr)*
Other Players in the Mix: Erik Gunderson (Jr), Elliot Mealer (Sr), Joey Burzynski (So), Chris Bryant (RFr), Graham Glasgow (RFr), Kristian Mateus (RFr), Kyle Kalis (TrFr), Ben Braden (TrFr), Blake Bars (TrFr), Erik Magnuson (TrFr)
The Lowdown: While OSU will transition from powerful and dominating offensive linemen to fast and agile, the Wolverines are in the process of transitioning the opposite way.
After a year in Brady Hoke's system, this season's Michigan line—the second-most experienced in the conference—should be bigger and more powerful.
Taylor Lewan is UM's best tackle since Jake Long, and he can solidify himself as a first-round NFL Draft candidate with a strong junior year. If he stays healthy, he will be first-team all-conference this season.
Omameh will look to finish up an occasionally rocky career with a strong senior season.
Schofield will move from guard to tackle, which will leave Barnum to take up the other open guard spot—a spot he wrested from Schofield last season until he was injured and Schofield took it back for good.
That will leave the center position, which will be difficult to fill with the graduation of four-year starter Dave Molk.