Los Angeles Dodgers vs. Washington Nationals: 5 Reasons This Is NLCS Preview
April 27, 2012

Bob Levey/Getty Images
Let's begin with the necessary qualifier: It's still early in the baseball season. Probably too early to look at a three-game series in the last weekend of April as a possible preview of the National League Championship Series.
But the Los Angeles Dodgers (13-6) and the Washington Nationals (14-5) currently have the top two records in the NL, so with the two of them matched up this weekend at Chavez Ravine, it's worth looking at this series and contemplating what might be.
Here are five reasons why these teams could meet up again in the postseason, with a bid in the World Series at stake.
Super Starters
Matt Kemp's MVP-caliber performance is obviously a huge reason for the Dodgers' success. But if not for their starting pitching, they might not have the lead in the NL West.
Ted Lilly leads the majors with an 0.90 ERA after his first three starts. Cy Young Award winner Clayton Kershaw has picked up right where he left off last season. Chad Billingsley and Chris Capuano have both looked impressive thus far. And even though Aaron Harang has a 5.16 ERA in four starts, he's throwing strikeout stuff, mowing down almost 10 batters per nine innings.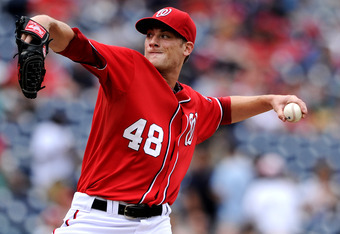 Patrick Smith/Getty Images
But no team is getting better starting pitching right now than the Nationals. Four of their starting five have ERAs under 2.00. Four starters are also striking out at least eight batters per nine innings. And no one in the rotation is walking very many batters. 
The big question mark with the Nats' starters may be whether or not they can maintain that level of performance deep into the season. Stephen Strasburg is on an innings limit, presumed to be 150-160 innings. Furthermore, can Ross Detwiler make 25-30 major league starts?
The three-game set begins Friday night with a pitching matchup of Detwiler versus Kershaw that should be fun to watch. 
Major Relief
As impressive as the Nationals' starting pitching has been, their bullpen is just as responsible for their lead in the NL East. Despite losing closer Drew Storen in spring training, Henry Rodriguez and Brad Lidge have filled the ninth-inning role capably. Setup man Tyler Clippard has struggled, but he's still striking out batters. 
The biggest surprise has been Craig Stammen, who's gone from mediocre starter to excellent reliever thus far. Pitching fewer innings has allowed him to throw harder. Averaging 11.4 Ks per nine innings shows that it's working for him.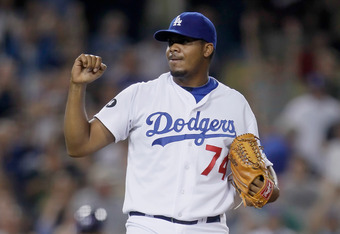 Jeff Gross/Getty Images
For the Dodgers, Javy Guerra has taken a slide after early-season success. Perhaps he needs to be a little more wild. He's allowed just three walks in his nine-and-two-thirds innings, so opposing batters might realize they'll get something to hit if they catch up to his fastball.
But if Guerra continues to get pummeled, Kenley Jansen can step in as the closer. And the emergence of Josh Lindblom could allow him to take Jensen's role as setup man, meaning the Dodgers wouldn't lose much in later innings. Jamey Wright and Matt Guerrier have also been effective in middle relief, providing bullpen depth. 
Competition Is Lagging
Yes, both the Dodgers and Nationals are playing surprisingly well. But they're also benefiting from the favorites in their respective divisions playing far below expectations.
In the NL East, the Philadelphia Phillies are 9-10 going into Friday's play, which has them in fourth place. That's due in large part to an impotent offense that's scored 63 runs, the third-lowest total in the majors.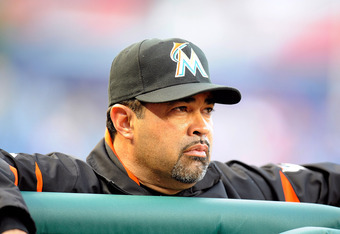 Greg Fiume/Getty Images
Even worse are the Miami Marlins, who anchor last place with a 7-11 record. They've scored even fewer runs than the Phillies with 61, compelling Ozzie Guillen to consider lineup changes.
There's plenty of time for both teams to catch and surpass the Nats, but each club needs to get many things right first. 
In the NL West, the San Francisco Giants are scoring more runs than you might think. But they have to win with pitching. The bullpen has been a particular problem with Jeremy Affeldt, Dan Otero and Guillermo Mota not providing much relief in the middle innings.
Injuries have laid the Arizona Diamondbacks out, with Chris Young going to the DL with a shoulder injury and Justin Upton struggling with a thumb issue. Ryan Roberts is also looking like a one-year fluke. The back of the D-Backs' starting rotation hasn't pitched well, which might prompt the call-ups of Trevor Bauer and Tyler Skaggs that most fans want to see. 
Resurgent Right Fielders
Neither the Dodgers nor Nationals got much production from their right fielders last season.
Andre Either battled elbow and knee injuries while suffering a sharp decrease in his home runs, RBI and OPS. Whether he's playing for a contract or just healthy, Ethier is hitting well again, getting on base and driving in runs. His 22 RBI are the second-highest total in the majors, behind only his teammate Kemp.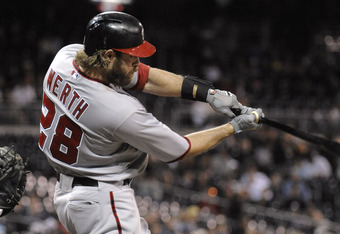 Denis Poroy/Getty Images
In D.C., Jayson Werth looked like a free agent bust, batting .232 with an OPS of .718. Even though he hit 20 home runs (his lowest total in four years), he drove in only 58 runs. Thus far, Werth appears to be on the rebound. His .290 batting average and .859 OPS are second among the Nats' regular starters.
For either team to continue their success, these right fielders will have to continue their renewed production.
Home Cooking
Both teams face some tough competition toward the end of the regular season, with intradivision matchups that could determine whether or not they make the playoffs.
But the schedule might give each club the edge, with a majority of home games in September and October.
The Nats get 19 of 31 games at Nationals Park during the final weeks of their season. The Dodgers have less of an edge, playing 15 of 29 games at Dodger Stadium down the stretch. But getting half of their games at home could make the difference for a team that's played very well at home to begin the season.
Follow @iancass on Twitter