Will Stephen Strasburg's Innings Limit Cost Washington Nationals a Playoff Spot?
April 19, 2012

Going into the 2012 season, we knew Stephen Strasburg would have an innings limit.
It's been approximately 20 months since he had reconstructive surgery on his right elbow. At 23-years-old, the Washington Nationals have to take every precaution to make sure he fully recovers and can pitch through a full season. 
Nats general manager Mike Rizzo was a guest on MLB Network Radio's Inside Pitch on Wednesday and confirmed that Strasburg will have a cap on his innings this year.
"There will be a limit," Rizzo told hosts Casey Stern and Jim Bowden. "I can't put a concrete number on what it is." 
Rizzo went on to vaguely explain the plan in place, saying the team will watch Strasburg closely and when they see that he's reached his limits and is getting worn down, they'll shut him down.
Rizzo has denied that Strasburg has a limit of 150-160 innings, but that's the plan the Nats followed with Jordan Zimmermann last year in his first season back after Tommy John surgery.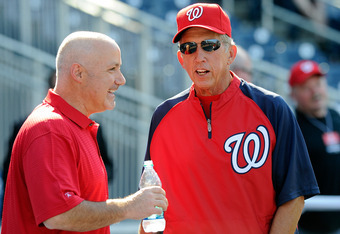 Greg Fiume/Getty Images
Bowden then asked Rizzo if manager Davey Johnson might try to manipulate Strasburg's schedule a bit, perhaps skipping turns in the rotation a few times later in the year to try to lengthen his season. Rizzo shot that idea down.
"What we don't want to do is, we don't want to interrupt his rotation," said Rizzo. "He's very comfortable, he's a very monitored person. He likes everything in its place.
"We don't want to jumble up his schedule and get him out of his rotation, out of his routine."
If the Nationals follow the same plan they used with Zimmermann, Strasburg's season will be done at the end of August. Zimmermann's final start last season was on Aug. 28. 
That means if the Nationals do what many expect and contend for a division title or wild-card playoff spot, Strasburg won't be available when the team makes a final push for the postseason.
Can the Nats make it to the playoffs without their ace pitcher making a September contribution? Or will shutting him down and not manipulating his schedule ultimately cost the team a playoff bid?
I don't believe it will. Yes, Strasburg is off to a tremendous start, compiling a 2-0 record and 1.42 ERA in his first three outings. But, the Nationals' pitching staff as a whole is performing well. Going into Wednesday night, the staff has a collective 1.91 ERA with 117 strikeouts and 39 walks in 113 innings.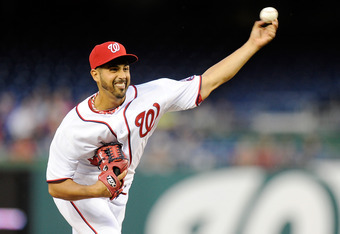 Greg Fiume/Getty Images
Rizzo built a deep pitching rotation in the offseason, adding Gio Gonzalez and Edwin Jackson. Ross Detwiler emerged in spring training to push John Lannan down to Class AAA Syracuse.
If Rizzo is to be believed, Lannan won't be traded, and that could help take up some of the workload after Strasburg is shut down.
Of course, if the Nats are in the playoff race, Rizzo might try to add a starting pitcher at the trade deadline as well. 
Though it looks like the decision to cap Strasburg's innings could cost his team a postseason spot, Rizzo is sticking to his schedule. The Nationals are a chic pick in the NL East this season, but contending for the playoffs in 2012 would actually be a year ahead of schedule. 
The temptation would obviously be there to accelerate that plan if the postseason is in reach. The popular belief is to go for a playoff spot if you can get it because there's no guarantee a team will be in that position again.
Is making that push worth compromising Strasburg's long-term development? Given the investment that the team has made in him, one that will surely increase after this season if he stays healthy, the answer is no.
The Nats are poised to contend in the NL East for years to come. There's no reason to rush. There will be other chances, even if it looks like they blew one this year.