NL Worst of the Night: Javy Guerra Suffers 9th-Inning Meltdown for Dodgers
April 26, 2012

Stephen Dunn/Getty Images
Highlighting a bad performance from the previous night in baseball might seem like a harsh way to start the morning. But look at it this way: If you had a rough night or bad day, here's someone who may have had it worse.
Matt Kemp hit his 10th home run of the season and Ted Lilly allowed one run and three hits over seven innings for the Los Angeles Dodgers Wednesday night. But the Dodgers ended up with a 4-2 loss to the Atlanta Braves, as closer Javy Guerra blew the game in the ninth.
Guerra took the mound with a 2-1 lead and retired Martin Prado to lead off the inning. But the Braves then hit five consecutive singles, resulting in three runs.
Adding insult to injury, Guerra took the second of those five hits, a line drive from Brian McCann, right off his chin. The blow didn't knock Guerra off his feet and he stayed in the game. But from there, he gave up three straight RBI singles.
You can watch video of the play here.
Guerra has been shaky in three of his last five save opportunities, which has some Dodgers fans restless and calling for Kenley Jansen to take over as closer. But manager Don Mattingly isn't making any changes.
"I have confidence in the guy," Mattingly said to MLB.com's Ken Gurnick. "If he has trouble, then we'll get him in a different spot. At this point, I'm not getting into a big closer thing. After two outings, if you think I'm going to flip-flop things, I'm not."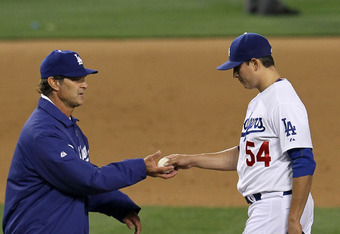 Stephen Dunn/Getty Images
But should Mattingly have made a pitching change after Guerra took a shot to the jaw?
"I would have [removed him], honestly, but [assistant trainer] Greg Harrel was talking to me, making sure his jaw lined up and nothing was broken," said Mattingly. "Javy was clear-eyed when he looked at me. Twice he said he was OK."
After leaving the game, trainers put Guerra through tests to check for a concussion. He had a swollen jaw when taking to reporters later, but a concussion was ruled out. 
Still, a blow like that would shake up anyone. Even if Guerra seemed fine, leaving him in the game might not have been the best move. Knowing how hard he hit the ball, McCann couldn't believe Guerra didn't come out. 
Suffering further indignity, Guerra was booed by Dodgers fans when he walked off the mound. Perhaps that's understandable, given a three-run meltdown that squandered a terrific performance by Lilly. But how about a little compassion for a guy who literally took one for the team? 
-- Follow @iancass on Twitter