Robert Griffin III: Why RG3 Will Have a Better Career Than Cam Newton
April 27, 2012

Chris Chambers/Getty Images
Robert Griffin III and Cam Newton each won Heisman Trophies by running and passing, and Newton has already exceeded expectations in the NFL. But between the two of them, it is Griffin III that will have the better career.
First, a comparison of the two.
The months leading up to the draft went very similarly for Griffin III and Newton. Each won Heismans, projected as late first-rounders and gradually rose to the top of the draft board.
Newton was taken No. 1 overall by the Carolina Panthers, and had it not been for Andrew Luck, arguably the most NFL-ready quarterback in football history, RG3 would have been taken No. 1 overall by the Indianapolis Colts.
Their college careers went a little differently.
Newton got his start in the legendary Florida football program, backing up the prolific Tim Tebow. Several bumps in the road led to his transfer to Blinn Community College, where he led his team to a national title. He then transferred to Auburn, where he did the same and eventually emerged as a favorite to win the Heisman.
It wasn't without struggle, though, as Newton was infamously caught up in NCAA allegations that claimed his dad had been bribed by several schools during Newton's recruiting process. It was determined that nothing of the sort happened at Auburn, and Newton left the situation unscathed.
Griffin III, on the other hand, spent his entire career in the not-so-prolific Baylor program backing up nobody. He went through the program cleanly and won the Heisman after having some of the best statistics in history.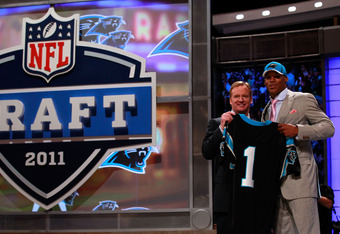 Chris Trotman/Getty Images
But how is this relevant to success in the NFL?
Newton's experience dealing with adversity could greatly benefit him in the NFL, and it may have already. The much-scrutinized No. 1 pick took a lockout-shortened offseason and set the record for rushing touchdowns by a quarterback en route to winning Rookie of the Year honors.
Griffin hasn't had the chance to break that record or follow in those footsteps, but it has to be comforting to the Washington Redskins that he doesn't have anything in his past that could come back to haunt him. He has been praised countless times for having the character that led a no-name football program to national prominence.
Newton might have dealt with more in the past, but that also means he has more that can come back and hinder his career. Whether NCAA allegations somehow become a distraction again or if he decides to steal more laptops like he did at Florida, you never know.
The point is, these things exist in Newton's life, and they don't in Griffin's.
But players these days seem to do a good job of keeping off-field distractions and on-field play separate, so let's shift the focus to their skills as quarterbacks.
The primary reason why Griffin III will have a better career is that he is a better passer than Newton. RG3 is more careful with the ball and has had better accuracy over the course of his career.
Compare the stats of their final years in college—Newton ran for almost 900 more yards but also threw seven interceptions to Griffin's six. And that was in over 100 fewer attempts. Griffin's 72.4 percent completion rate also trumped Newton's by over six percent.
The argument could be made, however, that the SEC defenses that Newton tore up were much tougher than the Big 12 defenses that Griffin III dominated, and that argument would be legitimate.
That being said, Newton developed an interception problem last year and ended up with the sixth most in the league with 17 picks thrown. Griffin III could very well suffer the same fate, but he has demonstrated incredible football knowledge during the draft process and has never been one to force throws, so the chances of that happening are rather slim.
He'll inevitably throw more than he did in college as he adjusts to the speed and style of the pro game, but his fantasy owners won't be shaking their heads over an unacceptable amount of interceptions next year.
Griffin III will also have more early success from a team standpoint, as he joins a Redskins roster that is much more complete than that of the Panthers. Washington's lack of first-round picks in upcoming drafts is a concern, but right now, the 'Skins have talent around Griffin III that will allow him to surpass the standard set by Newton last year.
As far as long-term success goes, that is something that is nearly impossible to predict. Indications are that Griffin III has better mental makeup and is coming into a better situation now than Newton did last year.
These are things that could certainly lead to more long-term success for RG3, but it's possible that with him and Newton, we could have another Peyton Manning vs. Tom Brady debate going on a decade from now.
Both players are ahead of the curve, and Newton proved it last year. Now it's up to Griffin III to show the Redskins and the NFL that he is worth the two first-rounders and one second-rounder that his team gave up to get him.