NBA Playoffs 2012: Stars Who Will Struggle with Tough First-Round Matchups
April 27, 2012

Christian Petersen/Getty Images
It's no surprise to see most of the NBA's biggest names back in the postseason field in 2012. As the playoffs get underway, though, some of the most recognizable players in the game have a tough road ahead of them in the first round.
These three stars won't dominate the way they're used to against some challenging competition:
Tim Duncan, San Antonio Spurs
He may have missed the All-Star game for the first time in over a decade, but Tim Duncan—still the Spurs' second-leading scorer at 15.4 points per game—is sure to turn it on for the playoffs. He'll have to, because Utah has a first-rate power forward of its own in Paul Millsap.
Not only is Millsap a fine defender who will harass Duncan any time he gets the ball, but he's also a terrific rebounder who averaged 8.8 boards a game this season (the best figure of his career). He'll keep Duncan from dominating the offensive glass, cutting down on second-chance points for the entire San Antonio roster.
Kevin Garnett, Boston Celtics
Another brilliant player who's not what he once was, Kevin Garnett is still the second-leading scorer on the fourth-seeded Celtics. However, he's got a tall task on both ends of the floor as he faces Atlanta's Josh Smith.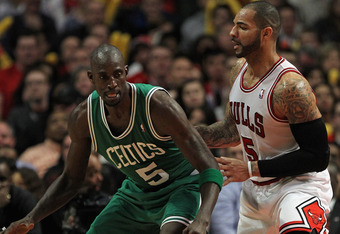 Jonathan Daniel/Getty Images
One of the best shot-blockers in basketball from the PF position, Smith will make Garnett (whose entire game is jump shots and hooks at this stage) work for every point. Just as dangerous, Smith gets most of his own points on fast breaks, meaning that he'll force Garnett to get back on defense and waste precious energy in the process.
Carmelo Anthony, New York Knicks
There are very few defenders capable of even slowing down Carmelo Anthony's versatile, prolific offensive game. Unfortunately for Anthony, his Knicks have drawn the Miami Heat for their playoff-opening series.
Say what you will about LeBron James' offensive issues in last year's playoffs, but he played some superlative D, particularly in shutting down Derrick Rose for key stretches of the Eastern Conference Finals. He'll pressure Anthony's suspect defense while using his own length and peerless athleticism to keep Anthony from getting any easy baskets on his watch.