Why the NBA Should Seriously Consider Contraction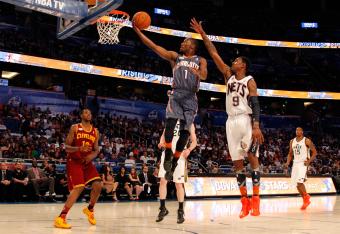 Mike Ehrmann/Getty Images
The 1980's were a great time if you were a fan of the NBA. It was a golden era for professional basketball. The league was ultra-competitive, and its popularity was skyrocketing. Ever since then, the NBA has been on a downward trend resulting in the league that we have today—less competitive and less popular.
The NBA should contract from 30 to 24 teams in order to address the root cause of this problem. Dropping six teams would mean that the talent across the league would be better from team to team, given that all the players in the league would now be divided up on to few teams. Having more even and more talented rosters would help to make games more competitive, as teams at the bottom would still have fairly decent players. All of this should also help to increase the popularity of the league, and even more importantly, the sport of basketball itself.
Although it seems like a pretty big overhaul to drop six teams from the NBA, it could in fact be done without disrupting the structure and format of the league and its schedule of games. The main reason why the NBA was much more competitive in the 1980's then as it is now is because the rosters were much stronger from team to team. The reason it has been diluted is because the league has continued to add teams over the years. This has caused the rosters to become thinned out, as talented players are being spread across a 30-team league as a oppose to a more idyllic 24.
By eliminating a few teams from the NBA, you would allow those players whose teams no longer exist to become free agents. One idea that could be put into use in order to maximize the effectiveness of contracting the NBA is to hold a draft, exactly like the one with NCAA players, but with all of the new free agents. This would allow for every team to improve their rosters, starting at the bottom, where teams with little to no chance at success now could find themselves quickly starting to form a fairly decent team.
For example, if you eliminated a struggling team like the Minnesota Timberwolves, all of a sudden a star player like Kevin Love would be able to be drafted by a lowly bottom feeder team like the Washington Wizards. Even if the Wizards remain near the bottom of the standings, the quality of basketball that they will be playing and that their fans will be paying tons of money to support will increase dramatically.
With talent spread out across the league, and nearly every team looking good on paper, it would be hard to imagine anything but a more competitive league as a whole. For one, it would be extremely unlikely for a team to exist like this year's Charlotte Bobcats, whose record of 7-58 makes for the worst winning percentage (.108) in NBA history. However, when you make it so that the potentially worst team still has players like John Wall and Kevin Love, no game will be taken for granted.
With this increased competitiveness, the NBA would surely see an increase in popularity as well. In a league where any team can beat any other team on any given night, fans would surely tune in much more often. The "any given Sunday" philosophy is one of the things that makes the NFL so much more popular than any other professional sports league in the United States.
Contracting the NBA from 30 teams to 24 teams means the league would have a very good chance of firmly securing themselves as the second-most popular league after the NFL. In fact, if contraction were to work well enough, they could even give the NFL a solid run for its money.
In order for any of this to be done, of course, there needs to be some sort of plan. The best way of trimming the league to perfection would be to drop six teams from the NBA. This could be done effectively if one team in each division were to be dropped. The teams that would be chosen would depend on a variety of factors: money, popularity, competitiveness and history.
In an ideal world, these six teams would be the Toronto Raptors, Charlotte Bobcats, Cleveland Cavaliers, Minnesota Timberwolves, Sacramento Kings and New Orleans Hornets. Each of these teams best fits those previously mentioned factors and would make for the smoothest transition into this new NBA, as well as create a very strong and talented free-agent pool for the draft.
Ultimately, the NBA is not what it once was in its glory days. Despite the fact that potentially all-time great players like LeBron James, Kevin Durant and Dwight Howard are in their primes and playing right now, the league as a whole could still change for the better.
Contracting the NBA from 30 teams to 24 would make the remaining teams' rosters much better, inevitably resulting in a much more competitive league that would surely increase the popularity of the sport of basketball. This could also be done in an effective way that creates new excitement and energy for the NBA. Anyone who is a fan of basketball and a fan of the NBA should be rooting for some kind of change that would improve the quality of basketball being played right now.
This article is
What is the duplicate article?
Why is this article offensive?
Where is this article plagiarized from?
Why is this article poorly edited?

Charlotte Bobcats: Like this team?