Mark Sanchez, Santonio Holmes Booed: Jets Must Earn Back Respect of Fans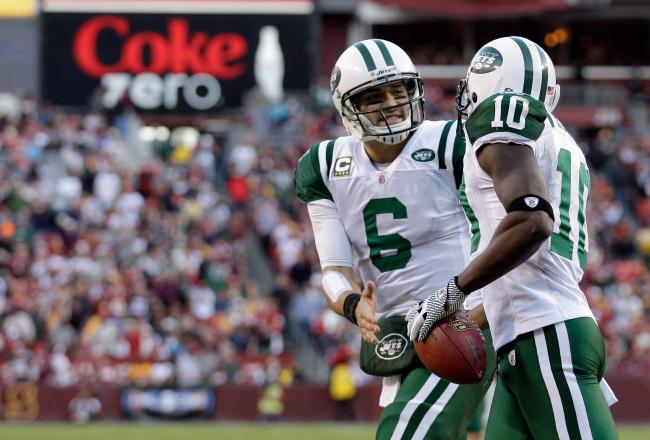 Rob Carr/Getty Images
Mark Sanchez and Santonio Holmes can publicly make it appear as though they've mended fences and are on the same page all they want—until they, and the rest of the New York Jets earn back the respect of the fans on the field, it's all a moot point.
Sanchez and Holmes were recently seen together at a New York Knicks game, where they were heartily booed by the Madison Square Garden faithful. From Mike Florio of Pro Football Talk:
Manish Mehta of the New York Daily News reports that quarterback Mark Sanchez and receiver Santonio Holmes heard boos when an image of the duo sitting courtside was displayed on the video board during the game between the Knicks and the L.A. Clippers.

It has been widely reported that Holmes and Sanchez were at odds last season, a rift that began because Sanchez couldn't get the ball to Holmes enough to keep the receiver happy, a standard that possibly would be satisfied only if Sanchez completed a pass to Holmes on every single play. The inability of the two men to act like grown men apparently hasn't been lost on the citizens of New York.
Now, much like Florio, I'm not sure about how many Knicks fans are Jets fans, or how allegiances work in New York. But chances are pretty darn high that there were Jets fans in the crowd, and chances are pretty darn high they were booing the pair.
And why not?
It's safe to say at this point that Mark Sanchez hasn't been a total bust, but he's also yet to prove he's franchise-quarterback material. Let's keep it real here—Tim Tebow wasn't brought into New York to be on the punt team. He was brought in as insurance in case Sanchez doesn't start playing at a higher level.
And as for Holmes—well, the malcontent probably isn't popular inside the Jets locker room, either, let alone outside of it. When an unnamed teammate calls you a "cancer" in the locker room, that should tell you what the team thinks of having you around.
Will Mark Sanchez and Santonio Holmes be able to coexist this season?
But ultimately, it's the entirety of this team that needs to earn back respect. At some point, Rex Ryan's brash yet loose locker room went from being refreshing to out of control. I'm not saying the inmates are running the asylum, but left unchecked last year, they seemed to ruin it.
It's time the Jets earned back some respect. And playing nice with one another by showing up at a Knicks game isn't going to do that.
Playing well together and making the playoffs will.
Hit me up on Twitter—my tweets always hit the spot, like Philip Humber.

This article is
What is the duplicate article?
Why is this article offensive?
Where is this article plagiarized from?
Why is this article poorly edited?

New York Jets: Like this team?