Steve Nash vs. Jeremy Lin: Which PG Fits New York Better for the Long Haul?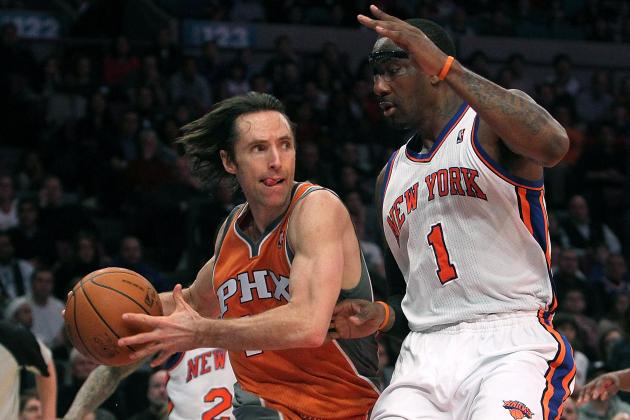 Nick Laham/Getty Images

It's time for a player carousel in New York. With both Jeremy Lin and Steve Nash joining the 2012 summer free-agency class, there is speculation surrounding both of these men as their positions in their respective franchises are being questioned for two entirely different reasons.
Jeremy Lin had a spectacular season for the New York Knicks before his injury. For a moment, he was boosted into a seat of superiority while Carmelo Anthony was looked upon as the pariah, especially as his reinstatement proved a tad bit mediocre.
After an 8-1 record (that included a seven-game winning streak), seemingly under Lin's command, Anthony was reinserted into the rotation and the Knicks plummeted. The franchise suffered a 2-8 record, with its first loss coming at the hands of the New Jersey Nets, a game in which Anthony only scored 11 points.
However, now with coach Mike D'Antoni out of the organization, Carmelo playing lights-out, interim head coach Mike Woodson in charge of the Knicks on the court and both Baron Davis and Iman Shumpert firmly locking up the starting guard positions, where does Lin fit in?
Steve Nash, on the other hand, is the best asset his franchise has to offer. He keeps the Phoenix Suns in every contest, but it is not a question of whether or not the Suns have a place for him. The question, as the Suns have slipped out of playoffs contention, has become whether or not Nash is accepting of that place.
Nash has the opportunity to bolt from a halted franchise after this season and float towards a contending team just looking for that extra piece to extend its longevity in the postseason. It could be Miami, with minor cap space.
However, it could be New York.
As days trail on and we are close to embarking upon the 2012 NBA playoffs, it seems more and more like it just may be New York.
There should be no question as to whether Steve Nash would be a better fit for New York because he's Steve Nash. However, just in case you have those types of questions, here are your answers.
Begin Slideshow

»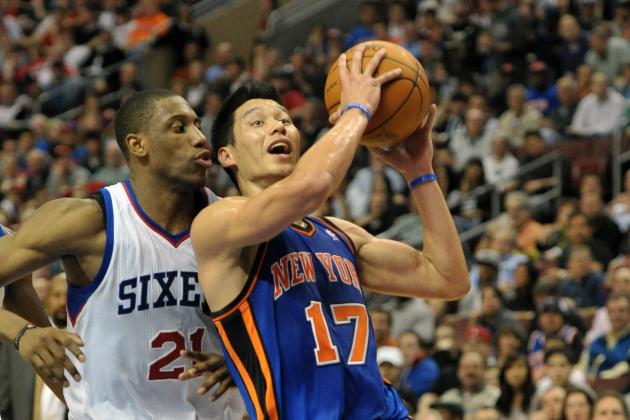 Drew Hallowell/Getty Images

Steve Nash is a finished product and you know exactly what you're going to get when you bring him into a franchise.
The Knicks are obviously a point guard short of manufacturing some sort of NBA championship run and the question becomes, "Are we ready now or do we want to wait for future greatness, and will he even be that great?"
When evaluating Nash compared to Lin, you think about a couple of things.
Nash has led the Phoenix Suns for years.
His conditioning allows him to be finely tuned without an interruption in speed or efficiency. Nash has immaculate court vision from his years of experience in the league and he could handle the traditional guard role within the Knicks as he would not have to be depended on as much for offense as he is presently with Phoenix.
Lin is a project.
No matter what we saw from him earlier this year, there are still some fractions of his game that need to be refined. His turnovers per is one avenue of his game that needs to be repaired and so does his decision-making.
Don't get me wrong. Lin has the skill set and level to improve quickly under the right leadership. Still, it doesn't seem like New York is too willing to wait as it has every other piece readily assembled and geared for greatness.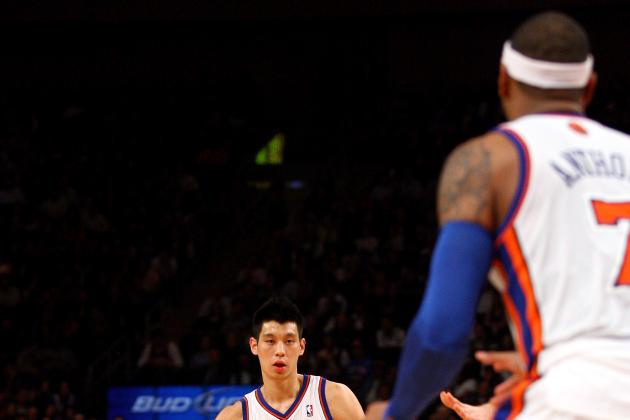 Chris Chambers/Getty Images

If you hadn't noticed, when Jeremy Lin was on the court and healthy, Jeremy Lin was running the show. When Carmelo Anthony came on the scene, it was his job to figure out how to manipulate his game into Lin's show as a supporting character.
That is not a role Anthony saw himself playing as a member of the NY Knicks, no matter how much posing he did for the media when asked how he and Lin would coexist. 'Melo is still high-scoring, "lead you there" 'Melo and he needs to be at the head of any effort in order for his full potential to be exhausted.
This is a quality that shows itself when he is on the floor with Amar'e Stoudemire as well. It is something about being beside two strong offensive players that forces Anthony's confidence to take a back step and he overthinks his role on the floor.
He is hesitant, he isn't as accurate and he doesn't have that same fire-starter mentality he has when it's just him beside a bunch of role players.
Not sure if this would translate with Steve Nash, but being a more well-rounded player than Lin, Nash would come in able to extinguish any problems on the court and continue to get Anthony to his hot spots on the floor, which is virtually everywhere inbounds.
Nash is an excellent facilitator and he isn't one of those shoot-first guards that are surfacing around the league. He is more traditional in how he reads the defense and how he involves his men. That is the kind of guard 'Melo needs on his squad.
Nash can add his own offense into the mix. Still, he would take on the prime responsibility of being a premium passer with a few tricks up his sleeve offensively. He can provide help when necessary, but only will when necessary.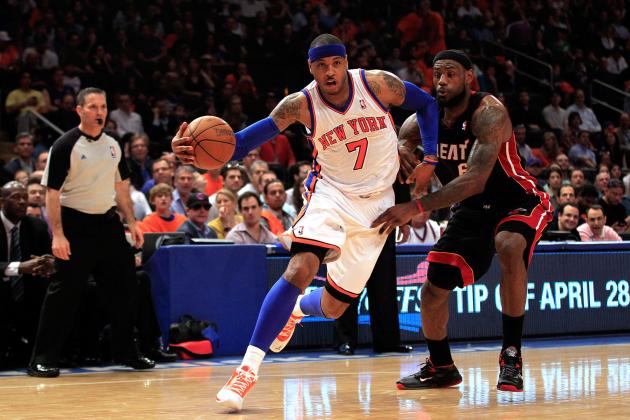 Chris Trotman/Getty Images

The Eastern Conference seemed to be on the edge of becoming incredibly deep last season with the Knicks' acquisition of Carmelo and the stacking of stars in South Beach. Dwight Howard was still Dwight Howard, and Derrick Rose and the Chicago Bulls were returning to the playoffs with a vengeance.
That was just about all the conference had to bolster, but who would come out of the East had already been predetermined.
Miami was shutting the conference down and righteously did so in last year's playoffs by knocking out the Sixers, Celtics (who had knocked out the Knicks) and Bulls (who had handled the Pacers and the Hawks).
This season, however, the conference is wide open, and while the Knicks have changed for the better, there are franchises that have either backpedaled or remained idle. The Miami Heat have not changed their DNA much. Most of their offense relies on the Big Three.
The only development has come in the form of a line of injuries—Dwyane Wade's nagging injuries and Chris Bosh's hamstring—that have a lot of analysts questioning how far LeBron James can actually push Miami in the playoffs. Chicago does not bolster the talents of an entirely healthy Derrick Rose.
He is not playing 100 percent and that could kill the Bulls' chances in the postseason. How much they have achieved in the regular season without him means nothing at all. The NBA playoffs are a totally different story.
The Orlando Magic are going to be without Dwight Howard. Enough said. The Boston Celtics are looking a little stronger, but age, speed and athleticism are still questions that will hang over their heads in the postseason with the exception of Avery Bradley and Rajon Rondo.
Teams like the Indiana Pacers and the Philadelphia 76ers are not much of a threat to the monsters in the East. They are feisty franchises, but that is about it.
The Knicks need to strike immediately in order to capitalize on a prime opportunity that will more than likely extend into next season. Wade will still be on the decline if he does not improve conditioning. If the Bulls lose this season, there will be some locker room personnel changes. The Boston Big Three will be broken up almost assuredly. Why not now?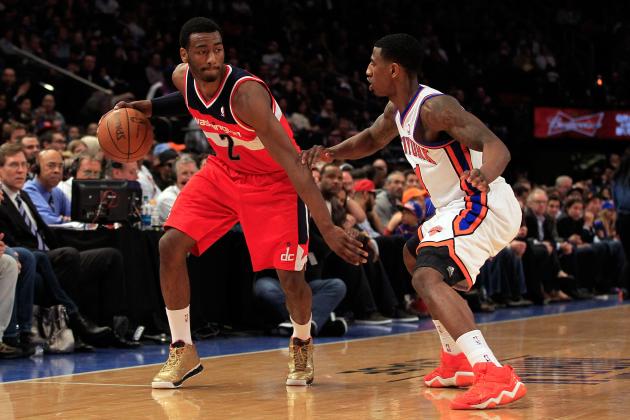 Chris Trotman/Getty Images

The New York Knicks are in developing mode at the point. Baron Davis is not the long-term answer and neither would Steve Nash be.
However, bringing Nash in would be an incredible teacher's guide to up-and-coming guards in the franchise. Let's face it: Davis is not going to be the prime candidate as a guard tutor, no matter how far he has turned back the clock.
With his work ethic steadily being questioned, NY should look toward another avenue in order to present its younger players, guards specifically, with an ideal perspective. Who better than Nash to partake in that process?
He is the kind of point the Knicks need to play with if they are going to put their faith in the hands of Carmelo Anthony for an extended period of time, as it seems they will.
Nash's conditioning, work ethic, leadership on and off the court, as well as his focus force him into the light of an incredible teacher for young men with raw tools that need to be shaped for a future starting position.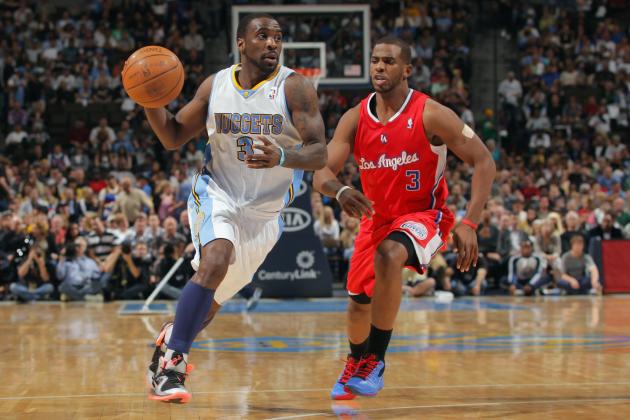 Doug Pensinger/Getty Images

Can you imagine how things may have changed if the Knicks were a better prospect in the summer of 2010?
Their campaign for LeBron James was massive, but what if they had better options? What if they had a solid roster to market to him? Would things be different? Would he have passed up the opportunity to play for one of the largest and most dedicated crowds in the world? Maybe.
However, the huge what-if is enough to dwell on the question and consider it when deciding whether or not to pursue Steve Nash.
Free agents are lured by the standing members of a franchise and the promise they give. Here is a list of the players headlining the 2013 free-agency class:
Stephen Curry
Kyrie Irving
Brandon Jennings
Ty Lawson
James Harden
Here are a bunch of players with a lot of time left on their clocks in the league with skill sets particularly similar to what the Knicks need. Bringing in either of these players would change the Knicks incredibly. Winning, sooner rather than later, would only boost New York's chances of edging into bargain doors.
Even if the Knicks fail to win a championship in the next year, they would have made strides far greater than simply the first round of the playoffs—with Steve Nash's help, of course—and could offer greener grass.
Stephen Curry does not seem like the answer for the Golden State Warriors, but he's too valuable for them to just let go, at least right now.
Kyrie Irving is going to be on the bottom edge of the playoffs for seasons and seasons to come with the Cleveland Cavaliers.
Brandon Jennings needs a way out of Milwaukee and a fresh start in the league.
Ty Lawson is heading nowhere fast with the Denver Nuggets as they have staked so much claim in newcomer JaVale McGee.
James Harden may be looking for a heightened role in an established organization and his ability to score will propel him in any franchise's eyes.
Nash would make New York an easy sell. Period.