Ranking the NBA's Top 15 Most Overrated Players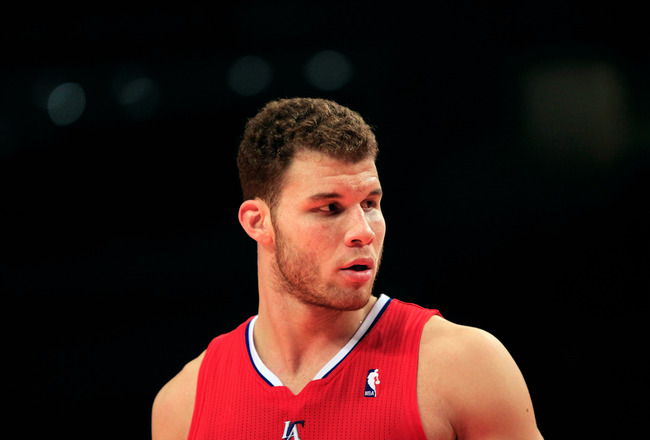 Chris Trotman/Getty Images
Overrated and NBA—these two terms should be an oxymoron, right? Here, you have a league composed of the best of the best, yet still, some players are held to a standard much higher than they deserve.
Nowadays, every NBA fan has their own list of "overrated" and "underrated" players, and they are quick to label every player with one of the two terms.
Still, many times, the fans are right. There are some players who just aren't as good as the hype.
These next 15 players are a few who have earned the "overrated" label for the tons of hype that they have not lived up to.
15. Richard Jefferson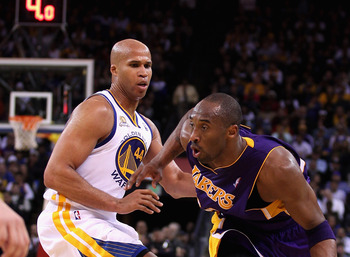 Ezra Shaw/Getty Images
While Richard Jefferson is out of his prime, many still consider him to be one of the league's best shooters.
Before being traded from San Antonio, Jefferson had the lowest efficiency rating out of anybody else in the starting rotation—and it wasn't even close.
He is scoring less than 10 points per game and shooting a mere 41.6 percent. Are those stats good enough to make him a role player on a bad team? Definitely.
However, the real question is, are those stats worth $30 million over the next three years? Absolutely not.
14. Lamar Odom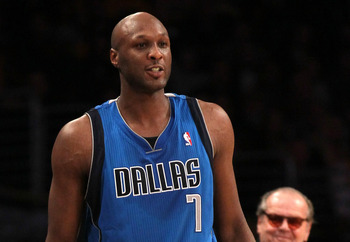 Stephen Dunn/Getty Images
Last season, Odom was fantastic, and his efforts earned him the Sixth Man of the Year award. However, in the midst of all of the Chris Paul drama, Odom was sent to Dallas for a trade exception.
At first, many believed that Dallas had made the best move during the offseason. Now, most fans probably wish they had that exception back.
Odom has been plain horrible this season, posting career lows in almost every single category. He has feuded with the team and is no longer finding his way onto the court.
It seems that he's more focused on reality TV than basketball. Not to mention that he's making close to $9 million per year.
13. Brandon Jennings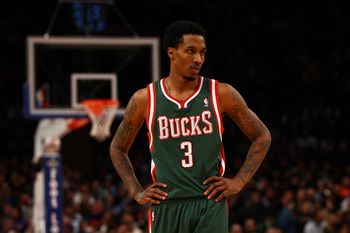 Chris Chambers/Getty Images
After being elected to the All-NBA Rookie First Team, Jennings looked as if he could one day develop into a stud.
He posted a 55-point game, a feat done by few, and Milwaukee fans began to get hopeful. However, the bar was set too high, and it doesn't appear that Jennings will reach it any time soon.
He has become a great scorer, but does so on a very average percentage. His assist average is nothing outstanding either.
His maturity has also been questioned, as well as his leadership skills. Many believe that Jennings has the potential to be an elite point guard, but reaching that status is very unlikely.
12. MarShon Brooks
Chris Chambers/Getty Images
MarShon Brooks began the season as one of the league's most underrated players. After being passed on by over half of the league, the rookie out of Providence soon showed everyone how much talent he truly possesses.
However, he became so "underrated" that he soon found himself being very overrated.
Things really became ridiculous when he began to draw comparisons to Kobe Bryant. Brooks has a lot of potential, but comparing him to one of the all-time greatest players is a little out of hand.
His breakout performance set a bar so high, it may be impossible to please fans. Still, Brooks is bursting with potential—just not Kobe potential.
11. Deron Williams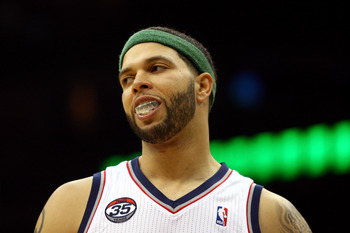 Chris Chambers/Getty Images
Deron Williams is in a very depressing situation, so you have to feel sympathy for him. After being sent from a playoff team to the lowly New Jersey Nets, Williams took a turn for the worst.
He was forced to shift the focus of his game from passing to scoring, and while he may currently hold one of the league's highest points per game, he does so on a very poor shooting percentage, 40.7 percent.
He leads the league in turnovers and no longer is the league's third-best point guard. However, with his contract coming to an end, Williams has a chance to turn everything around and start over in a new city.
Williams' stats should make him one of the top names on this list, but his poor situation keeps him towards the back.
10. Russell Westbrook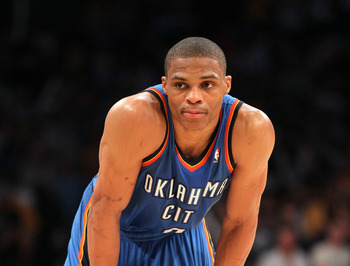 Stephen Dunn/Getty Images
Westbrook's athleticism and scoring abilities continue to impress me. He has proven to be one of the league's top point guards, and he is still developing.
However, Westbrook's low assist average and poor decision making earn him a spot on this list. He still refuses to let Kevin Durant be the alpha dog of the Thunder, despite the fact that he is one of the league's best players. Westbrook is not bad himself, but he is clearly the sidekick on the team.
He posts the fifth-lowest turnover rate per 48 minutes, a title that no player deserves. He is a great player, but nowhere close to being the best point guard in the league.
9. Amar'e Stoudemire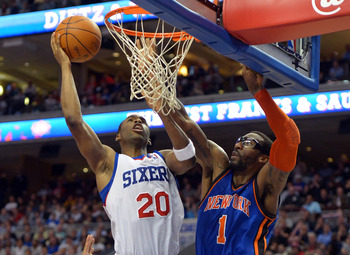 Drew Hallowell/Getty Images
When Amar'e left Phoenix to join New York, he was essentially abandoning a team that currently had one of the best point guards of all time, in order join a scrappy team in a bigger city.
Then when they added Melo, Stoudemire completely lost control of the city that at one point he thought he owned. Many considered him to be the league's best power forward during his years with the Suns, but without Nash, it was easy to see that that was not the case.
Stoudemire is one of the weakest defenders in the league, and while he has been okay in the other categories, he has not shined like many thought he would.
8. Dwight Howard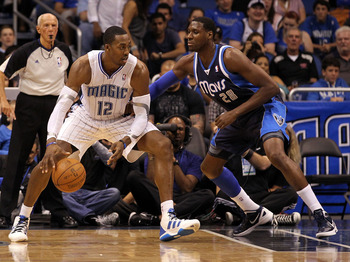 Sam Greenwood/Getty Images
Dwight has been considered the league's top center for quite some time now, and while it may be true, he is not as far ahead of others as one might think.
Bynum is right on Howard's tail and has already surpassed him offensively. On the offensive end, Dwight is very limited in his moves, and while he may possess a few dominant ones, the variety is very limited.
Mentally, Howard has proven to be one of the biggest headcases in the league. After demanding a trade and asking for his coach to be fired, his actions hurt the team more than they helped.
Many thought Orlando lucked out when he stuck around for the rest of the year, but they should have swapped him for Bynum when they got the chance.
7. DeAndre Jordan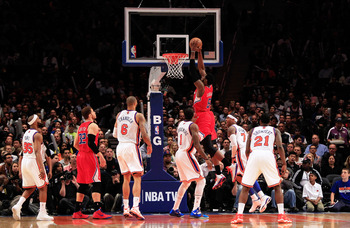 Chris Trotman/Getty Images
Jordan was the most overpaid player during this offseason, as his monster contract was worth $43 million for four years.
For someone who is the second big man on the roster and cannot average close to 10 points, that is fairly ridiculous. As a part of the Lob City hype, Jordan's expectations were blown out of proportion, as he was predicted to be one of the league's most surprising players.
His talents are limited, and while he is not the worst starting center in the league, he certainly isn't worth $43 million.
6. John Wall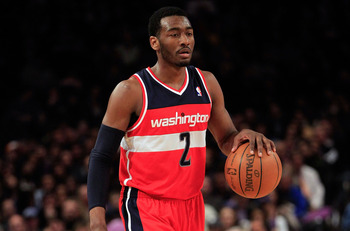 Chris Trotman/Getty Images
Wall is in a terrible situation, as he is forced to carry the entire Washington Wizards roster on his back. He is the lone star of that roster, as no other player can even be considered great.
However, for the No. 1 pick, Wall has been incredibly inconsistent. With a field-goal percentage of just .423 and a three-point percentage of just .071, Wall is yet to establish himself as one of the league's best point guards.
He has a bright future, but as of now, many consider him to be in a class that he is not anywhere close to being in.
5. Jeremy Lin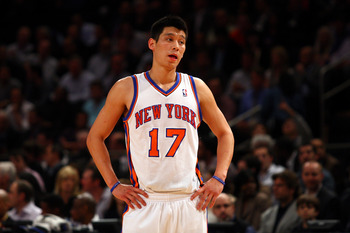 Chris Chambers/Getty Images
Linsanity dominated the headlines of every sports website—scratch that—every website in the world. Papers were filled with photographs of the breakout star, as Lin posted incredible stat line game after game.
However, Linsanity did not last forever. It soon died down and was eventually silenced, as Lin was sidelined for the remainder of the season.
Lin was a very underdeveloped point guard whose high scoring averages and assist totals came with a ton of misses and turnovers.
People were very quick to jump on the bandwagon, and many believed that he was the league's next big thing. The truth is, once the media quieted, Lin was no longer the outstanding player that many thought that he could be.
Instead, he was just an average player who began to heat up at the right time.
4. Carlos Boozer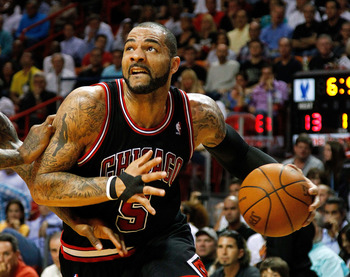 Mike Ehrmann/Getty Images
In his days in Utah, Boozer was fantastic. However, since joining the Bulls, he hasn't been anywhere close to the elite forward that man thought him to be.
At first, people thought the pairing of Rose and Boozer would make for an unstoppable duo, but Boozer hasn't even been the second-best player in Chicago, as Luol Deng holds that title.
He is a talented player, but his expectations are too high and he is nowhere near his $80 million worth.
3. Joe Johnson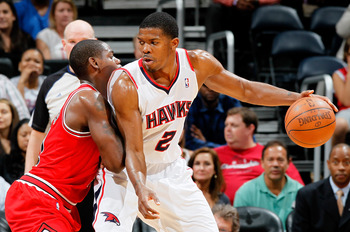 Kevin C. Cox/Getty Images
Joe Johnson is one of the league's top five shooting guards. He has appeared in the All-Star Game six times and been one of the East's most prolific scorers every year.
However, he was one of the easiest choices to add to this list. And I can give you 119 reasons why.
In the summer of 2010, Johnson agreed to stay in Atlanta for a contract worth $119 million over six years. If your name is not Dwyane Wade, LeBron James or Kevin Durant, yet you are still making that kind of money, then you know something is off.
Johnson is one of the league's best, but he does not belong in the same class where many people have put him.
2. Blake Griffin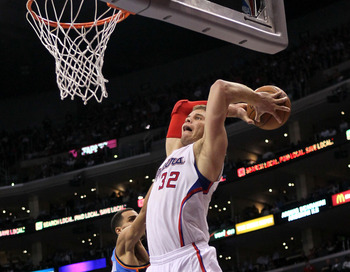 Stephen Dunn/Getty Images
Blake Griffin is the most exciting player in the league, no doubt. Every night, he makes an appearance on ESPN in the "Top 10 Plays." However, the dunking sensation may be all hype.
Griffin was elected the starting power forward if the Western All-Stars this season, above guys like Kevin Love. While Griffin is definitely talented, people may be too caught up in the excitement to realize that he is in no way better than Love.
His inside game is limited to dunking, and his mid-range game is nearly useless. He has bright years ahead of him, but as of now, Blake Griffin is nowhere near as talented as many believe.
1. Carmelo Anthony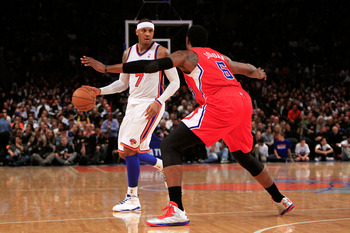 Chris Trotman/Getty Images
Carmelo Anthony does one thing, and he does it very well: score. He is one of the league's best shooters, but that is about all that he does.
Known for being greedy with the ball, Anthony is not a great passer, nor does he excel on the boards. He is absolutely awful on the defensive end as well.
His maturity is very questionable, as his actions led to Mike D'Antoni's leave from New York.
The one thing that separates Anthony from other players is his inability to make others around him better. While a true superstar can turn any average teammate into a great player, Melo does the opposite.
Amar'e has become fairly average, and the Linsanity was halted upon Melo's return. He is a reliable scorer, but that's about it.
Keep Reading