Power Ranking Kobe Bryant's 11 Greatest Playoff Moments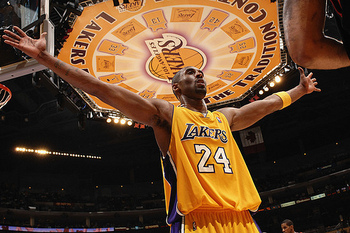 Kobe Bryant is a champion and, while there are various opinions about him as a player, that is an indisputable fact. In collecting some of his more incredible plays it is imperative to capture not
only the moment but the entire sequence of events to fully appreciate his greatness.
Players of Bryant's stature are rarely enjoyed during their time and seem to always face extreme scrutiny from fans. Whether fair or unfair, whether warranted or unwarranted, the feats of their dominance can
never be erased.
So here are 11 of Bryant's most memorable playoff moments.
11. May 10, 2000: Lakers vs. Suns, Game 2
Kobe's line read 15 points, six assists and four rebounds, which is nothing spectacular. The Bean was the third-leading scorer in the game behind Shaquille O'Neal and Glen Rice, of all people.
This game rebukes the notion that Bryant is selfish as he also only took 11 shots, choosing rather to be a distributor and defender.
However, true greatness can neither be denied nor suppressed, and with the game in the balance the Laker took a "shot" at being great. The player Bryant hit the game-winner over was none other than All-Defensive second-team member Jason Kidd.
10. May 13, 2001: Lakers vs. Kings, Western Conference Semifinals
Does anyone remember when the Sacramento Queens were good for like an hour? Well, they were, and they were even were perennial playoff participators.
In 2001 the Lakers were sweeping their opponents out of the playoffs. The Kings were next to be swept out of the postseason. Bryant opened the game scoring 13 points in the first quarter and closed it out by scoring 15 points in the fourth quarter; in total he went for a game-high 48 points.
The Laker great was also the game's leading rebounder with 16. Yes, the 6'8" guard outrebounded Shaq, Vlade Divac and Chris Webber—so much for one-dimensional.
9. May 12, 2002: Lakers vs. Spurs, Western Conference Semifinals
When people discuss who the greatest player from 2000-2010 was, there are only two stars who should be mentioned: Kobe Bryant and Tim Duncan.
The two were on the floor together in this 2002 classic.
Duncan finished with 30 points and 11 rebounds, but it was Bryant who stole the show. Kobe secured an offensive rebound and put-back against both Duncan and David Robinson. The Lakers took an 87-85 lead and eventually won the game and the series.
It's plays like that against some of the game's premier players that should thrust Bryant above the competition.
8. May 11, 2004: Lakers vs. Spurs, Western Conference Semifinals
The Lakers were down 2-1 in this series and needed Game 4 if they were to come back and win the series.
The Lakers opened the fourth quarter up by just five points after trailing for the better part of the game.
Bryant then scored 15 of the LA's 24 fourth-quarter points and finished the game with 42 points. Bryant carried a Lakers club that only put one other player in double figures (Shaq) in a game they had to have.
Los Angeles won this game and eventually the series, 4-2.
7. May 13, 2011: Lakers vs. Spurs, Western Conference Semifinals
Some things are better left seen and not explained.
6. May 21, 2008: Lakers vs. Spurs, Game 1 Western Conference Finals
Bryant was cocked and loaded in this contest. The guard was primed for another bout with his nemesis Tim Duncan and the San Antonio Spurs.
The Lakers had been down by as many as 20 points and trailed for the bulk of the fourth quarter. Once taking the lead it was Duncan who tied the game at 85 with 41 seconds left, thus setting the stage for another Bryant memorable moment.
The guard put LA up for good with 23 seconds left and finished Game 1 with 27 points and nine assists.
Los Angeles went on to beat the Spurs 4-1.
5. June 8, 2004: Lakers vs. Pistons, Game 2 NBA Finals
It was the longest sweep in NBA history. The Lakers never quite looked like a championship team in these NBA Finals, except in Game 2.
From start to finish Bryant didn't let this Lakers squad lose. The guard finished with 33 points and seven assists, but it was how he finished that made this game special.
After a Derek Fisher three-pointer gave the LA a 73-71 lead, it was Bryant who went on to score 10 of Los Angeles' last 16 points in regulation, including an improbable three. That shot propelled the Lakers to steal this game in overtime and keep LA from being swept.
4. April 30, 2006: Lakers vs. Suns, Game 4 First Round
It was the most improbable of comebacks. The Lakers were down the entire fourth quarter and did not actually take the lead until .2 seconds left in overtime.
3. June 4, 2000: Lakers vs. Trail Blazers, Game 7 Western Conference Finals
The Lakers looked lost and, quite honestly, shook to death at the prospect of being Western Conference champions, yet alone NBA champions. Down by as many as 15 points in the fourth quarter, the Purple and Gold appeared headed for a summer of discontent. Then a huge block on Bonzi Wells by Bryant and corner pocket three-pointer by Brian Shaw suddenly knocked the deficit down to 10.
A Robert Horry three got the lead down to five and after a Bryant elbow, jumper Brian "Dead-Eye" Shaw tied the game up. Shaq put the Lakers ahead and Kobe took the game over from there. A jumpshot and alley-oop later, LA was headed to its first NBA Finals appearance in nine years.
Bryant led both teams in assists with seven, in blocks with four and in rebounds with 11. The Laker was the complete package in and it was is block that sparked the biggest comeback in Game 7 history.
2) June 17, 2010: Lakers vs. Celtics Game Seven NBA Finals
It was no accident Kobe Bryant led his team past the Boston Celtics on this day. Bryant's shot was not falling but the champion reverted back to prior game seven performances and directed his attention
elsewhere.
The guard would outrebound both Kevin Garnett and Rasheed Wallace to the tune of 15 rebounds. Yet with the game still in jeopardy it was Bryant's three straight defensive rebounds that would help push the Lakers over the Celtics.
Known throughout his career as a selfish scorer it was this game seven with the spotlight squarely on him the Laker great found another way become a champion. The guard showed his versatility and most of all
his heart with this performance.
1. June 14, 2000: Lakers vs. Pacers, Game 4 NBA Finals
Kobe Bryant showed the world the difference a between a true Hall of Fame player and a good player. Bryant took this NBA Finals game over and in the process ended the title hopes of the Indiana Pacers.
Shaq fouled out of this pivotal game four with 2:33 left in overtime and LA ahead 112-109. The Laker guard came to LA's rescue, scoring three of LA's final four buckets. In total he scored eight overtime points, including a reverse wrong-hand put-back. After newly enshrined Hall of Fame member Reggie Miller missed a go-ahead three-pointer, the Lakers could breathe a sigh of relief as they headed back to Los Angeles leading the Finals 3-1.
Bryant, who was returning from a severe ankle injury that kept him out of Game 3, was primed for the challenge of taking advantage of the inept defense of the Pacers backcourt. It was in this contest that Bryant proved to the world he and the Lakers were ready to become champions.
Keep Reading

Los Angeles Lakers: Like this team?