Tampa Bay Buccaneers Mock Draft 4.0: Need vs. Best Overall Player
April 25, 2012

The Tampa Tribune rang it out this morning:
"Dominik determined to change fortunes."

"Few of his draft picks have made an impact while in Bucs uniform."
Their words, not ours.
Mark Dominik's record was reviewed by veteran Ira Kaufman, who's a solid guy, an experienced, respected NFL writer and is Tampa's player presenter for Bucs eligible for the Hall of Fame.
"Through three seasons, many of Dominik's best personnel decisions have come after the draft..."

"The failure to draft impact players has been a long-term problem for an organization that hasn't won a postseason game wince the star-studded 2002 club that routed Oakland in the Super Bowl."
Kaufman went on to point out that Josh Freeman's draft class has failed to produce an offensive or defensive starter—other than Freeman.
In 2010, Dominik went heavy to improve the tackle position but admitted to Kaufman: "We don't have much more time, nor do the players."
In 2011, Dominik again went heavy to improve the defensive line with ends Adrian Clayborn and Da'Quan Bowers. In 2011, there wasn't much of a pass rush, and the run defense was last in the NFL.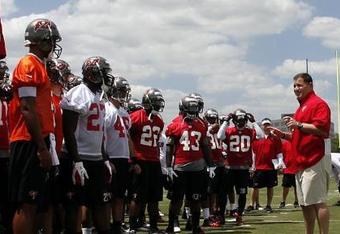 If all this sounds familiar, we addressed exactly that earlier this week. We asked for your thoughts and your grades for Dominik, and the results agree: 3.8 percent gave Dominik's three drafts an "A" and 18.6 percent gave him a "B." The majority gave him a "C," which would be 48.7 percent, while 26.9 percent gave him a "D." Only 1.9 percent graded "F."
With that in mind, here's the last and thankfully final mock draft for you to dissect, comment and add to, if you care to consider what might happen in the coming days.
We'll take a different approach this final time, going with position and some who might be available.
Round 1 (Fifth Overall): Luke Kuechly, linebacker, Boston College.
No one knows what the Bucs' draft board looks like. Folks like Mike Mayock have Kuechly as high as sixth, certainly in the top 10. The thought process is, if you really like a guy, go get him.
The Bucs and everyone else will find out in a hurry how elite Trent Richardson and Morris Claiborne are considered by the rest of the league. If they are what some say they are, then both Minnesota and Cleveland would be pounded by offers to trade out of the three and four positions.
Regardless, Kuechly's appeal may come from Schiano's northeast background at Rutgers. He knows a lot of coaches up there and will have compiled a book on Kuechly. If that's his guy, it's his guy.
Dominik has loaded up on the defensive line, and the linebacker position is dreadful. Here's where talent meets need.
Round 2 (36th Overall):  Best outside linebacker available: Bruce Irvin (West Virginia), Lavonte David (Nebraska), Shea McClellin (Boise State).
We've seen Dominik double up at DT and DE. Fact is, the linebackers aren't bad—they're atrocious. It won't matter who is in the secondary if this team cannot stop the run, as the opposition would have no need to pass.
With no pass rush, you could have two DeAngelo Halls and two Ronnie Lotts in the secondary and it wouldn't help. You give the NFC South quarterbacks time to look downfield, and you're done.
Round 3 (68th Overall): Best available running back: Chris Polk (Washington), Isaiah Pead (Cincinnati), Robert Turbine (Utah State).
The Bucs need depth at the running back position. They need change of pace from Basher Blount, need a third-down skilled, shifty guy. I really like Pead—Schiano saw plenty of him live and in person.
Round 4:   No pick.
Round 5 (140th Overall): Best available tight end: Ladarius Green (Louisiana-Lafayette), Chase Ford (Miami), Deangelo Peterson (LSU).
This would add a weapon for Josh Freeman and add depth. Kellen Winslow's knees are now 300 years old in dog years, and Luke Stocker is a big guy with a lousy hip.
Round 6 (174th overall): Best available offensive lineman: Derek Dennis (G, Temple), James Cameron (T-Mississippi State), Bobbie Massie (T-Ole Miss).
Round 7: (212th overall): Best available linebacker: Sammy Brown (Houston), Jerry Franklin (Arkansas), Darius Fleming (Notre Dame).
The Bucs were the worst defense against the run. Their front seven needs help desperately.
That's it, over, done, no more mocks to mock. This is the end, for now.
After the draft is when the real skill comes out in an organization, it's when the good teams stand out in the undrafted free-agent market.
For now, we'll wait for Thursday night, then Friday, then Saturday.
Here's our BOLD PREDICTION for the 2012 Buccaneer draft:
This will be the best draft in the past four years.
Mark Dominik is not alone on this one. We present the "Butch Davis Factor" and the "Greg Schiano Factor." Those two have seen more film on college talent over the past four years than Dominik has seen in his dreams. For once, Dominik will have help, and his track record shows he needs it.