Bahrain F1 Grand Prix: Sebastian Vettel Top as Unpredictable Season Continues
April 22, 2012

Paul Gilham/Getty Images
For the second race in a row, we have been treated to a fascinating, action-packed event from lights out to the chequered flag and the 2012 Bahrain Grand Prix may just have proven itself worth the controversy that dogged its lead-up.
Sebastian Vettel returned to the winner's circle, ending what, by Red Bull's lofty standards, can only be considered as a rough patch.
We had overtaking and aggression. We saw Lotus have their best race of the year and McLaren have their worst. We saw the fourth different driver and fourth different team claim the top spot on the podium and our fourth different championship leader for the year.
2012 is shaping up to be a classic season.
Lotus managed to get both drivers on the podium for the first time since Spain in 1979. Kimi Raikkonen was challenging for the lead and possibly could have won had his team ordered Romain Grosjean to get out of the way when Kimi was significantly quicker.
After a quite remarkable Chinese GP, Nico Rosberg returned to earth with a solid performance, but one where he attracted the unwelcome attention of the stewards for twice running drivers off the road.
The moves were reminiscent of his teammate Michael Schumacher at his best (or worst, depending upon your perspective).
The first time he tried it, with Lewis Hamilton, he wasn't able to prevent the pass. The second time, with Fernando Alonso, he kept his opponent behind him. The stewards decided to investigate both incidents after the race.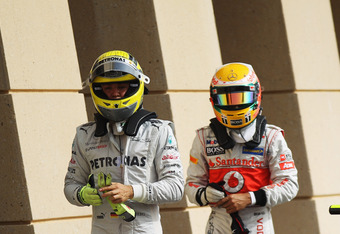 Mark Thompson/Getty Images
Why they couldn't have done it during the race isn't immediately obvious. Both moves looked to be extremely dangerous and it will be very surprising if he doesn't receive a stiff penalty. Conspiracy theorists will be pointing to the alleged close relationship between Ross Brawn and race director Charlie Whiting.
McLaren had a shocker.
For the second race in a row, Lewis Hamilton had his race ruined by a poor pit stop with his left-rear wheel being the problem not once, but twice in this race, as it was in China. There may be a McLaren wheel man joining the unemployment queues on Monday.
Jenson Button also had a forgettable race, as he was forced to retire two laps from the finish after struggling with the car for the whole race.
Ferrari, on the other hand, had both cars in the points for the first time this season, although they both finished behind Force India, but a fired-up Felipe Massa looked vaguely competitive for the first time in quite a while.
It's hard to imagine that Ferrari would be satisfied with seventh and ninth, however.
The weekend, however, belonged to Red Bull. Vettel was out in front from start to finish after securing his first pole position for the season. Mark Webber finished in his customary fourth position after starting in third.
Most importantly, the car looked a lot happier than it had in the previous three races, a fact that will be unwelcome in pit lane.
And so we head into a break. Undoubtedly, when we return in Spain, things will have changed yet again.
Let's hope so; F1 is fun again!