5 Moves the New England Patriots Can Make with About $15 Million in Cap Room
April 22, 2012

Scott Cunningham/Getty Images
According to various web sites, including ProFootballTalk.com, the Patriots had approximately $10 million in cap room at the end of March.
With the probable, if not definite, retirement of Matt Light, the Patriots should gain at least $3 million in cap space—despite having an active free agency in which they brought in over a dozen players.
So: What can they do with that money?
Here are some possibilities. Unlike some of the wilder scenarios that have been suggested in the media (e.g., a restricted free-agent tender for Mike Wallace), all of these are at least plausible.
Sign Their Rookies
This one's obviously a given, but it won't cost as much as some people think. That's because the rookies' base salaries are already included in the cap. The salary cap, at this point in the offseason, includes only the top 51 salaries. Thus, either a rookie has a salary cap so small that he doesn't break the 51, or he has a salary cap hit large enough to push another salary off.
From a practical standpoint, the "new" money on the cap will amount to whatever signing bonuses the Patriots hand out to players drafted in the first four rounds.
Exactly how much money this will cost remains to be seen, but it will depend on the number of high draft picks the Patriots make, and the spots at which those players are drafted.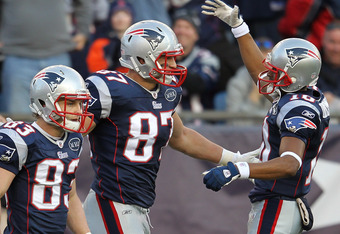 Jim Rogash/Getty Images
Buy More Time with Wes Welker
Because of the Cone of Silence surrounding Gillette Stadium, it's not clear what either the New England Patriots or Wes Welker are looking for in a new deal. Neither side is talking.
The biggest issue, of course, is crafting a deal that rewards Welker without exposing the Patriots to too much risk in case his skills begin to decline.
Perhaps a solution might be to give Welker a front-loaded three-year deal that acknowledges the fact that he was massively underpaid on his previous deal.
Welker's franchise tag amount of over $9 million is already on the cap, so even if the Patriots increased his hit to $10 million or $11 million this year, the extra cost against the cap would actually be minimal; giving him extra salary upfront might be a way to protect them against a massive dead money charge in later years of the deal..
Re-Sign Andre Carter
DL Andre Carter was one of the Patriots' best pass-rushers in 2011 before a knee injury against the Denver Broncos in Week 15 brought his season to a premature end.
While his rehab is obviously still a concern (since no one at all has signed him to a contract), if he is healthy, this is almost a no-brainer. Given his age (33 when Week 1 begins) and injury status, the Patriots probably won't have to break the bank to sign him; a one-year deal on the order of $2.5 million to $3.5 million should suffice. 
Extend Rob Gronkowski
TE Rob Gronkowski is the tight end that Bill Belichick has been coveting ever since he saw Mark Bavaro with the Giants. Gronk (or GRONK or The Gronk, if you prefer) has surpassed any reasonable expectations over the last two years, and if he isn't the biggest red-zone threat in the NFL, he's in the top five.
Gronkowski's skills as both a receiver and a blocker (he blocked Haloti Ngata by himself in the AFC Championship Game) make him a must-keep player. As a member of the class of 2010, his rookie deal is governed by the old CBA, which allows the Patriots to renegotiate an extension after two seasons. Extending Gronkowski will not be cheap, as he would likely become the highest-paid TE in NFL history if he reaches free agency. A down payment on an extra four- or five-year deal might be exactly what the Patriots need long term.
Push the Money into 2013
Earlier this offseason, Tom Brady restructured his contract to free up some additional cap room in 2012. If the Patriots don't use all of it, they will almost certainly roll almost all the excess cap room into 2013. (The new CBA makes such carryovers much easier; it no longer requires gimmicks such as giving a defensive lineman a $5 million bonus for having 10 interceptions.)
Rob Gronkowski is but one of the players who is going to need a new deal (or perhaps a new team) in the near future: among others, Pat Chung, Sebastian Vollmer and Julian Edelman will be free agents after 2012, and Zoltan Mesko and Aaron Hernandez will join Gronk as free agents after 2013.
Again, this move seems like a given at season's end; the only question is how much will be left.