NBA Rumors: Why Tyson Chandler Is the Wrong Choice for Olympic Team
April 23, 2012
Chris Trotman/Getty Images
Let's be reasonable. Yes, Dwight Howard and LaMarcus Aldridge are both going to miss the Olympics this summer. As a result, the U.S. Team will be thin in the middle and that's not a good thing. 
However, replacing either of those players with Tyson Chandler would be a mistake. 
Chandler is one of the better defensive big men in the game. He's not nearly the offensive force that either Aldridge or Howard would be, but it's hard to quibble with someone whose game is too focused on defense.
That doesn't mean he's the right choice, though. Before Knicks fans become completely agitated, the main reason Chandler is a bad choice is because of his importance to the New York Knicks. 
If you're a Knicks fan, you probably realize a few things about Chandler.
One is that his defensive presence in the Knicks lineup is critical to the team's current and future success. Criticism of Knicks stars such as Carmelo Anthony and Amar'e Stoudemire, including taking too many shots, not playing enough defense, not focusing on rebounding—all of those are exactly what Chandler brings to the Knicks.
Another key point is that on October 2, 2012, Chandler will celebrate his 30th birthday.
That's not old, but it's not young.
When measuring an NBA player's "age" in relation to his career, it's not just their numerical age which one must take into account. There's that little issue of mileage as well.
Chandler never attended college. As he turns 30, he'll be entering his 11th NBA season.
Had he attended college, he would have still spent the last 11 years of his life playing basketball. However, four seasons of NCAA hoops is a far different level of physical wear-and-tear than four years of NBA ball.
A college season in which a team makes the Final Four could involve as many as 40 games. Those games are only 40-minutes long. The NBA season is 82 games—more than double the games of a college season—and that's not even including the playoffs.
NBA games are also 48-minutes long as opposed to 40. Add it all up, and a full season of NCAA basketball in which a team wins a national title is nothing in terms of physical effort in comparison to the NBA regular season alone.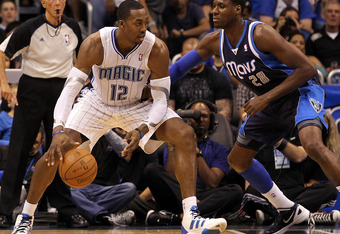 Sam Greenwood/Getty Images
Entering this season, Chandler had appeared in 662 out of a possible 820 NBA games. The fact that Chandler has appeared in 61 out of a possible 63 Knicks games this season should be seen as a stroke of good fortune, not as a preview of coming attractions.
The fact that he's been battling nagging knee issues as the season winds down—something that big men are always prone to dealing with—should not be casually dismissed by Knicks fans.
Chandler is signed for the next three seasons at almost $15 million per year. That's a very significant amount in a league with a fairly rigid salary cap. The Knicks are also on the hook for nearly $20 million per year over the next three seasons for their other frontcourt star Amar'e Stoudemire. Stoudemire is another big man who skipped college and has been playing in the league since before he turned 20.
Add all of this up, and it's a recipe for potential disaster. Not just for the Knicks but for USA basketball as well.
Chandler is battling injuries as the Knicks are preparing for the postseason. There is little chance that Chandler will allow these nagging knee and wrist injuries to prevent him from playing in the NBA playoffs. There's also little chance he'd allow them to stop him from playing on the Olympic team.
Chandler is a warrior, but even those types of players break down eventually. The U.S. Olympic team caught a break in an odd way when they found out that both Aldridge and Howard would miss the games this summer. After all, it's only April.
The team has time to adjust and make a choice that will be able to endure the extra practices and games that the Olympics require. Chandler could break down this summer, he could also break down this fall. Neither the the Knicks nor USA basketball want that to happen.
With a few months left to make a decision as to who plays center on the U.S. Olympic team this summer, Chandler is clearly not the right choice.