Penn State Football: Fearless Predictions for Blue-White Game
April 19, 2012

Penn State's end of the spring schedule will once again be highlighted by the annual Blue-White Game, which will be played Saturday afternoon in Beaver Stadium.
There is plenty to watch in this spring game, with a new coaching style getting a chance to show what it can or cannot do and with some key position battles looking to find a leader in the clubhouse.
First, the bare essential details for those attending or looking to watch the game live.
Parking lots open at 8:30 a.m.
Gates open for autograph session at 11:30 a.m.
Game starts at 2 p.m.
Big Ten Network will stream the game live on their digital service, BTN2Go. A replay will be aired on the network at 8 p.m.
Stay tuned for a Bleacher Report live blog for the game (will be posted sometime Friday).
Follow me on Twitter for instant updates from the game.
Now, what should we prepare to witness develop on the field at Beaver Stadium on Saturday?
Let's take a quick look into the crystal ball ball now, and we'll recap this next week to see what actually happened.
Paul Jones Will Be the Best Quarterback on the Field...
We touched on this topic this week, highlighting Paul Jones as a potential emerging leader in the quarterback competition. Given the dismal state of the quarterback position at Penn State in the past two seasons, fans are looking for Jones to bring his A-game and announce to the world that he is ready to become the starting quarterback at Penn State.
...But Rob Bolden Will Show Progress
If Rob Bolden wants to have a chance to start for Penn State, he absolutely needs to connect with his receivers more often than he did last fall.
More importantly, Bolden needs to get the offense in the end zone when the offense moves inside the 20-yard line. This was the biggest drawback of the sophomore in 2011. If he can improve in this area, it may not be time to write him off as a quarterback candidate in 2012.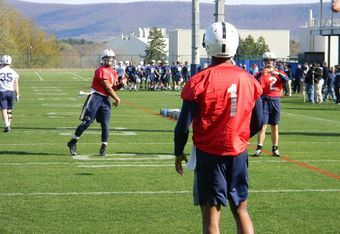 Adrian Amos Will Make a Case for a Starting Job at Cornerback
We know that Penn State needs to find some players to fill some vacancies in the secondary, and while the roster has some upperclassmen who look more prepared to obtain the starting jobs in the defensive backfield, one young player could make some noise in the discussion.
Adrian Amos saw some playing time in 2011 and was a nice surprise at times. If he can take the next step in his development now, maybe he can grab the eye of the coaches. 
Penn State's Offensive Line Will Show off Their Strength and Conditioning Progress
We have heard plenty this spring about the new strength and conditioning program Penn State is using. No unit on the team has been said to benefit as much as the offensive line, and given the lack of overall strength on the line the past couple of seasons, this should be very encouraging news for fans.
Defensive players have noted that the offensive line has forced them to work a little harder this spring, and if that trend continues to show, then Penn State's overall offensive abilities should be enhanced.
Penn State Will Be Disappointed with Overall Production at Tight End
While most of these predictions have been on the positive side, here is one negative prediction.
The tight end position is supposed to play a key role in Bill O'Brien's offensive system, but unfortunately, that is a position that has been relatively weak over the last few years. O'Brien does seem to be happy with the work being done by his tight ends this spring, but will they be able to have a decent impact on the field when it matters most?
The Blue-White Game will be the first real test for the tight ends.
Kevin McGuire is the host of the No 2-Minute Warning podcast, managing editor of Nittany Lions Den and a member of the Football Writers Association of America and National Football Foundation. Follow him on Twitter, like him on Facebook and add him to your Google+ circle.