Penn State Football: Can Linebacker U Become Tight End U?
March 29, 2012

Doug Pensinger/Getty Images
Penn State is known as Linebacker U for a reason. Players like Jack Ham, Shane Conlan, Brandon Short, LaVar Arrington, Paul Posluszny, Dan Connor and Sean Lee preserved the iconic legacy at the linebacker position for decades under the careful watch of Joe Paterno.
But with a new regime set to unfold under Bill O'Brien, can the emphasis on the tight end position lead to Penn State picking up a new nickname?
Right now, the debate over which school lays proper claim to Tight End U is between Stanford, Notre Dame, Georgia and Wisconsin, and perhaps another school or two. With O'Brien's offensive style and background, it may be a matter of time before Penn State starts to make a case for a claim to the title as well.
"That's a very important part of what we're going to do offensively," O'Brien said of the position and its importance in the offense. "Obviously, the last two years in New England taught me a lot about the use of a tight end, multiple tight ends. What people don't understand in New England, a lot of times, we used three tight ends...The more you have, the more difficult it is on a defense."
Penn State will have some options to work with at tight end this season, with Garry Gilliam looking to be healthy and ready to play a role and Kevin Haplea and Jesse James hoping to do the same under O'Brien's play-calling and tutorship.
"These guys have had good winters," O'Brien said. "They put a lot of time in, and they're going to be a big part of what we do. We're going to have two tight ends in there, and at the very least, one tight end in there the majority of the time."
That should be a drastic change for the offense, which had two tight ends, Andrew Szczerba and Hapela, record a catch last year. The two combined for 15 receptions and 122 receiving yards in 15 combined games, with one Haplea touchdown to show for it. That should change quickly if O'Brien can translate even a fraction of the success experienced in the NFL with the Nittany Lions.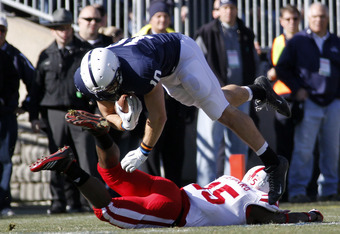 Justin K. Aller/Getty Images
"I learned a lot about that position in New England, and hopefully, that'll carry over," said O'Brien. "I'll be able to teach these guys what I learned in New England over to what we're doing here at Penn State."
The future of the position looks bright as well. Time will tell if any of the current tight ends can prove to be stable and dependable options in the passing game in 2012, but with the verbal commitment of Pennsylvania recruit Adam Brenneman lined up, O'Brien may have his first college version of Rob Gronkowski ready to be molded.
Can Penn State shed the Linebacker U and start printing Tight End U t-shirts? In a couple years, it may be worth considering.
Bill O'Brien Breaks Down the Tight End Position
Warning: The following quotes from Penn State head coach Bill O'Brien may not be for the casual fan. If you really enjoy the inner-workings and philosophy of the X's and O's in football, O'Brien has what you may be looking for when explaining the tight end position.
O'Brien was asked about his approach to the position and how he is planning on utilizing his tight ends starting this spring.
"At the tight end position, you have basically what we call a Y, which a Y is a bigger guy, a good in line blocker, runs intermediate routes, short to intermediate routes," O'Brien started to explain. "His number one job is to block, and then his second job is to run short intermediate routes and be open. He's got to have good hands; he's got to be smart. He'll be involved in protections. He'll be involved in a lot of different things in the offense.

Then we have the position that we call the F position, and the F position is more of what we call a move guy, a little bit better pass receiver than he is a blocker, has good hands, is smart. You know, one of the things about the tight end position in our offense is that second to quarterback, it's really the hardest position to learn because we do so many different things with them.

"And they'll be interchangeable. One time Gilliam will be the F and Haplea will be the Y, and vice versa, Gilliam will be the Y and Haplea will be the F. Or Dakota or Jesse James will be the F and Gilliam will be the Y. So you can do so many different things, but it's all up to how those guys learn and how they're able to develop learning their own position."
Got all that? If not, don't worry. It will all make sense once the team starts playing games and fans will get a chance to see the tight ends at work.
Quotes provided by Penn State Athletics.
Kevin McGuire is the host of the No 2-Minute Warning podcast and a member of the Football Writers Association of America and National Football Foundation. Follow him on Twitter, like him on Facebook and add him to your Google+ circle.