Carmelo Anthony's Leadership Is More Impressive Than Insane Numbers
April 18, 2012

Jonathan Daniel/Getty Images
It's all too easy to chalk up New York's recent success to Carmelo Anthony's recent spate of unreal production—he's averaging 31.2 points over his last 10 games, shooting 51 percent from the field.
Impressive, yes. But the numbers are—as always—only half the story here.
Anthony has emerged as a leader at a time when his team desperately needs one. The Knicks' heart and soul was seemingly broken when Jeremy Lin's season ended in March. New York's brain trust was in similar disarray, grappling with a seismic shift in coaching and philosophy.
Through the turmoil, Tyson Chandler has remained a backbone and defensive inspiration. Mike Woodson has pulled a rabbit out of his hat and turned a team around like few coaches could ever hope to.
Nevertheless, the defining sea change in this club's culture has been Anthony's instantaneous emergence as a leader first and superstar second. With Amar'e Stoudemire sidelined, Anthony has risen to occasion through play that is both inspired and inspiring.
His confidence can only be described as infectious.
The Knicks' Easter Sunday overtime win against the Chicago Bulls was a coming out party for Anthony. His 43 points and seven rebounds were nice, but—again—only half the story.
His contested three-pointers to send the game to overtime, and then later win it in the extra frame, sent an unmistakable message to the Knicks and NBA alike: This superstar isn't afraid to take the big shot.
And he's not half-bad at actually making it.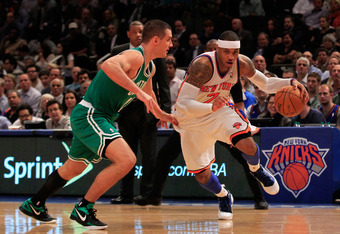 Chris Trotman/Getty Images
We've also seen Anthony's leadership and all-around dominance in the 118-110 statement against the Boston Celtics. It's not just that he racked up a triple-double headlined by 35 points on 13-24 shooting—he took control of his team in the process.
Anthony's passing was sublime in the all-around signature performance. He created opportunities for his supporting cast while aggressively looking for his shot in a balanced approach typically reserved for elite point guards or LeBron James.
This was a Carmelo Anthony we began to see flashes of in Denver, a complete player committed to doing the little things it takes to win.
The old Anthony might have gone for 40 or 50 points against the Celtics. A winning Anthony understands that he must do more than score.
The man who has so often been accused of playing for himself to the detriment of his team has also been more than amenable to his temporary transition to the four spot while Amar'e Stoudemire sits out.
Anthony hasn't disappointed in the new role, averaging 8.2 boards a game (nearly two over his career average).
Some players—particularly players of Carmelo's pedigree—would scoff at the the demands of a late-season position shift. Anthony has accepted the challenge and thrived.
It's too soon to assume this is the same Anthony we'll see when Stoudemire returns, much less when the postseason starts. For now, though, it's the Anthony New York needs to see.