Carmelo Anthony: NY Knicks Star Shows Leadership in Win over Boston Celtics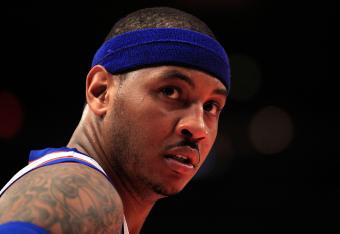 It took nine years in the NBA, but I finally want to win.
Chris Trotman/Getty Images
Carmelo Anthony dropped 35 points, 12 rebounds and 10 assists as the Knicks steamrolled the Boston Celtics 118-110 on Tuesday night. It was Anthony's first triple-double as a Knick, and, surprisingly, only the second of his nine-year career.
And even though the margin of victory was only eight points, the Knicks dominated from tipoff to final buzzer. They drained a record-tying 14 three-pointers in the first half, raining 72 points on Boston before the break.
J.R. Smith and Steve Novak shot the lights out, each scoring 25 points off the bench. Each time the Celtics drew within striking distance, one of them hit yet another three-ball to reignite the raucous crowd at the Garden.
Tyson Chandler added 20 points, and every time Boston swarmed the perimeter, it seemed Chandler was knifing to the hoop to punish them for their negligence.
Even Paul "The Truth" Pierce's 43 points could not sink the Knicks Tuesday night. And while both teams shot very well from the field, it was New York that looked the better prepared team to make noise in the playoffs.
This game was much more impressive than any of Carmelo Anthony's other prolific scoring games with the Knicks. Not only did he contribute his scoring prowess, but he crashed the boards and distributed the ball.
Other playoff teams do not want to see this. This is the sort of weapon that won Syracuse a national championship in 2003.
And versus the Celtics, 'Melo even exhibited leadership and the killer instinct of a winner and a finisher. For the first time since joining New York, I saw a player that didn't just want to score, but wanted to win as well.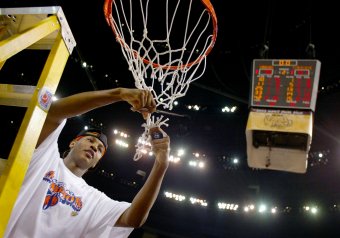 Craig Jones/Getty Images
In the fourth quarter, the C's pulled to within six points with three minutes remaining. Anthony posted up to the left of the basket and seemed ready to either turn and shoot, or drive to the hoop.
Instead, he rifled a cross-court pass to Steve Novak in space on the right wing, who dribbled and side-stepped an airborne Rajon Rondo, then drained a three to put the Knicks up by nine.
After a Rondo jumper from the top of the key, Iman Shumpert brought the ball up and fed it to Anthony at the left elbow. 'Melo faced up his defender, and then fired a pass to Novak, who had raced up from the baseline. Novakaine buried another three-pointer and the Garden crowd exploded into a frenzy.
It was Anthony's 10th assist of the night. The Knicks were up by 10 with two minutes to play. Doc Rivers had to call a timeout to steady his squad.
But as Steve Novak ran back up the floor and crossed half court with a swagger, he turned and looked at Anthony—perhaps to display a "discount double-check" celebration and thank him for the two consecutive assists.
Carmelo Anthony calmly held up both hands and said something along the lines of, "Whoa, easy" to his sharp-shooting forward, seeming to ask for restraint and focus, not exuberance and championship-belt donning. TNT even ran a replay of it after the commercial break.
Carmelo Anthony's first triple double as a NY Knick.
Novak immediately changed his demeanor and walked directly to the bench to join the huddle for the next defensive sequence. Jared Jeffries tried the jumping shoulder-bump celebration, but Novak didn't reciprocate, catching Jeffries instead.
Anthony seemed focused on closing out the final two minutes against a tough opponent, rather than celebrating his triple-double, or Novak's crowd-stirring threes.
The Knicks were exuberant in celebrating a 17-point lead in the third quarter against Indiana just a couple weeks back on April 3rd. They lost that game by eight points.
Perhaps 'Melo learned a lesson.
If Carmelo Anthony has started using his tremendous talent to play team-first basketball that is focused on winning, the rest of the NBA better be on notice—the Knicks look ready to do some serious damage regardless of their opponent.
The Knicks control their own playoff destiny, and will be getting Amar'e Stoudemire back in the rotation this weekend.
This team is coming together right before our eyes, and they've been steeled by some tough matchups in the past two weeks against the Magic, Bulls, Heat and a Milwaukee Bucks fighting for their own playoff spot.
These Knicks look dangerous. Mike Woodson has his squad fired up and they seem to be putting it all together at the right time. They have exhibited both stifling defense and explosive offense. While both sometimes desert them for stretches of certain games, they have elevated their play in the fourth quarter lately.
Perhaps this is due to the depth of their rotation. Or, perhaps, it's the depth of their character, and a never-say-die toughness that was rarely seen under Coach D'Antoni. These Knicks are chomping at the bit for the playoffs.
They're planning on actually winning a game or two this time. And maybe even 16.
This article is
What is the duplicate article?
Why is this article offensive?
Where is this article plagiarized from?
Why is this article poorly edited?

New York Knicks: Like this team?