Chris Young Injury: Arizona Diamondbacks Outfield Is Now in Trouble
April 18, 2012

Were we a bit hasty in writing that Chris Young's monster start to the 2012 season would help the Arizona Diamondbacks weather Justin Upton's thumb injury?
Oops. Hopefully, all of that praise for Young didn't jinx him. The baseball gods can be a tempestuous sort. 
The D-Backs' center fielder left Tuesday night's game against the Pittsburgh Pirates after crashing into the outfield wall during the fourth inning. Young ran down a drive by Pedro Alvarez into the left-center gap, but his momentum following the catch rammed his right shoulder into the wall.
Young was diagnosed with a shoulder contusion. X-rays were taken after the game and no fracture was found, but he'll undergo an MRI exam Wednesday morning to see if any further damage was sustained. 
"As I was laying there, I realized my shoulder was hurting and [Jason] Kubel called the [trainers] out there," Young told MLB.com's Tyler Emerick. "I tried to move it around, but it stayed tight on me, so I came out."
Losing Young would be a huge blow for the D-Backs, as he's been off to a scorching start. A first-inning double raised his triple slash average to .400/.510/.897, along with five home runs and 13 RBI. His 1.397 OPS is second only to Matt Kemp among major league batters. 
However, Arizona's outfield was already short-handed, as Justin Upton was out for Tuesday's game due to a nagging left thumb injury. As MLB.com's Jesse Sanchez reports, an MRI exam revealed a bone bruise in the thumb. Upton had fluid drained from the area by doctors; while his status is currently listed as day-to-day, he could very well end up on the disabled list.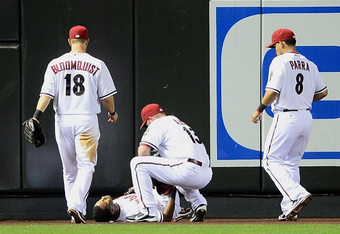 Injuries to their two best players now leave the D-Backs with a possible outfield of Willie Bloomquist in left, Gerardo Parra in center and Jason Kubel in right. Outfield depth that was one of the team's strengths coming into the season is certainly being tested. The perplexing offseason signing of Kubel, when the team already had Parra, looks like a fortunate decision now. 
Added to the outfield corps will be A.J. Pollack, who's been promoted from Class AAA Reno. In the Aces' first 12 games, Pollack hit .340/.386/.453 in 58 plate appearances.
With 11 career minor league homers and a slugging percentage of .424, he's not going to be replacing the power that Young and Upton provided. But Pollack does have speed, stealing 36 bases last season. He and Parra could bring a different element to the D-Backs' lineup. Fox Sports Arizona's Jack Magruder thinks Pollack is more likely to start, being a true center fielder. 
The D-Backs are currently two games behind the Los Angeles Dodgers for first place in the NL West. Any more injuries, and that gap could quickly widen for the defending division champs.