New York Mets: Is Jose Reyes Tribute an Identity Crisis or Business as Usual?
April 17, 2012

Mike Ehrmann/Getty Images
On Tuesday, the New York Mets announced that they will tip their cap to former shortstop Jose Reyes when the Miami Marlins visit Citi Field next week.
As reported by the Daily News' Andy Martino, the Mets will play a video tribute to Reyes before next Tuesday's game, a big wet kiss to a nine-year career that culminated in the franchise's first batting title. 
From one perspective, it seems a bit strange to honor a player who just left the team for a bigger free agent payday elsewhere. It could be argued that Reyes is the embodiment of the Mets' recent failings as a franchise. 
The team has been crippled financially by massive debt, attributable in part to Fred Wilpon's involvement with Bernie Madoff. How bad are the team's finances? Howard Megdal reported for Capital New York that the trustee for Madoff victims suing the Mets ultimately settled because he figured out that Wilpon and Saul Katz wouldn't have been able to pay the $386 million sought in court. 
Several Mets players might end up following Reyes out the door because the Mets can't afford to pay them market value.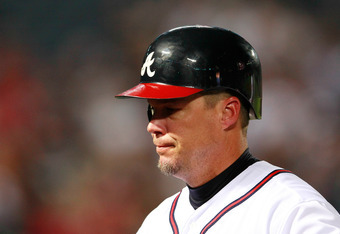 Kevin C. Cox/Getty Images
Honoring Reyes could be the first of several magnanimous gestures to honor several figures who have played a significant role in recent Mets history. The team also announced plans to pay tribute to Chipper Jones, who was a frequent adversary in several NL East division races.
But, might such events also be an attempt to attract fans and publicity when the team on the field isn't good enough to warrant attention? Given how the Mets are currently playing, with a 7-3 record that has them a half-game behind the Washington Nationals for first place, that's probably an unfair assessment.
Yet, this team's success is precariously balanced. If Mets batters don't begin to produce more runs, the pitching staff might get crushed under the burden of carrying the team. When the Mets eventually fall behind, as most expect, other events will have to draw fans to Citi Field.
Or this could just be standard operating procedure for the organization. That's the take from ESPN New York's Adam Rubin, who points out that Reyes won't be the only former Met given the opportunity to take a bow in front of the fans. Mike Piazza and Edgardo Alfonzo received pregame tributes upon their return to the Mets' home park. 
As one team source told Rubin, "We even did it for Todd Pratt."