Why the New York Jets Are the 'Jersey Shore' of the NFL
April 17, 2012

Doug Benc/Getty Images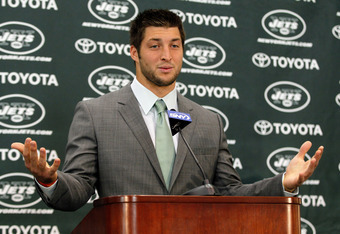 Mike Stobe/Getty Images
The Jersey Shore is undoubtedly one of the most popular TV shows in pop culture today and based on a group of Italian-American group of "guidos" that make the Kardashians look drama free. Full of bickering, fighting, drunk people in their 20s and 30s, at first glance shouldn't compare well to a professional football franchise. The similarities are there, though, and Jets players and staff can easily be compared to the stars on Jersey Shore.
The New York Jets are the team that you hate, but can't seem to keep your eyes away from, similar to MTV's hit TV show Jersey Shore. Drama. Both are full of it and can't seem to get rid of it. From locker room problems to Ronnie and Sam's relationship issues, it just can't be avoided.
The offseason problems started early for the Jets when rookie QB Greg McElroy sounded off on the radio of the selfishness of his teammates and their lack of work ethic. These things generally don't bode well from any player, but from a rookie it escalated the situation even quicker.
Mike, "The Situation," has a problem of constantly running his mouth as well, always seeming to get into fights or awkward situations. Situation can be compared to McElroy for running his mouth about the team as Mike would to any stranger who looked at him funny.
Mike is the least liked member of the house, and now McElroy won't be winning any hearts over in the already problematic Jets locker room. Both need to take a hint from others around them and stop creating drama that is unnecessary and detrimental to both of their "careers."
Starting QB Mark Sanchez has stayed out of the spotlight this offseason and has pretty much flown under the radar, similar to Jersey Shore's Vinny Guadagnino. Vinny took time off in the last season of the show wanting to stay away from the drama as Sanchez has. Vinny and Sanchez have both had their share of problems but generally do the best job of anyone avoiding drama as of late, which is now personified in the Jets since the trade for Tim Tebow.
Tebowmania has struck the Jets as well, as has the recent success of Pauly D. Pauly has a DJing gig in Vegas, and Tebow is one of the most popular people on the planet right now. Tebow "couldn't be more excited" to play this year and says it quite often. Pauly D utters the phrase "Yeah, buddy!" at least a few times an episode.
Both Pauly and Tebow are regarded as the good guys of the group, although Tebow a little more. Tebow is a fundamentalist Christian to the core, and Pauly may not be a virgin like Tebow but often can be seen wearing a necklace with a cross as a symbol of his faith. Both have recently made a move for their job and how well they do that job can be seen in the upcoming NFL season or on MTV's new show The Pauly D Project.
Rex Ryan is annoying, loud-mouthed and only contributed to the locker room hostility problem. He made comments about what McElroy had previously stated. A better option would have been to not comment and deal with locker room problems in the locker room. The need to project problems on others relates him well to Snookie.
The thought of comparing Ryan and Snookie is frankly a little disturbing, especially thinking about Ryan in some of the outfits Snookie wears, but the two seem to mesh together like it was meant to be. They both rule over the kingdom of drama and aren't looking to leave anytime soon. Both are consistently making headlines over the most ridiculous of things.
From being arrested to sucking toes, the two definitely know how to get their name in the papers.
The Jets and the Shore both have their share of problems, but life would be a little less interesting without the two.