2012 NFL Draft: 5 Tempting Potential 1st-Round Picks the 49ers Should Avoid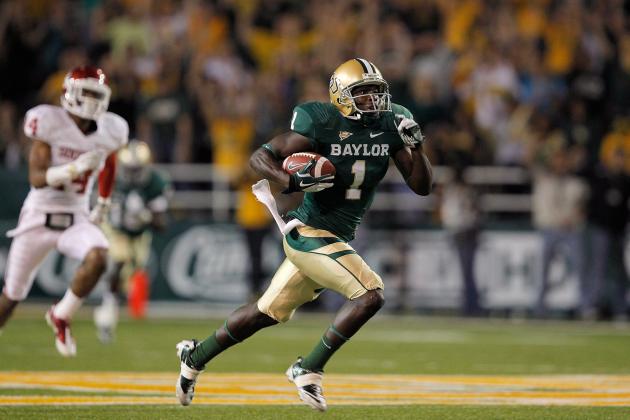 Sarah Glenn/Getty Images

With draft day now less than a fortnight away, much of the San Francisco 49er faithful are well-versed on whom the Niners' front office should be targeting with the 30th overall pick.
With this article, I'd like to temporarily shift the focus to a few prospects Trent Baalke and Co. should steer clear of with this selection.
With a draft class as rich in talent as this one, the 49ers will surely be tempted by more than one impressive prospect who unexpectedly slipped into their reach, but that doesn't necessarily mean they're worth the gamble.
Let us now look at five (seemingly) promising prospects who wouldn't fit in San Fran as nicely as you may initially believe.
Begin Slideshow

»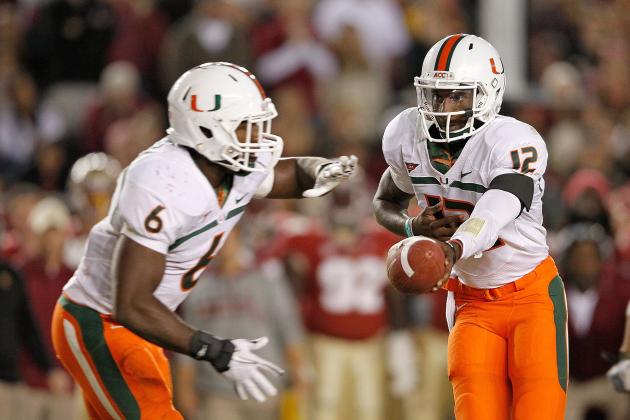 Mike Ehrmann/Getty Images

The "U" has a deep history of producing NFL-caliber running backs on a consistent basis.
Willis McGahee, Clinton Portis, Edgerrin James and our very own Frank Gore are just a few names you may recognize.
Lamar Miller may soon be another.
And despite bringing in free-agent Brandon Jacobs to add some bulk to the 49ers' stable of backs, the aging Gore is unfortunately due for a replacement in the near future.
However, if it isn't somehow Trent Richardson, the 49ers have no business seeking out a running back with pick No. 30.
Miller's speed is undeniable. ESPN draft guru Todd McShay was so impressed with the youngster's raw speed that he actually said Miller "is Chris Johnson".
"I give him a lot of passes on things that I am usually pretty cool on when you evaluate a running back because the guy flies. He is Chris Johnson. He really accelerates off his cut and he goes. He absolutely flies. Second round," he said.
Quite the compliment, no doubt about that. Miller's wheels alone have some draft pundits touting him as a potential first-round pick.
I'm not so impressed, however.
Miller is an excellent straight-line runner and will often be the fastest man on the field come Sundays, but he's not going to be running so freely in the NFL, and that's where my concerns enter the picture.
Miller isn't the shiftiest of backs, and he'll struggle to create open space for himself to properly utilize his speed in the NFL. He also struggled to break tackles in college, something that isn't going to get any easier at the next level.
Simply put, Miller is a complementary back in today's NFL, which is something the 49ers already have in second-year back Kendall Hunter. Hunter isn't exactly a home run threat, but he's a perfect fit for what San Fran asks of him.
The Niners would be wise to seek out prospects like Chris Polk or Robert Turbin in the later rounds to eventually replace the aging Gore.
Don't expect the front office to view Miller as that guy, especially at first-round value.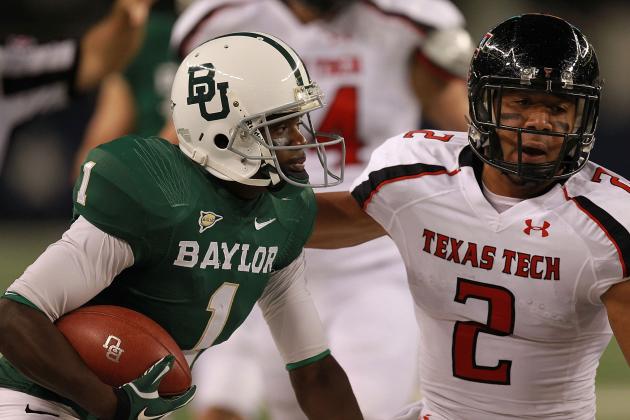 Ronald Martinez/Getty Images

I realize I've got some work to do if I plan on convincing the masses that the 49ers should let Wright pass on by if he somehow slips.
That's OK, I'm up to the task.
I'm not going to base my argument on the idea that Wright was simply the beneficiary of a Heisman Trophy-winning quarterback at Baylor (even though it's partially true), but you can't deny that catching passes from RGIII will clearly boost your draft stock.
Of course, the same can be said about Wright helping Griffin's draft stock as well.
Anyway, it's obvious that the top pass-catcher in Baylor history is a gifted athlete. His unique speed and after-the-catch abilities have most experts touting him as a top-20 prospect in this year's draft.
I, too, was a fan of the receiver not so long ago.
Upon further inspection, I've become aware of a couple flaws that have caused more than a couple first-round receivers to eventually flop in the NFL.
First of all, nearly every scouting report I could find on Wright pointed out that he isn't fond of blocking assignments. Joe Goodberry of SB Nation had this to say regarding Wright's toughness.
Poor run blocker. Wright doesn't seem very interested. Catches over the middle are hit-and-miss. He isn't the best in traffic where he loses concentration or looks for the flag on contact. He can take a hit and hold onto the ball though.
Strike one.
Secondly, Wright's route running needs some work. Griffin was an extremely accurate QB in college and, as previously stated, boosted his favorite receiver's numbers because of it. Wright mainly ran go routes and stop-and-go routes at Baylor, but the WR position in the NFL, and particularly the 49ers' West Coast offense, is much more complex than straight-line route running.
Strike two.
And last but not least, Wright simply doesn't seem to pay attention to detail. Jerry Rice would probably tell you that's a major mistake. Yahoo! Sports' Doug Farrar put together a nice piece outlining Wright's subpar effort at the NFL combine. He pointed out that Wright looked sloppy while running unfamiliar routes and showed up looking out of shape. His overall efforts reflected these points quite accurately.
Strike three, and you're out! Out of the first round, that is.
Well, if you ask me, anyway.
Like I said, Wright is a gifted athlete equipped with many of the tools needed to succeed in the NFL, but there's much more to the overall equation than just having the necessary skill set. Success came all too easy to Wright in college for various reasons, but it doesn't quite work like that on Sundays.
If he doesn't figure that out soon, he'll become just another first-round bust while some fifth-round sleeper takes the league by storm in his rookie season.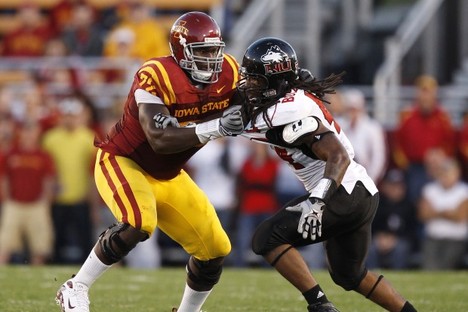 Courtesy of pressboxscouting.blogspot.com
Most wouldn't consider Osemele a first-round talent, but he's snuck into the discussion as of late.
The 49ers are currently without a proven option at right guard, and a high percentage of the 49er faithful would like to see this need addressed at pick No. 30.
Not so fast.
Though sure-fire guard prospects David DeCastro and Cordy Glenn are first-round-worthy selections, Osemele is not. In fact, I would rather see Wisconsin guard Kevin Zeitler taken at 30 before the 6'5", 333-pound Osemele.
He is a powerful run-blocker, something that is of great value in the 49ers offense, but Osemele's pass protection isn't up to par.
If he manages to slide to the 49ers in the second round at pick No. 61, I'm all for it, but the risk that comes along with an unrefined prospect like Osemele is not worth the chance here, given that so many other talented options will still be on the board at the 30th pick.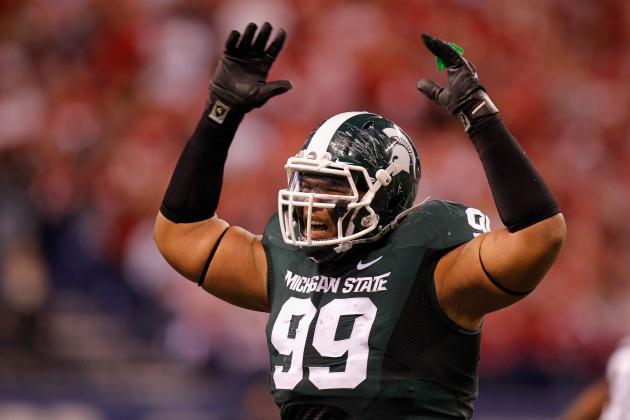 Gregory Shamus/Getty Images

Worthy is widely projected as a late first-, early second-round pick, and the 49ers will likely be searching for depth on the defensive front at some point in this draft.
The problem, however, is that he doesn't exactly fit inside the 49ers 3-4 defense.
At 6'3" and 310 pounds, Worthy is too bulky to use at defensive end, and not big enough to be an effective NFL nose tackle.
His work ethic and leadership skills are impressive, and he was dominant at times during his collegiate days, but Worthy had some lackluster performances to offset the dominant ones, and depth on the defensive line can be found in the later rounds.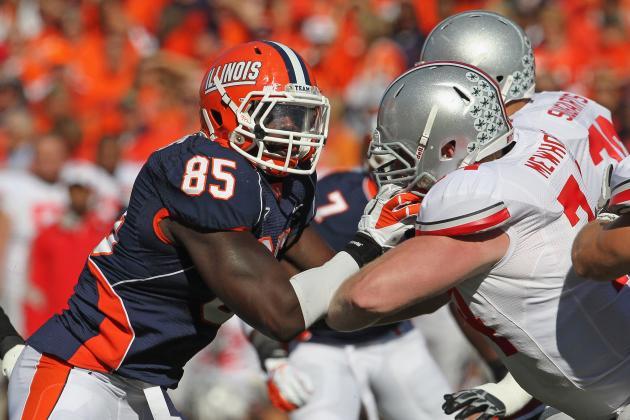 Jonathan Daniel/Getty Images

It's highly unlikely the supertalented Mercilus will fall out of the top 25, but one-year wonders have slipped before.
If he does fall to No. 30, I say let him pass on by.
While I can't argue that his 2011 campaign was amazing (school-record 16 sacks and nine forced fumbles), the rest of Mercilus' game leaves something to be desired.
The 6'4", 265-pound Illinois product was often ineffective against higher-quality linemen and was rarely a factor in run defense. He didn't garner much attention in the form of double-teams, possibly because he went largely unnoticed on the gridiron prior to last season.
His frame is a bit thin for a 3-4 DE as well, and I don't see him as a fit to shift to outside linebacker—something the 49ers successfully pulled off with their 2011 first-round pick, Aldon Smith.
Mercilus just has too many flaws in need of fixing to gain my approval. He's a freakish athlete capable of terrorizing quarterbacks when given space to move in, but he plays with a high pad level and is taken out of plays too quickly against smart linemen.
While the 49ers are in an excellent position to take a chance on a "project," I see Mercilus as more of a situational pass-rusher and not an every-down option to eventually replace the aging Justin Smith.
I'd much rather see the 49ers reach for a well-rounded DE like Justin Crick out of Nebraska with this pick than go after a one-dimensional player like Mercilus.
What's your take on these prospects?
Add me on Twitter: @B_Burnett49