Jordan Brand Classic 2012: Underrated Prospects Who Will Steal the Spotlight
April 13, 2012

With almost all of this year's college recruits converging on North Carolina this weekend for the Jordan Brand Classic, it is hard to actually say that anyone is underrated. However, because of the star-power that will be on display, some players aren't being talked about as much as others.
Everyone knows Shabazz Muhammad, Nerlens Noel and Kyle Anderson, but there are other stars who are going to take center-stage in this showcase game. 
Here are the best players you need to keep a close eye on when the Jordan Brand Classic tips off on Saturday night. 
Kris Dunn, PG, Committed to Providence
This year's point guard class is stacked with talent, starting with Kyle Anderson (UCLA). Dunn is one of the best of the bunch, but his decision to go to Providence might not be getting him a lot of mainstream attention. 
Regardless, Dunn is an incredible athlete with a great basketball body. He is only 6'3", but he has very long limbs and is explosive with the ball in his hands. He has a great shot and can pass the ball as well as any point guard coming out in this class. 
He is going to score at will in this game, and will set the table for Nerlens Noel, Tony Parker and the other high-flyers on the East team. 
Kaleb Tarczewski, C, Committed to Arizona
We are starting to see a resurgence in top-tier centers in college basketball. It started with Greg Oden going to Ohio State, continued with Anthony Davis last year and now there are no less than four true centers in the 2012 class. 
Tarczewski is not thought of as highly as Nerlens Noel, Steven Adams and Isaiah Austin, but his speed and ability to close at the hoop make him a monster in the middle. 
In a game that is going to be filled with elite big men, Tarczewski is going to prove that he belongs on the same level as any of them. 
Rasheed Sulaimon, SG, Committed to Duke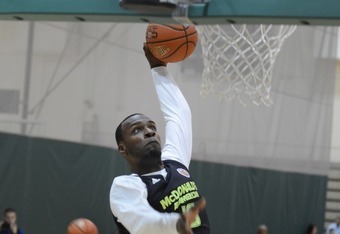 It is rare that you will find a Duke commit flying under the radar, but when you are playing on a team that features Shabazz Muhammad, Isaiah Austin, Grant Jerrett and Alex Poythress, that is what happens. 
Sulaimon is one of the most exciting all-around players in this year's recruiting class. He can drive to the basket thanks to his speed and muscular physique. He also has the ability to pull up and shoot from anywhere. 
All-Star games tend to benefit shooters, because there is little effort given on defense. Sulaimon can take over this game early. Don't be shocked if he ends up with at least 25-30 points when all is said and done.