The Jordan Brand Classic is the latest high school basketball showcase game to get you ready for what the best players around the country will do next year in college.
Almost all of the elite high school players in the United States will be participating in the game, which gives them a national stage to put their talents on display for fans, coaches and scouts.
Who Will Be The Best College Player In 2012?
Here's a full rundown of the rosters and where you can find the game when it tips off, as well as players to watch out for.
Where: Time Warner Cable Arena in Charlotte, NC
When: Saturday, April 14 at 7:00 p.m. EST
Watch: ESPN
| EAST ROSTER (POSITION) | COLLEGE COMMITMENT |
| --- | --- |
| Kyle Anderson (PG) | UCLA |
| Kris Dunn (PG) | Providence |
| Jeremi Grant (PF) | Syracuse |
| Gary Harris (SF) | Michigan State |
| Brice Johnson (PF) | North Carolina |
| Ricardo Ledo (SF) | Providence |
| Nerlens Noel (C) | Undecided |
| Tony Parker (PF) | Undecided |
| Rodney Purvis (SG) | North Carolina State |
| Kaleb Tarczweski (C) | Arizona |
| J.P. Tokoto (SF) | North Carolina |
| WEST ROSTER (POSITION) | COLLEGE COMMITMENT |
| --- | --- |
| Steven Adams (C) | Pittsburgh |
| Brandon Ashley (PF) | Arizona |
| Isaiah Austin (C) | Baylor |
| Anthony Bennett (PF) | Undecided |
| Archie Goodwin (SG) | Kentucky |
| Danuel House (SG) | Houston |
| Grant Jerrett (PF) | Arizona |
| Shabazz Muhammad (SF) | Undecided |
| Marcus Paige (PG) | North Carolina |
| Alex Pothyress (SF) | Kentucky |
| Rasheed Sulaimon (SG) | Duke |
(Rosters courtesy of ESPN.com)
What To Watch For
In these kinds of games, we are really not paying attention to anything but the highlight reel plays that will be on SportsCenter. While it would be nice to see someone try to play defense in this game, just to give us a read on who can do it, that's not likely to happen.
So when you tune in, expect to see a lot of offense, insane passes that no one would ever try in a real game and a lot of dunks.
East Player to Watch: PG Kyle Anderson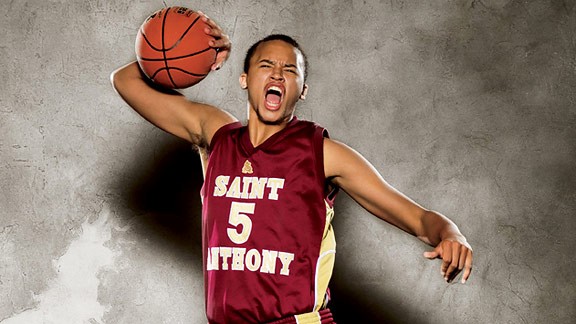 Anderson is the best point guard prospect in the country. At 6'8", 215 pounds, he is built like a thinner version of LeBron James.
He is not afraid to do anything, either with the ball in his hands or away from the action. He is going to be a superstar at UCLA, and he will make Bruins' fans drool with his natural athleticism and command of the court.
West Player to Watch: SF Shabazz Muhammad
Was there really a doubt in your mind?
Muhammad is the top player in the 2012 recruiting class. He is an electrifying talent, with some of the most spectacular dunking ability you will see from someone his age.
What separates Muhammad, though, is his already developed jump shot. He can attack the basket as well as anyone, but if he needs to stop and pop, he is comfortable doing that.
Prediction
Both teams are obviously loaded with talent, and this will be a high-scoring affair that will provide plenty of You Tube clips to tide college basketball fans over until the start of Midnight Madness.
In the end, the West team looks a little bit deeper and more athletic than the East.
West 103, East 95