Jordan Brand Classic 2012: Underrated Gems Ready to Make Their Mark
April 12, 2012

This Saturday's Jordan Brand Classic will feature plenty of star prep players that hoop junkies are more than familiar with.
Nerlens Noel, Shabazz Muhammad and Alex Pothyress are all well-known names that will surely make their mark this weekend.
But what about the lesser-known guys? The players that didn't conduct a 90-minute SportsCenter special to announce their college decision?
Here are two under-the-radar studs ready to steal the show with plenty of talent evaluators on hand to observe.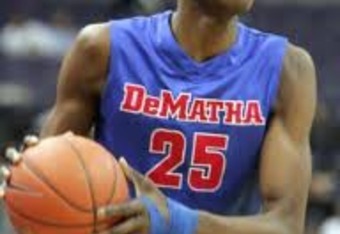 Jerami Grant - Syracuse
He may only be ranked as the 37th- best prospect in ESPNU's top 100, but will quickly show why the scouts have no idea what they are talking about.
The 6'7'', 200-pound forward is from the powerhouse DeMatha High in Maryland, and goes to Syracuse with plenty of big game experience and maturity. Grant possesses elite rebounding talent because of his sky-high vertical and natural instincts. Both his dad and uncle played in the NBA.
In college he'll likely be a face-up forward that can score from anywhere on the floor, in this game he can use his wide hips and sound post moves to abuse skinner big men.
This guy has pro potential and displaying his talent in front of the best players in his class will be the first step to show scouts he's much better than No. 37.
Rodney Purvis - North Carolina State
The Wolfpack quietly have a top 10 recruiting class and a huge reason why is Purvis.
The 6'4'', 190-pound shooting guard is the definition of a slasher. He is incredibly difficult to keep out of the lane and uses superior strength to finish with contact. With his quickness, staying in front of him is incredibly difficult to do.
He is a natural athlete that's not as highly touted as his peers because of a jump shot that is inconsistent from three-point land.
In an exhibition game like this the only thing that really matters is athleticism, and once you see Purvis running the floor like a gazelle and finishing strong with authority, you'll have to quickly check the program guide to get this guy's name.
It should be the last time you'll ever need to do so.