New York Mets: Opening Week Success Indicates Hope and Preview for 2012 Season
April 12, 2012

Nick Laham/Getty Images
The first week of baseball is one of the most overrated measures to determine the validity of a team. After the Mets started 3-0 to open the season, even the most excited Mets fans knew to calm down.
But there's the eternal hope of "maybe" that leaves baseball fans living at the edge of their seats. That glimmering sense of promise has become a defining factor of my own identity. When I meet people, it's hard for me not to introduce my strangely intense interest in baseball. When an individual has a passion, it often shines through as strongly as any other part of his body and individuality. Often, one of the first questions that I'll hear when meeting someone new seems to be along the lines of "Why are you a Mets fan?" as the confused baseball fan in him allows his eye brows to curl in disbelief. My father, a native of Queens who became a fan of the New York Mets in their inception year of 1962, has about as good of an answer as I do.
I was raised that way.
Now that he's moved out to California, he makes it a policy to never miss a game from his beloved organization. Mets fans, of course, understand the masochistic hardship of this decision. Regardless, New York Mets baseball becomes a distinct part of his daily life once spring hits. This ritualistic pattern repeats in a bizarre manner that can only reflect the way that others relate to the supernatural.
In fact, rooting for a baseball team can feel a lot like a religion.
On the surface, there are three huge similarities.
Inspiration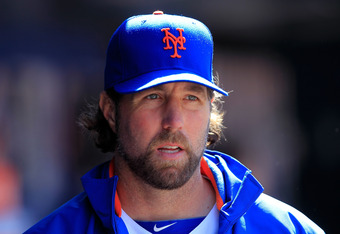 Chris Trotman/Getty Images
A baseball fan is able to take away moral lessons and tales of inspiration, sort of like the way that I've been so impressed with R.A. Dickey for his off-field play in the past few weeks or how a religious man might look at the story of Jonah and the Whale.
Baseball is the most narrative driven sport of the mainstream trio, and offers the most reflective time for contemplation and writing. It brings about a courage that allows the singular player to excel on an individualistic stage.
With fans supporting their players, there is a brave sense of risk and happiness that allows the individual to separate the self as special. As in religion, sports give the fan something to work towards and dream about. If you work hard enough and are blessed with the right blend of luck, athleticism and opportunity, you can join the elite club of "making it" into the big leagues. For the majority of us who do not have that chance in life, the second most logical thing is to embrace the ethics of sportsmanship, passion, competition and respect that so many of the players exemplify.
Joy and Celebration
Baseball is a game. It's become a business, but it is also a game. The wide-open and beautiful green grass fields and fast paced running are inherently juvenile. Aesthetically, the physical aspect of the game reminds us of a simpler time in which there was more freedom and more beauty.
Sports provides us with the tools of resiliency—a batter can be successful one out of every three times and be considered a premier player at his position. There is nothing more celebrated than the "perfect game" simply because there is nothing more rare.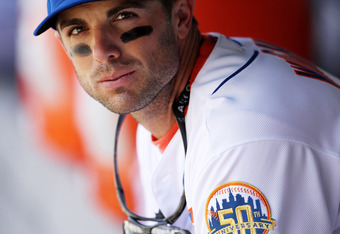 Nick Laham/Getty Images
As individuals and fans of the game, we learn to celebrate like all hell when things finally do go our way. With all of that waiting around, our community has earned it. It begins to feel a lot like Christmas.
 
Faith
Every year, in every sport, fans love to hold onto the hope that this is their year. Even if it so clearly not.
Even if the team clearly lost their star player to a division rival, and now features an aging and recovering pitcher named "Johan Santana" as their ace. Even if their best player is an absolute injury-prone freak. There's always a chance that things can fall into place in life, no matter what cards you are dealt.
When you devote so much of your life into one thing, you'd better hope that something is good. Otherwise, it may begin to feel like a lot of your life is wasted. I don't waste time watching the Mets—I enjoy rooting for them and sharing that experience with my father. Even if the Mets never win a title, I'll still be glad to have had the experience of sharing a passion with my father.
This is similar to those who are devoted to a religion. If they leave a moral and pious life and later learn that heaven is not real, they can at least say that they lived a pious and moral life. This is especially true if you enjoyed the moments that were given to you; rooting for Jonathan Niese to pull away and give us our first no-hitter.
To quote John Lennon, "time you enjoy wasting was not wasted at all."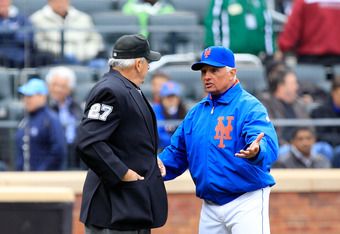 Chris Trotman/Getty Images
So maybe the religious nature of sports consumption isn't so bad after all?
For the first time, the Mets are the lovable underdog team that is not only a mötley crüe of scrappy "who are they" ballplayers, but was also suddenly producing beyond any of our imaginations. The boys from Queens swept the Atlanta Braves, Johan Santana looked fantastic in his Opening Day appearance throwing five shutout innings, R.A. Dickey continued his rise to fame and won his opening game, Jonathan Niese almost threw the Mets first ever nose hitter (potential no-hitter after getting a free nose job from former teammate Carlos Beltran), and the team was looking like they were the gatekeepers of a relevant season.
So what do we make of this?
The Mets started off the season 4-0, one of their best showings in franchise history. According to Ian Casselbery, only nine teams have won their first four games. Of those nine teams, the average final season victory total is 84.
The Mets could thank a rejuvenated punch in their offense, featuring necessary slug fests from Lucas Duda (two HRs) and David Wright (1 HR, .583/.647/.833) for their early season success. New Mets closing pitcher Frank Francisco went three for three in his first save opportunities, and just like that, the Mets got rolling.
Of course, all that is glitter is not gold.
As it turns out, Duda cannot field and after only hitting in two of the six games this season, he is now batting only .158. Ruben Tejada is hitting well, but has yet to steal a base and won't be same rally provider that Jose Reyes once gave us. David Wright has a fractures right pinkie, and will likely earn some time on the Disabled List.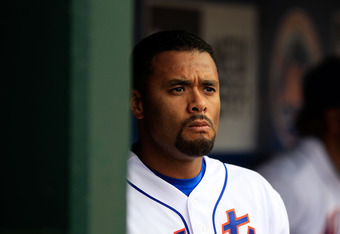 Chris Trotman/Getty Images
A lot can be said about Mets fans using Jonathan Niese's no-hit campaign as a metaphor. There's something incredibly romantic about a no-hitter—especially if you're like my dad. I grew up in a house in which I wasn't allowed to move from my couch if the Mets are winning. That is a fact about my childhood life. The Mets have had 34 one-hitters, and Nolan Ryan threw seven no-hitters outside of a Mets uniform. Tom Seaver threw one for the Reds. David Cohn threw one for the Yankees. Yet no one has ever seen a Mets pitcher throw a no-hitter.
I sat in my room in Oregon, thinking about my father and how awesome it would be to watch a no-hitter with him. Few things would feel so special, and he probably would take us out to steak at the Buggie Whip that night. It would have been awesome, and being superstitious myself, I refused to take to Twitter or mention it to anyone. It was such a religious experience, that it was almost weird to be away from home.
Alas, Jonathan Niese allowed four walks, gave up a couple of runs in the seventh inning, and suddenly the final score was only 7-5. The Mets went on to lose their next two games, and are suddenly crashing back to Earth. At 4-2, this is totally possible that our week of relevance is over. This could be our year, but just like always in sports, you never know. The eternal hope of "maybe" lives on in Mets fans like me all over the country.   
The endless cycle continues, and my addiction has only been fed. So to quote Cousin Sal's view on the start of the season as heard on the April 9th B.S. Report, "I'm falling for it like an idiot." 
Click here to Follow @BryanKalbrosky.