New York Mets: 5 Reasons the Mets Have Won Their First 4 Games
April 10, 2012

Nick Laham/Getty Images
It's probably just a bit early to get excited over the New York Mets' 4-0 start, but sweeping the Atlanta Braves over the weekend and extending their season-opening win streak to four has raised some eyebrows.
This success has been at the expense of two teams expected to contend in the NL East, while the Mets were picked for last place. 
As Mark Simon laid out for ESPN New York, a 4-0 start doesn't mean Mets fans should start saving up for postseason tickets. But it helps their chances at a winning overall record.
Between 2004-2011, nine teams have won their first four games, finishing with an average of 84 wins (four of those teams, however, eventually finished below .500).
So how have the Mets been doing this? Here are five reasons. 
Starting Pitching Has Been Good Enough
Granted, the Braves don't have a powerhouse lineup. Seven runs in three games is no way to get through a series, son. 
But the Mets' starting pitching kept those bats quiet, too. Johan Santana looked like he may be returning to form with five shutout innings on Opening Day. And the Mets' other starters have allowed three runs or fewer in each of the team's four games.
The pitching hasn't been perfect. Both R.A. Dickey and Jonathon Niese had four walks in their respective starts. But they've managed to minimize damage, due to timely strikeouts and a defense that's playing well behind them. 
David Wright is Back
For the Mets to have any success, they need one of their best hitters to come through. So far, David Wright has been doing exactly that.
Maybe he's rejuvenated by the adjusted fences at Citi Field. It's more likely that Wright's success is that his swing is right and he's hitting to his strengths, taking the ball to the opposite field.
Wright's .583/.647/.833 triple slash average with one home run and four RBI have even more importance for the Mets' lineup, considering some of their other key hitters are struggling.
Jason Bay has an OPS of .479. Ike Davis is 0-for-15 and may have valley fever, according to ESPN New York's Adam Rubin. Lucas Duda got some attention with a two-homer game against the Braves over the weekend, but he's batting 3-for-15 (.200) overall. 
The Bullpen Isn't Blowing It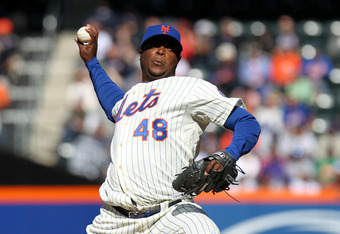 Nick Laham/Getty Images
The Mets have been winning it close, and that generally can't be done unless the bullpen is keeping them in the game.
Frank Francisco has the big shiny number with three saves in three chances. And yes, he's done a nice job, with four strikeouts in three scoreless innings.
But look at the other relievers in the Mets' bullpen. Tim Byrdak hasn't allowed a hit or a run in his two appearances. The same goes for Jon Rauch, who's pitched in three games thus far. Ramon Ramirez hasn't allowed a run in two-and-a-third innings. Bobby Parnell has one clean appearance. 
The only problem manager Terry Collins might have to watch is overusing his relievers early in the season, something he's definitely conscious of, according to the New York Times' Andrew Keh.
Leading Off, Ruben Tejada
No, Tejada isn't going to make Mets fans say, "Jose who?" Let's not go crazy here. But he's giving the lineup what it needs from the leadoff spot. Tejada's hitting .357 and a .471 OBP indicates he's getting base.
Zero stolen bases shows he's not the speedster Reyes is, but he wasn't expected to be.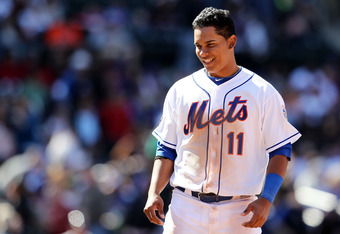 Nick Laham/Getty Images
Tejada endeared himself to Collins in the Mets' 4-3 win over the Washington Nationals on Monday night by bunting pinch-runner Mike Baxter over to second base—with two strikes—in the ninth inning.
As detailed by the Star-Ledger's Jeff Bradley, a throwing error by the Nats' Henry Rodriguez moved Baxter over to third, and he scored the game-winner on a Daniel Murphy single. 
In Collins' eyes, the Mets are going to win by executing properly and playing small ball when necessary. Tejada made his manager look smart in Monday's win. 
Bottom of the Order Is Tops
As mentioned, the Mets aren't getting much production from their big bats, other than Wright. But the lineup is scoring just enough runs because the batters at the bottom of the order are coming through with key hits. 
Catcher Josh Thole is the Mets' second-leading hitter with a .556/.636/.778 average. Rookie center fielder Kirk Nieuwenhuis is filling in nicely for the injured Andres Torres with three hits in his first eight at-bats. Scott Hairston is also helping out in center field, providing a good bat off the bench. 
Even the pitchers are contributing from the ninth spot, with Dickey and Niese each getting hits during their starts.